Tabu Osusa: Giving Kenyan music an identity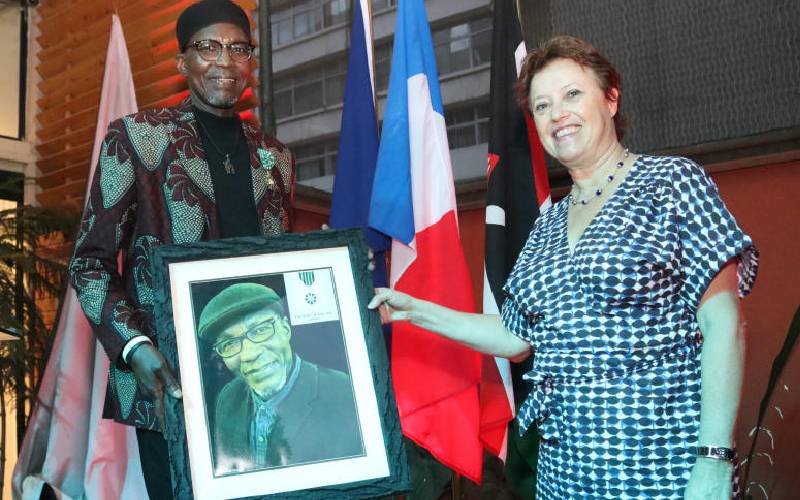 Precision is Tabu Osusa's middle name. He is articulate, candid and does not mince his words. He does not like to be rushed.
For years, the legendary singer, composer, producer, bandleader and author has been working hard to give the Kenyan music industry an identity. This has been his biggest burden, one that seems to weigh him down.
On this day, he is turning 67, and after being in the entertainment industry for over four decades, Tabu says that what he has been trying to preach will be understood one day.
He is not as happy as he would wish with the music world; with the government systems. But hope in a better world, musically speaking, remains his greatest quality.
At his Ketebul Music studios at the GoDown Arts Centre, Nairobi, the four walls honour Africa's greats. You find artworks of Fela Kuti, the king of Afro-beat and Mariam Makeba among others.
Tabu's table has cultural and musical works such as Rumba on the River by Gary Stewart and Music and Dance in Eastern Africa that was edited by Kahithe Kiiru and Maina wa Mutonya.
And there is more: Retracing Kenya's Songs of Protest, Retracing Kenya's Funky Hits, Retracing Kikuyu Popular Music, Retracing Benga Rhythm - all his work that speak of a man who has devoted his music career to shedding light on the untold story of African music.
Tabu swings in his leather seat and reaches for his Spotlight on Kenyan Music CD compilations, hands them over to me, and says: "You are still young. The media and artistes in this county have let us down. It is probably time you told the world the true story of our music and culture."
Passionate as he is about the arts, the artiste, popularly known for having managed Orchestra Virunga, one of Kenya's pioneer bands and The Nairobi City Ensemble, did not initially dream of becoming a musician.
He wanted to be a priest
"I wanted to become a Catholic priest but I did not make it to the priesthood. I guess that is just how things were supposed to turn out. I went to the Congo where I trained in music at a young age and then came back and started a band," he says.
"I knew I was not the best in music and knowing my limitations and the fact that I like perfection, I decided to become Orchestra Virunga's band manager."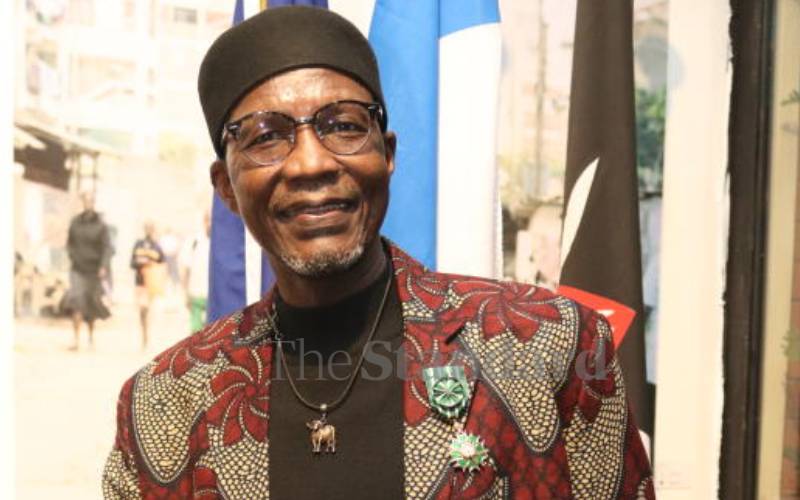 Tabu was manager for the 15-man band, which he managed for 10 years before it broke up in 1991.
"Samba, the songwriter went to the US and I went to the UK. After I came back to Nairobi, my vision had moved to supporting upcoming artistes, and that is how I started Ketebul Music," he says.
Award by French Government
It is only a week after the Government of France awarded the celebrated star the Order of Arts and Letters honours (Ordre des Arts et des Lettres), an award presented in recognition of artistes who have contributed significantly to the creative industry.
Tabu received the award during a ceremony held at Alliance Française, Nairobi, and attended by about 100 people among them GoDown Arts Centre Director Joy Mboya, celebrated singer Suzanna Owiyo, notable Kenyan broadcaster, and actor John Sibi-Okumu.
Ambassador of France to Kenya, Aline Kuster-Menager was also present at the event.
"This is a great honour. Sometimes, this is what happens. Getting recognised, not by your own people, but the world," says Tabu.
Going back to 2014, the musician recalls how he took Kenyan bands to the US for an international festival the government was supposed to head.
He says that for the 10 days he was there, he was granted 10 hours of performance daily, but no State official showed up.
"I met the government official later but they said they could not remember me from Washington, yet they were credited for all the gains after the per diems they attained," says Tabu.
The star recalls how Rhumba music came into being, even as he faults the common belief that Kenyans got their Rhumba from the Democratic Republic of the Congo.
He takes us through memory lane on how the father of Kenyan Rhumba, Fundi Konde came from World War II with a Spanish guitar and introduced Afro-Cuban Rhumba to the industry.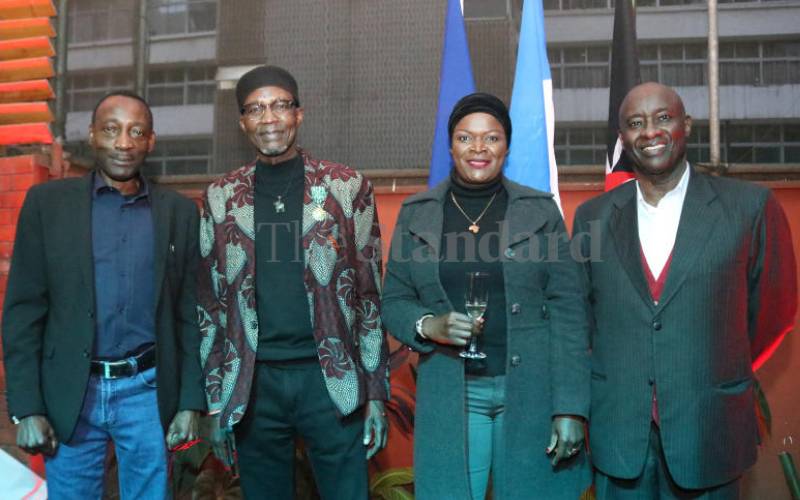 Konde, he says started Rhumba before Papa Windo, who is known as the father of Congolese music.
He adds that Konde was the first performer in East Africa to use an electric guitar and that his music utilised Swahili lyrics accompanied by a mixture of regional rhythms and imported Rhumba.
On returning home, Konde made some of the earliest recordings from the region, including the hits Mama Sowera, Majengo Siendi Tena, Kipenzi Waniua Ua and Jambo Sigara.
Konde continued to perform and record until 1963 when he took a break, up to the early 1980s when he began singing, composing and producing again.
"Where Congo got its Rhumba is where we got ours. We did not get it from them. Kenyans should know that our rumba is not from Congo.
However, Congo developed theirs and bettered it as we turned ours into Benga, then started retracing Rhumba again. How did we get it so wrong after such a good build-up?" Tabu poses.
Tabu says that these were the days when other African countries started taking their African tunes to the world, with a demand for the African folk tunes becoming the trend in Europe, especially in Germany.
South Africa started Bakanga that was later developed into Kwaito.
South Africa had Amapiano and Nigeria had Juju music that Fela Kuti developed into Afro-beat, fusing in elements with a James Brown funk touch.
"There is nothing like creating a new sound. That is what for long, generations of Kenyan artistes have been made to think. We had our Mwomboko, Ohangla, Mwanzele, Taarab and many other folk sub-genres that we should have developed and modernised to make our own unique tune. This is what Burna Boy has done with Fela Kuti's sound," says Tabu.
The veteran artiste says that Kenyan musicians are trying to sing something close to American hip hop.
"We are in denial of our culture and sound. I am not saying there is anything wrong with our youth doing hip hop, which is the biggest music genre in the world. I am saying we should pick Benga from where Daniel Kamaru left it and modernise it to fit the times," he says.
"See, Lucky Dube took reggae and owned it with a South African touch. Alpha Blondy did not do the reggae Jamaicans do. Our Taarab can be made into our own jazz tune, where people can say this is Kenyan," he says.
Disconnect between old and new
Tabu says there has been a disconnect between the old and young crop of artistes, and this has led to dismal growth of the Kenyan tune. He notes that music bands were more serious back in the day and that their members used to take music as a full-time career.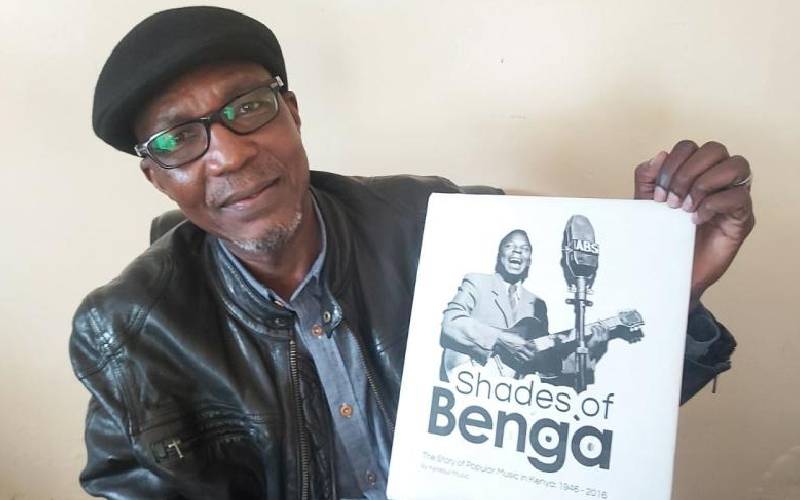 From Maroon Commandos to Benga stars like Kabasele and Kamaru, Tabu says music was more of a calling then.
"With the Spotlight on Kenyan Music programme, we discovered many young artistes among them Sol, now Sauti Sol, Iddi Achieng, Makadem, Suzanna Owiyo, Olith Ratego, Ogoya Nengo, Gargar and Winyo. These are artistes who are putting Kenya on the international music map," he says.
Together with the director of Alliance Française in Nairobi, Tabu co-chairs the steering committee of the Spotlight on Kenyan Music project, which seeks to discover and promote young talent.
He is among the few Africans who have been recognised by Cultures France in the current edition of their global cultural guide titled Les Aventuriers de la culture.
Tabu is also a member of Equation Musique, a programme that supports 12 music industry professionals from Africa, by facilitating musicians to meet with their European counterparts.
Tabu also thinks that industry players should put more research into Kenyan culture so as to appreciate our music.
"People think Nairobi has all the music Kenya should hear. They think the popular sound they hear in Nairobi is what Kenya has to offer. Go to the rural areas and attend weddings and funerals. Go to rural clubs and hear what people are listening to, what they are talking about. It will dawn on you there is a missing link," he says.