2022 succession battle: What ace does Uhuru have up his sleeve?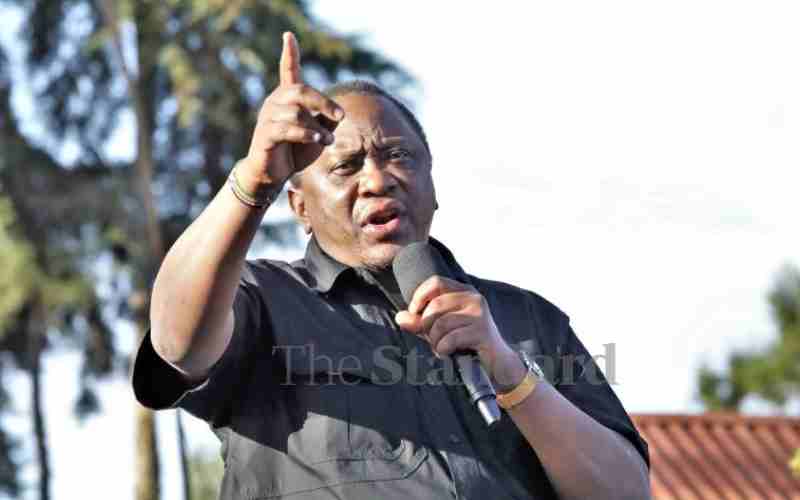 President Uhuru Kenyatta's dalliance with political leaders separately locked in a competitive race to succeed him next year, has confounded allies and rivals alike.
In a series of events, punctuated by mixed signals to allies, the president has lately been accompanied by former Prime Minister Raila Odinga, former vice-presidents Musalia Mudavadi and Kalonzo Musyoka and Kanu chair Gideon Moi.
He has also not gone public denouncing his principal assistant, Deputy President William Ruto's presidential bid – which has plunged supporters into a guessing game.
That the president seems to be angling towards the Opposition is not entirely surprising. Uhuru is alive to the dynamic environment around him and has a history of making major political about-turns.
In 2005, for instance, he swiftly abandoned his colleagues in the Orange camp that emerged victorious in the constitutional referendum after it became apparent that he had lost ground in his Gatundu South constituency.
His constituents voted overwhelmingly for the President Mwai Kibaki-led Banana camp.
And in the 2007 poll, Uhuru, then Kanu chair and Leader of Official Opposition, abandoned his party, to support President Kibaki. Pundits argue that his decision this time around – similarly politically odd – is pragmatic.
Saying that a public endorsement is tantamount to being labeled a "project" and, therefore, politically detrimental to one's campaign, ANC deputy party leader Ayub Savula, observed it was unlikely Uhuru will publicly endorse anyone but "most likely support someone behind the scenes."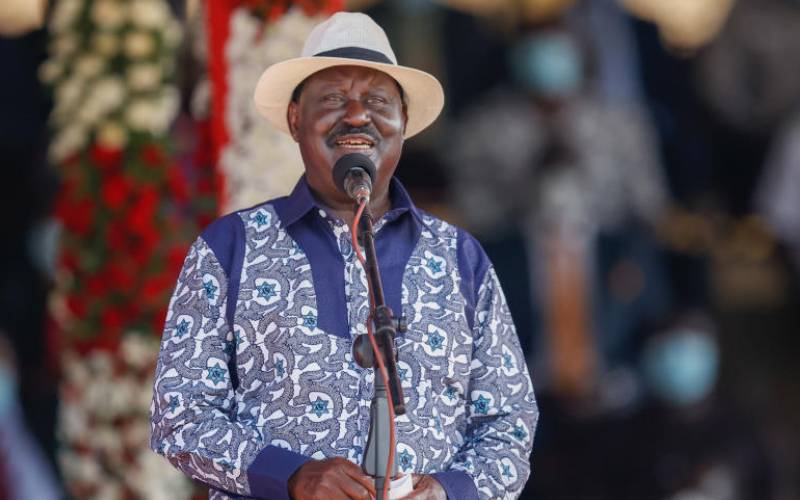 He, however, said Uhuru and Mudavadi come along way and that he has a soft spot for his party leader.
Savula also acknowledged that no presidential candidate has won an election on account of being endorsed by an incumbent.
Uhuru was endorsed by the late President Daniel arap Moi in 2002 but lost to Kibaki. Mudavadi was also believed to be Kibaki's choice for 2013, but the State House operatives' plot backfired after Uhuru refused to play ball.
"Our candidate has since 1992 lent his support to other candidates or suffered the tag of endorsement and so this time we know better. We are not waiting for any endorsement. We are busy popularising Mudavadi as Kenya's next president," said Savula.
National Assembly Minority Leader John Mbadi said ODM entered into a Handshake deal with the president in 2018 to restore stability and enhance national cohesion.
"Since inception in 2007, we have participated in presidential polls and registered sterling results, some of which we were clearly robbed of victory. All this while, endorsement has not been part of our vocabulary and neither will it be this time around," Mbadi said.
The Suba MP, however, said Uhuru was a friend of the Orange party, which now supports his government. "If he willingly opts to support our candidate, we can only say Hallelujah," said Mbadi.
Little wonder then that DP Ruto, who had initially given the impression that Uhuru does not owe him a political debt, was rattled by newspaper reports alleging that the president had hinted on supporting a National Super Alliance (Nasa) candidate.
On social media, the DP protested at "the decision" and asked why his boss had not found suitable any of the men and women who have supported him since 2013.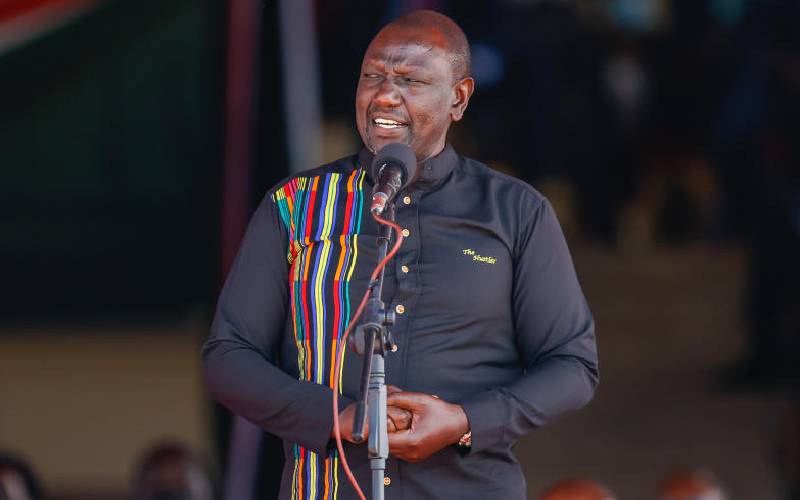 Only two tribes
In January this year, in Vihiga County during the burial of Musalia's mother, Mama Hannah, Uhuru unleashed a veiled attack on his deputy, stating that since only two tribes have occupied the top seat in Kenya "perhaps time is ripe for another community to take over".
This was interpreted by locals as endorsement of their "son" – Musalia.
Then during his Maradaka Day speech in Kisumu, the president appeared to endorse Raila's presidential bid when he suggested that "whatever the future holds for him" he was going to walk with Raila to realise a prosperous Kenya.
And while meeting politicians from Ukambani, he thanked the Opposition leaders for the support his government was enjoying and reportedly hinted at working with them after his term. Kalonzo was the main Opposition figure present.
But Nandi Senator Samson Cherargei claims Uhuru "is simply confused and that is why he is trying all manner of formulas to secure a win".
The vocal senator claimed the president allegedly wants to succeed himself "and that is why he is reluctant to put his hand on anyone else – not even his deputy".
Political scientist Mutahi Ngunyi interprets Uhuru's apparent mixed signals as a deliberate play to keep every political play "within his eyesight".
"He definitely knows what he wants and is simply playing cards close to his chest. At the right time – and possibly when it is too late for anyone to bolt out, he will unleash his game plan," Ngunyi said.
He said this has been Uhuru's style – getting rivals close and playing unpredictable.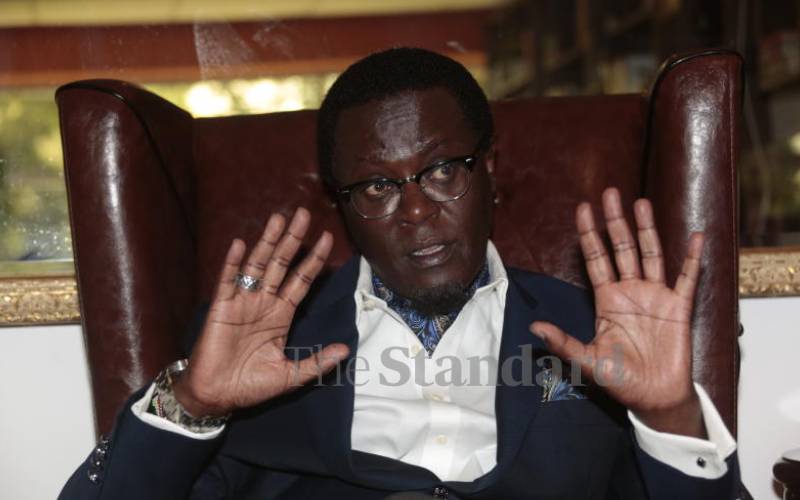 He cited the incident in 2013 when Uhuru allegedly dropped his presidential bid for Mudavadi, only to renounce the move hours later.
Other sources attribute Uhuru's conflicting signals to a dilemma among members of his family and the Kitchen Cabinet, torn between support for mainly Gideon, Musalia and Raila.
A source, who requested anonymity, said the choice of Gideon would aptly neutralise the DP – so far the front runner to succeed Uhuru – in his Rift Valley backyard, while Musalia is viewed as the most acceptable candidate among the three in the populous regions of Rift Valley and Central Kenya.
And those rooting for Raila, single out his huge following across the country.
"Ideally, the president's strategists are working on having all the four original principals of Nasa and Bungoma Senator Moses Wetang'ula on board as well as Gideon. They cannot afford to have any out of the orbit," the source added.
Kitui Senator Enoch Wambua shared this sentiment: "According to my reading, his intention is to have all the presidential hopefuls working with him to agree on one name. That way, it would be easier and less toxic for him to support the identified candidate."
But the Senator added: "Wiper Party is very serious about fronting Kalonzo Musyoka as the presidential candidate for the One Kenya Alliance."
Political commentator Prof Munene Macharia singled out Mudavadi as Uhuru's secret candidate. Noting that Uhuru publicly displays his association with Raila, the USIU lecturer points out that the Uhuru-Mudavadi consultations "are less loud, meaning something tangible could be ongoing underground."
"He may not be a leading contender like Ruto or Raila, but he is friendly to all, less antagonistic and an acceptable candidate across the country," he said.
But Ngunyi said Raila is the man to watch: "My hunch is that Uhuru is gravitating towards Raila because of his steady numbers – the 44 percent tally that he has commanded since 2007. Biological age also works for him, because the president may be interested in handing over to a one-term transitional president."
However, Mudavadi and Kalonzo have expressed their unwillingness to work with Raila owing to "serious issues of trust".