The final days of Chris Kirubi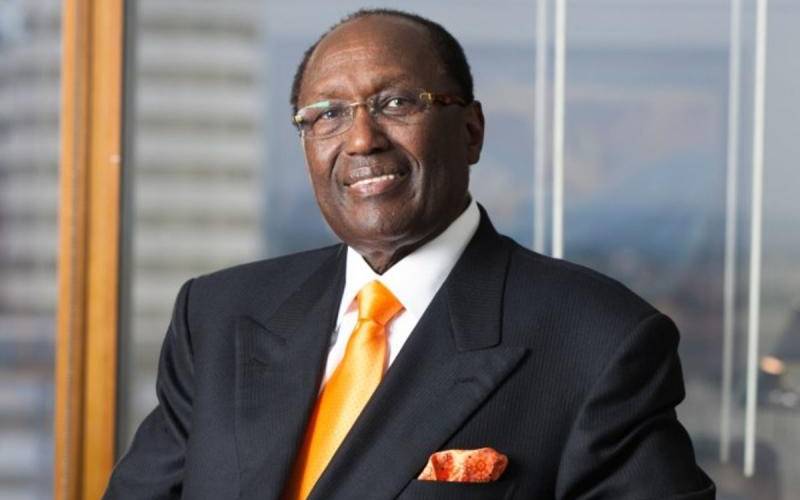 In a statement to the public, his family said: "It is with great sadness that we announce the passing of Dr Christopher J Kirubi (1941-2021), who passed on today, Monday the 14th of June, 2021, at 1pm, at his home after a long battle with cancer fought with fortitude, grace and courage."
Kirubi was diagnosed with cancer in 2017. He said in some of the recent media interviews that he accidentally discovered he had cancer. After a hard day at work one day, he said he retreated to his Kitisuru home, as he was experiencing high fever. He called his private doctor, who arrived with a pathologist. "They took my blood and quickly ran checks, only to return to tell me that I was very sick and needed to go with them to the hospital. They rushed me through the emergency section straight to the High Dependency Ward at Nairobi Hospital," Kirubi did say.
He spent 12 days at the hospital before being flown to the US for treatment. The industrialist had first been flown to Boston in the US for treatment in November 2017 and returned to Kenya after nine months. When he came back in mid-2018, he had lost a lot of weight, something attributed to the effects of the cancer treatment.
In August 2019, Kirubi returned to the US for further cancer treatment. By early 2020, he appeared to be on the way to recovery, and had even gone back to his radio DJ gig at Capital FM. After the diagnosis, Kirubi took a step back from running his vast business empire and spent his time between his Vipingo Home in Kilifi and the other one in Nairobi's Kitisuru.
"Even when he was in the US, he could call every day at a particular time to find out how business was doing. He asked tough questions, and also praised hard work. He knew everything that was going on in his businesses," said a manager at one of Kirubi's businesses.
Late last year Kirubi got the whole country talking after he insisted that marriage was slavery, a jail for men, and that most men were not happily married. The outspoken industrialists said on Churchill Show: "Marriage is enslavement and you have to be careful. You have to agree to go into slavery and into 'jail."
It was his first television interview since returning to Kenya, in August 2019, from Boston, where he had undergone cancer treatment.
The 80-year-old tycoon revealed that he was briefly married before he divorced his wife. "If you marry a good woman, it is such a pleasure. But there are some women who are like they first went to the army then came back for you to marry them," said Kirubi, adding that he found no happiness "going home to a quarrelsome woman… Now I go home to my Sausage Dogs and we don't quarrel." They divorced in 1991.
Even though he spent a lot of time in his Vipingo home after cancer treatment abroad, Kirubi did not mince words about his thoughts on marriage.
He advised men that there was no point living in misery just to stay married, adding that he found marriage "too restrictive for me, going home at particular times… Divorce is a nasty thing, but if it has to happen it better happen. There is no point living in misery just to stay married."
Kirubi however told KTN's Person of Interest programme that he still saw his ex-wife from time to time. The couple had two children, Mary-Anne Musangi and Robert Kirubi. Mary-Anne Musangi, is the Chief Executive Officer at Haco Industries while Robert works for DHL in Belgium.
"I was outgoing. I wanted freedom. But my wife was conservative. People are born different, maybe we were not two of a kind… One has to be happy and enjoy it. It was too restrictive for me, going home at particular times. I now work until midnight and there are no questions asked," he said, adding that he never remarried. "I am not heavily committed," he said of the time he did the interview.
An avid user of social media, Kirubi was active on Twitter and LinkedIn, where he gave tips to aspiring business people. He also freely shared his thoughts on Twitter, where he focused on business and social issues. He interacted with entrepreneurs under the hashtag #AskKirubi. He never focused on politics. Even though he seemed to be on the path to recovery, Kirubi was unable to attend an investors' conference last year, and in a message posted on Capital FM's YouTube page, the Capital Group Ltd Chairman said he could not meet people as his immune system was weak.
"I am not coming to the meeting this morning because my immune system is weak and it is easy for me to pick up germs from a huge crowd. But I miss you and may God help you," he said.
Michael Mumo, a former manager at Capital FM, yesterday said the businessman had unrivalled work ethics. "Even when he was out of the country, he could call every day. He knew his business in and out. He was always ahead of his managers. He could ask you a question about something that you were not even aware of. And he loved people, mentored his employees. Working for Kirubi shaped me personally as well as career-wise."