Perfect harmony and a passion project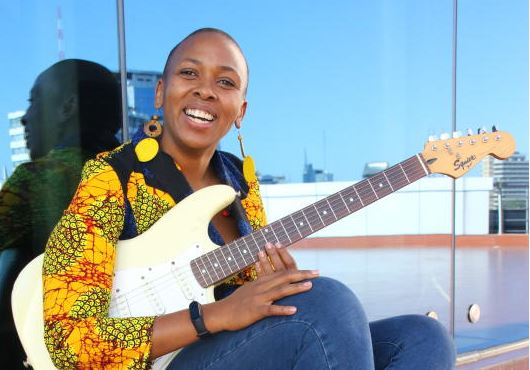 When I step onto the fifth floor of the Nairobi University Towers, I feel like I have stepped into a blockbuster movie's set. The women's orchestra is doing their final rehearsals.
The music is so good, I can feel it flowing into my soul like a river, and washing away all my cares, for that moment.
The brass and the woodwind section is practising outside the building, against the backdrop of the Nairobi skyline, while the strings section practices inside, behind the huge glass doors.
In a moment, they will be together. The music awakens surprising sensations. In that moment, the sky looks more blue, the air feels fresher and the mind is calm.
It is surreal.
As Wandiri Karimi takes me around explaining various aspects of the orchestra, we bump into her sons, Heri, 7, and Rithi, 10.
Heri, runs up to her and hugs her before grabbing her and gleefully spinning her round, and then exclaims, "Now do that for me!" and she becomes a child again, spinning him to the great joy of the young one.
A piece of sheet music is blown away by the wind. "The music has flown!" she exclaims laughing, as Heri runs off to catch it.
As the whole group comes together and begins playing the sets, we are seated on the floor, watching them. I ask her how she feels watching her dream come to life.
"It is a lot to take in!" she says, in a reflective tone.
"To imagine that we started with just a dream. To imagine that we are doing this in a time like this, it really is an emotional thing to experience. The right kind of emotion, in the sense of, 'Wow. What else can we do if we are able to get to the place we need to be?
"And now having this kind of support. The University of Nairobi supported us by providing a venue where all these people can do their rehearsals. Our problem was having too many people and little space for rehearsals. I am filled with hope for this project this year. Last year was difficult for everybody."
Expert guitarist
She gets up and goes to tune her guitar. She is part of the orchestra for one of the songs coming up.
There are eight grades in classical guitar assessment and she is a grade eight classical guitarist, the highest level. She can play any piece of guitar music placed before her. "There are some muscles of course that are weaker than others. In many ways, music is like going to the gym," she tells me a few days later.
"What you put in is what you get out. Classical guitar is one thing, acoustic guitar is another thing, jazz guitar is another thing - African music, benga, rhumba, all those things are different. So you can't know everything, but you can continuously learn and that's the thing I love most about it."
She got into music at the age of six, learning at The Kenya Conservatoire of Music.
At that time, she had no inkling that today 34 years later, she would be the director of the same institution.
"So, in the 80s...wow I'm so old!" she laughs at the sudden realisation of how long it has been. "...there was this charity called The Kenya Music Trust. They started a programme in public schools that targeted children in those schools.
"My elder brothers got the scholarship, so while they were learning, I ended up in a music class. It was at the Conservatoire and I did my first Grade One exam at six years old."
She recalls how strange it was to other people for such a young child to be studying music.
"One of my most vivid memories is from that day. Everyone was looking at me like, 'what are you doing in this room?' Because I was so young. I sat the exam and I passed."
It would turn out to be the defining moment of her life.
"I think that defined my passion. I didn't know it then and didn't even know later that I would end up where I am now, but it is the one thing I feel has changed even how I look at life," she says.
At 14, her brother bought her a guitar that she still has and she would lug it to school, teaching herself how to play it along with piano.
But it wouldn't be until she was 22, that she would begin formal lessons while also studying law at the University of Nairobi.
"When I started my lessons, I knew that I wasn't going to practice law in the same way other people do," she says.
She then got the opportunity to teach music once a week at the Conservatoire.
Two loves
"I did my masters in Intellectual Property. My idea was to put my passion for music and my study of law together to create something that would be beneficial to the whole creative industry."
Today, they both feature in her life in perfect harmony. She is now a consultant in intellectual property matters in the arts industry.
Her term on the Copyright Tribunal just ended recently, after three years and she has been the director at the Conservatoire since 2016.
In addition to her duties as a director, the women's orchestra has been her passion project since then.
When Wandiri first started playing the guitar, she would always be the only female guitarist on stage.
"That was a struggle," she says. "The number of times I heard, 'You play well for a girl'! (laughs). That was a consistent conversation and when you keep hearing, "for a girl", you start doubting yourself. Does that mean that I'm not good enough? Does that mean that my gender makes me have a different measure of skill?"
"Also, there was the issue of the places where I chose to play in. I had to think very carefully about where I could go because the way we are looked at as female musicians is very different.
"That was part of the reason for founding the Women's Day Concert and having women on stage in that space. We call it a safe space because we are around women. No one is questioning you about where you are going, who you are with.
"You actually feel safe in the space because you aren't being harassed. You know for us, harassment is something we go through every day of our lives when we get out of the house. More so when we are trying to share something with the world. It is not as glamorous as people say. If you see it and you hear the stories of what happen to women in our space, it is not pleasant."
In 2016, she and the lead conductor, Keziah Ntwiga, had a conversation and in 2017 they decided to do a show on International Women's Day.
It was made up of women from the prelude orchestra, the symphony orchestra (these are the orchestras at the Conservatoire) and also women in the Nairobi Orchestra.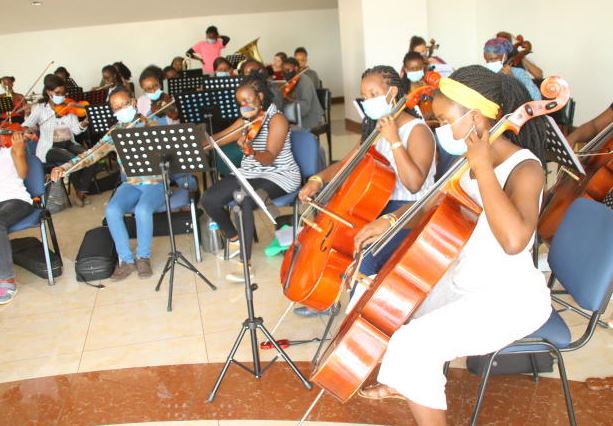 Celebrating women in music
"Keziah and I talked about what we wanted the space to be like and what we wanted the message to be. At the time, it was simply celebrating women in music," Wandiri says.
"As we grew, we had been learning through the concerts what works and what doesn't. We added an element of dance the following year because it became clear that the performing arts needed to be represented and that's how we grew.
"Our core team is slightly larger now, so we have Keziah and now it is about moving this women's orchestra from something that we do not just once a year but all through the year."
The orchestra is now in its fifth year, and they hope that it will one day become an Africa-wide affair.
The signs are already there. Last year, they had a trumpeter from Uganda, and this weekend's concert features a Ugandan pianist.
It has also been life-changing for some of the women involved.
"One of the young girls we featured in 2019, Shirlene Obara played for the first time with the orchestra. It was the first time soloing with an orchestra.
She got a scholarship to study in the UK. At the time she was 11, now she's 13.
The theme for this year's concert is 'hope and healing." The concert today, March 7, is a 60-minute show starting at 3pm at the Kenya National Theatre.
"I am really looking forward to the show. The rehearsals have been amazing. The sound is the best that we have ever had. I can't wait to share this with the audience. The pieces of music we have chosen are very deliberate, around that theme of hope and healing."
"When we started the show, we started with celebrating women in music. But we are dedicating this one to those we know are going through a lot of things.
"The message is this: 'When I thought I was alone, I never was. We are not alone, we never were. We have discovered we were many'."