Philanthropist who gave land for hospital buried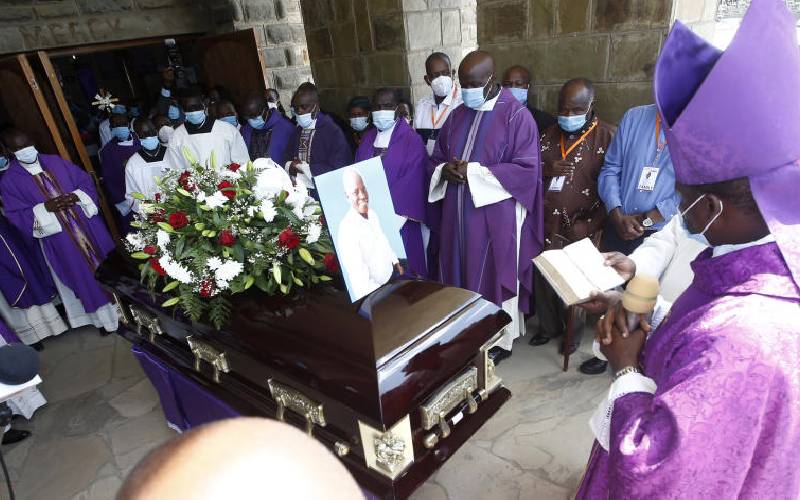 When Joseph Ng'era donated 42 acres of his land many years ago, he did not know that this act of philanthropy would touch the lives of many.
It is on this land in Gilgil where the now-famous St Mary's Hospital sits, serving hundreds of patients daily at affordable charges.
So, it was not a surprise when hundreds of residents of Gilgil turned up for Ng'era's funeral service at Christ The King Cathedral in Nakuru town, all emotional and sad.
Ng'era, who died on February 24 aged 78, was laid to rest yesterday.
The residents, led by Nakuru Governor Lee Kinyanjui, eulogised him for his charity work and thanked him for giving the residents access to quality, and affordable healthcare.
"His acts of philanthropy left an indelible mark on the lives of many people. St Mary's Hospital has been offering health services to many from Nakuru and beyond.
When we see such great men leave, it reminds us of the roles we have in life," said Kinyanjui.
Apart from St Mary's, Ng'era also donated land for three schools and children's homes at his residence in Elementaita.
And when Dr Fr William Fryda, who had co-founded St Mary's was evicted from the hospital in a controversial fight that captured media attention in 2018, Ng'era was again at hand to help the priest settle.
He donated another piece of land on which Fr Fryda set up St Joseph's Hospital and a nursing school.
Nakuru Catholic Bishop Maurice Muhatia described Ng'era as a unique man who had a close relationship with people and God.
Take a quick survey and help us improve our website
Take a survey
"He was a unique man in the way he related to people and God. He led by example and always made peace between people who had differences," Muhatia said.
His acts of generosity extended to his sunset years when he recently gave out his house to the Catholic Church to be converted into a home for nuns.
For 50 years, Ng'era was a devout Catholic. He served as an altar boy and later as a catechist, winning many to the Roman Catholic faith.
His brother, Dominic, said some of his actions left many in shock as he extended a helping hand in the least expected way.
"After he built a new home, he shocked many when he decided to donate his previous one to the church. He used to say he didn't have any property of his but all belonged to God," said Dominic.
Esther, his second wife, eulogised him as a loving husband whose death came as a surprise just 10 years into their marriage.
"I only wanted love but I got much more. You always told me you would pass on at the age of 120 years, so death never worried me. I wasn't prepared for your departure but I will do as you had told me – accept it," said Esther.
His son, Sammy Ngugi, described the late Ng'era as a loving father who always sought the best for all his children and gave them unconditional love.