Coast does not need its own political party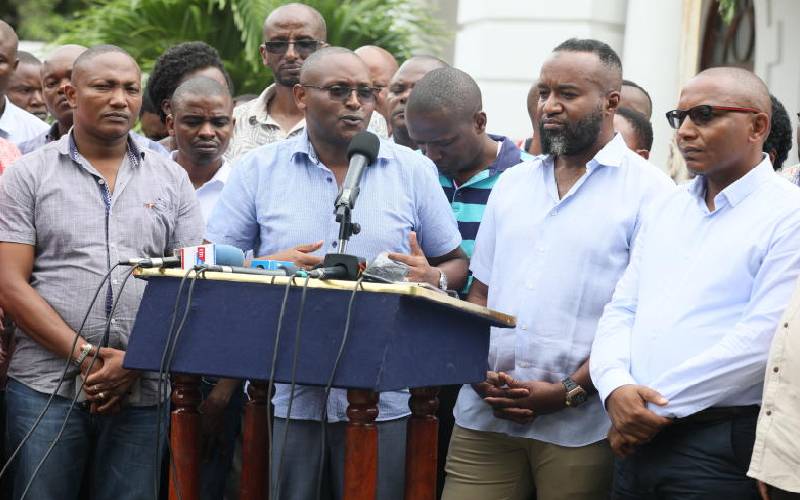 Again, we hear the cacophony of coastal unity lyrics with the sounds of BBI in the background, and the music is not in synch. Coastal unity is a mirage and the sooner coastal politicians come to terms with it, the better for all of us.
BBI is essentially an economic document and the general public has not fully understood it. Somehow, opponents of BBI have stolen the narrative and sold it as a political document designed to create jobs for some leaders – which it also is.
In the process, people have misunderstood the real implications. BBI is not the most popular document in town and many coastal politicians are gingerly distancing themselves from it and adopting a wait-and-see attitude.
BBI is the greatest issue we have now, and we must make an informed decision. We must face the bullets of negative public opinion until the public fully understands the real issues. Let's start with coastal unity. The late Ronald Ngala was one of the leaders of Kadu who advocated for Majimbo or Federal States (devolution today). Majimbo was sacrificed at the altar of "National Unity" in 1964 when Ngala and Daniel arap Moi folded Kadu and joined Kanu. We know what happened next. Power moved to the centre and resources were concentrated in a few areas for the next 40 or so years.
Let us not sugarcoat our reality. As much as we want to act as Kenyans, we act tribally first. Many who want to become national leaders go back home to consolidate their bases before coming to the national table to negotiate with other tribes. Our mathematics are tribal.
The Coast is equally divided. The biggest tribe is the Mijikenda, but even within the Mijikenda, the first amongst equals are the Giriama. In Kilifi County, which is 90 per cent Mijikenda, the internal rivalry is between the Giriama and the rest of the smaller clans. It is only in Mombasa that Mijikenda politicians talk of tribal unity.
Culturally, there is little that unites the Pokomo, Orma, Duruma, Taita, Bajuni, Digo, Giriama, Taveta and the other tribes. Our tribal mathematics do not add up to a coastal party. The economic interests and priorities of, say, Taita Taveta and Lamu are non-existent. This applies across the Coast. The "Jumia Ya Pwani" was an intellectual document designed by coastal intellectuals and drafted in Ivory Towers out of touch with the reality on the ground.
Consequently, it had little support from leading coastal leaders. Today, in the 11th hour with elections around the corner, coastal politicians are trying to revive it in the form of a political coalition or party. The history of Kadu, Kadu Asili, Shirikisho and other moribund coastal parties do not give much hope.
In Mombasa, the political situation is even clearer. Mombasa is a melting pot for the rest of Kenya. Our demographics show Kenya is almost proportionately represented here. We have come to accept that the Luo, Kikuyu, Kamba and other up-country tribes of Kenya are ours.
Talk of a coastal party here does not augur well for them as they feel excluded. Our political future lies in taking part in national parties and claiming our stake. The talk of creating our own coastal party and using it as a negotiation platform is disingenuous. In view of our different political and economic interests, who will they be representing?
Perfect document
BBI on the other hand offers an opportunity to increase resources to the Coast from15 to 35 per cent, the creation of new constituencies and Ward Funds. Devolution without resources is a pipe dream. The increase in resources will make it work.
This is the most important contribution of BBI for the Coast. The creation of a few more jobs at the centre table is tribal accommodation. Today it is for our current crop of top politicians and tomorrow it will be for others. We may not like it, but it suits our tribal reality. In time we can drop this too.
It is time for coastal politicians to focus on what we need to do. Our challenges are more economic and less political. How do we create jobs and opportunities for our traders and small businesses? If BBI will bring us more resources, then we have to embrace it and move on.
BBI is not a perfect document, it has too many uncomfortable changes that could undermine our democratic gains. However, with time, we too can refine it and remove some of the stings. If the South African Constitution has been amended 29 times since its independence in 1994, so can ours.
Let's move on and start focusing on our economic challenges and spend less time talking politics.
Mr Shahbal is chairman of Gulf Group of [email protected]