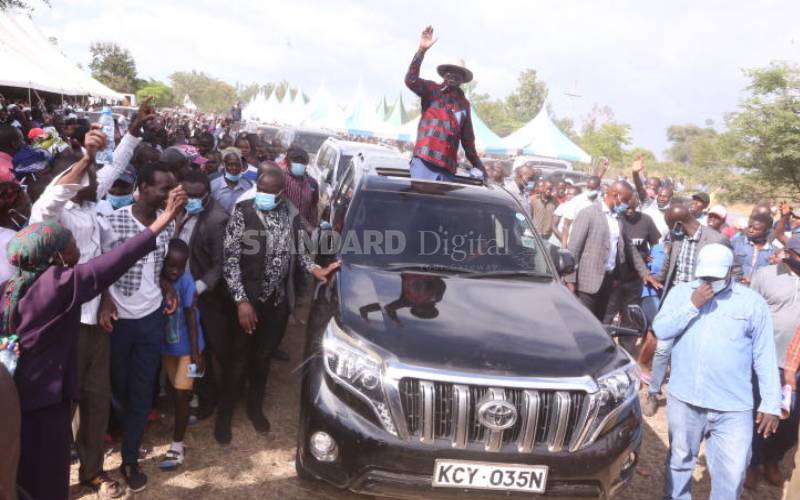 As ODM starts the process of picking its 2022 presidential flagbearer, focus will shift to its founder Raila Odinga who is believed to be preparing to take a fifth stab at the coveted office.
The nomination process is taking place at a time when Raila is trying to craft new alliances and ring fence his traditional bases to boost his chances of winning the top prize.
Yesterday, ODM said it plans to pick its presidential candidate within three months, thereby reigniting the debate on what it will take for its candidate to triumph.
The party's National Elections Board chairperson Catherine Muma yesterday explained that they plan to vet applicants before convening a national delegates conference by April to pick a candidate for the contest.
In its advertisement yesterday, the party invited members interested in flying the party's flag to apply by February 26.
Read More
Fifth attempt
If he chooses to run and is voted in as the flagbearer for the 2022 polls by the party's delegates, Raila would be making his fifth attempt for the seat that has eluded him since 1997.
Raila's allies, who insist that his past election victories have been snatched from him, believe this would be his best bet to ascend to power citing his dalliance with President Uhuru Kenyatta.
His critics, however, say he stands no chance since much of his perceived traditional strongholds of Coast and Western have shifted allegiance and may not back his bid again.
Raila's elder brother, Oburu Odinga, recently lifted the lid on the thinking of the former premier's strategists when he said that they have failed to win the State House bid for "lacking the support of the system".
"Why have we not gone to State House when we have won the presidency before? It's because there is something we have been missing. That thing is called 'system'. And now we are with Uhuru Kenyatta who is holding the system," said Oburu during a function in Siaya.
According to Raila loyalists, Uhuru is not only bringing the system but is supposed to gift the ODM leader his Mt Kenya voting bloc, further solidifying the numerical strength arising from the coming together of Kenya's two dominant communities.
This argument is emboldened by what happened in 2013, when Uhuru and Ruto won by the combined force of Central and Rift Valley blocs. In the elections, Uhuru polled 6.1 million to secure 50.07 per cent of the national vote to avoid a run-off. Raila bagged 5.3 million in the election, that Uhuru won by going over the 50 per cent mark with only 800,000 votes.
In 2017 poll, Uhuru widened the lead over Raila to 1.4 million in a presidential vote whose results were contested and later nullified, occasioning the repeat vote.
An analysis from these past two polls indicates that the wins in 2013 and in 2017 could not have come without the huge voter turn-outs averaging above 90 per cent in their strongholds.
Following the bitter fall-out between Uhuru and Ruto, Raila's allies believe that the DP is unlikely to inherit Mt Kenya region as a bloc, thus enhancing the former premier's chances of shoring up his numbers.
National Assembly Minority Whip Junet Mohamed and Cotu boss Francis Atwoli yesterday explained that Raila has a headstart of almost a half of the country's support base, putting him ahead of other possible candidates.
Junet said that with the handshake, the ODM party leader will be able to campaign in Central and inherit Uhuru's support base.
"He has been having chances in all the elections, nothing has changed. In the event that he becomes the ODM candidate, he will win," said Junet.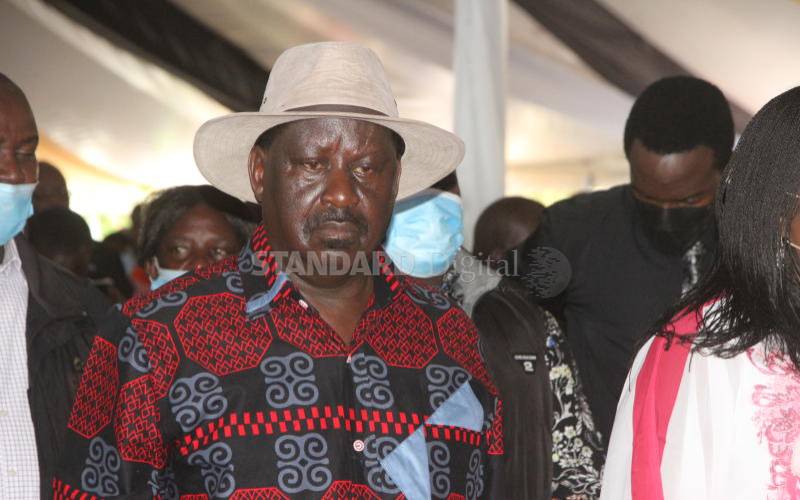 He described claims that Raila was losing some of his traditional bastions to the DP as an illusion, saying that the politicians that have defected from Raila's camp have not moved with the voters.
Raila's allies and strategists believe that if past voting patterns hold, he only needs voter apathy and any splitting of the bloc in Central for him to beat his perceived main opponent, Ruto, in the race.
Atwoli said that Raila would be 'home and dry' if he retains his National Super Alliance (NASA) support base.
He described Raila's supporters as firm and would definitely vote him should he run for the top seat.
"Currently, he is enjoying the support of a half of Kenyans. I would ask him to embrace Kalonzo, Mudavadi and the entire NASA team. If he brings back NASA, he would be home and dry," said Atwoli.
Numerical strength
Nyeri Town MP Ngunjiri Wambugu said Mt Kenya region would determine who becomes the next president due to its numerical strength.
He said that the region would only back a person offering it the best political deal.
Although Uhuru recently indicated that he may not endorse a presidential candidate in the transition poll, his close ally and Jubilee Vice Chairperson David Murathe suggested that it was time to reward Raila for his struggle to liberate the country.
His remarks suggested there is a push to have the region, that has traditionally opposed Raila, to back him in the next poll.
"We think it's time Kenyans rewarded the years of struggle of Raila Amollo Odinga. They owe it to him. It's like Mandela's, and 2022 will be a Mandela moment. And we would also like to tell him (Raila) to be a transitional president who will then nurture the young generation to take over in 2027," said Murathe in an exclusive interview with KTN.
But Ruto allies said the next poll will not be a contest of ethnic blocs but manifesto and development agenda.
Nandi Senator Samson Cherargei and Soy MP Caleb Kositany said that they are aware that ODM will settle on Raila to run for the top seat, adding that they are ready to beat him at the ballot.
Cherargei said Raila will have nothing to sell to the people now that he is part of Jubilee administration, explaining that his past campaigns have hinged on the government's unfulfilled promises.
Enormous support
"Ruto is enjoying enormous support across the country, including Mt Kenya. That is why every aspirant is fighting him because he is a front runner," said Cherargei.
Makueni MP Dan Maanzo, an ally of Wiper leader Kalonzo Musyoka, said fielding Raila as the opposition candidate will guarantee Ruto a win.
He said Uhuru might not influence his voting bloc to support Raila for the top seat.
He said the fear of a Raila presidency was still heavy in Central, and would be used to whip up support against the former premier.
Similar views were shared by political analyst Edward Kisiangani, who says that Raila has lost a lot of his traditional grounds in Coast and Western.
He also argues that Mt Kenya is likely to vote Ruto to end the perception that it has never voted for an outsider.
And political analyst Javas Bigambo says some of the factors that shaped the previous polls have changed, including the number of voters as well as Central not producing a presidential candidate.
He believes the lack of a supreme leader in Central may result in a split vote.