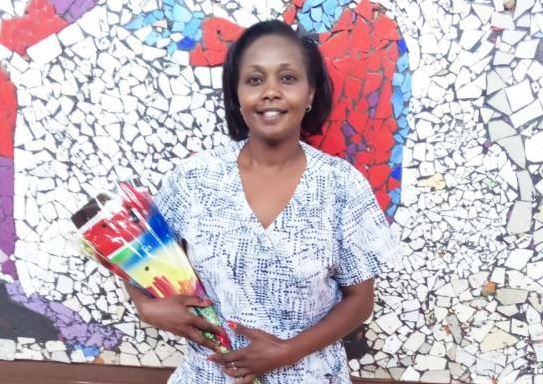 As early as 7am, Gladys Chesire, dressed in a blue personal protective gear, is taking records of each patient at the Diabetes Centre of Excellence, Rift Valley Provincial General Hospital in Nakuru County.
Both the young and the old here look anxious, with some in excruciating pain.
One by one, Ms Chesire takes the patients to an observation room, where she counsels and nurses them.
Chesire (pictured) cleans and dresses their wounds with saline and applies an anti-infection gel.
Read More
People with diabetes, she explains, develop wounds that are slow to heal, with some being life-threatening.
"To some, these wounds are scary, but I love my work. I do this with passion because we need to save a life and make these patients comfortable," she says.
Chesire's efforts and handwork have not gone unnoticed. She was recently feted by the Ministry of Health after a countrywide vetting of nurses in 35 centres making a difference in diabetes management.
It was the first time the ministry was honouring nurses managing diabetes in the country.
Chesire was recognised during this year's Global Diabetes Sensitisation on November 14.
In an event graced by Health Chief Administrative Secretary Dr Mercy Mwangangi in Nairobi, Chesire was applauded for her relentless work in saving the lives of many children living with Type 1 diabetes and sensitising the community on the chronic disease.
At the centre, Chesire trains children how to inject themselves with insulin to regulate body sugar levels.
She also documents diabetic patients and does follow-ups to ensure they collect drugs and undergo regular check-ups.
Dire situation
"Denial is the major challenge facing diabetic patients. Most of them only seek treatment when the situation gets dire. This is why documentation is key," she says.
Chesire recalls when a 13-year-old girl was placed on treatment, but later died for failing to adhere to medication.
The girl was believed to have been bewitched by her uncle and was placed on herbal medicine.
Even after being diagnosed and placed on treatment, her family still believed she had been bewitched.
She dropped out of school and would be hidden by her parents due to the stigma they faced from society.
After she failed to turn up for a check-up, Chesire visited her sister's home in Nakuru, only to receive news of her death.
"The death of this girl left me traumatised. She had been improving after being placed on treatment, but myths of being bewitched led to her death," says Chesire.
Chesire is also celebrated for saving the life of a nine-year-old boy from Mawanga Estate, Nakuru town, who was admitted to the centre in a critical state.
In panic, the boy's mother dumped him at the unit and took off.
Chesire resuscitated the minor - he had lost consciousness - checked his sugar level (it was 1.2 against the expected 3.5).
Currently, the boy is strong and attends regular check-ups.
"I am the happiest person when I see children with diabetes grow into productive individuals, despite the challenges that come with daily injections," she says.
Dr Mwangagi encouraged her to continue with her excellent nursing work, especially during the Covid-19 pandemic.
"The nurse has been working relentlessly, enrolling diabetic patients on treatment and sensitising the community on the disease. Keep up good work," said Mwangangi.