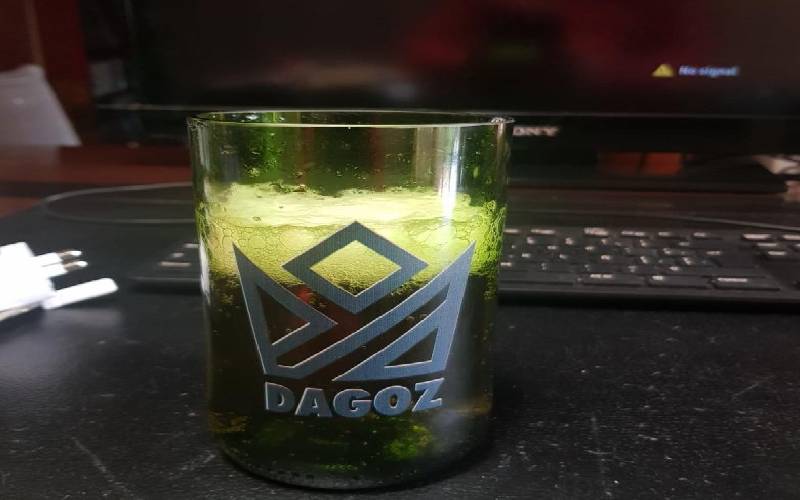 Dagoretti Corner, along Ngong' Road, is a popular spot for ravers, party animals and nyama choma lovers. Among the things that make this 'corner' so popular is the Dagoretti slaughterhouse, an old abattoir that churns out tons of fresh meat daily.
And since the apple doesn't fall far from the tree, butcheries and nyama choma joints around the area enjoy an ample supply of fresh juicy cuts, straight from the knacker's yard. The other thing that makes this corner very popular, is the sheer number of bars and pubs dotting the area. The ground floor of almost every flat in this place has one, or a couple of bars, where revellers meet to down ice-cold beers.
It's in this plethora of 'dreateries' that Dagoz Bar stands. From the outside, Dagoz looks like any other joint where customers are treated to 'nyama ya kuonja' and a cold beer. But when you go inside, you realise that Dagoz is not your ordinary local. The first striking difference in this joint is the unique beer glasses which patrons use to drink. The glasses are actually cutouts upcycled from waste alcohol bottles. Steven Kiwinda, the founder and owner of Dagoz Bar says his initial idea was to come up with a unique concept in a place where the competition is stiff from about 200 Bars within every square kilometre.
At the time, he was looking for a place where he could set up a music club since he had for a long time been a performing artiste. He was familiar with the particular bar as he used to drink there before he took up the tenancy and renamed it.
Read More
"I set up the bar with the aim to satisfy my desire for live music, I wanted a platform where music lovers and artistes could engage and freely interact. So when the previous tenant left, I saw this as the perfect opportunity to put up my own space when it was declared vacant."
The entrepreneur, who is also an accountant then came up with a concept whereby he would collect waste alcohol bottles, then cut them into glasses and use them to serve patrons.
"My customers were very reluctant at the beginning. They were really startled by the idea of drinking from an upcycled glass," he says. But with time, they warmed up to the idea.
The interesting bit about Kiwinda's concept is that he makes the glasses himself. As such, he does not purchase any drinking glasses. The cut glass is made from used bottles and is cut to Kiwinda's preference.
"I use a glass cutter which has a diamond tip to create a crack on the bottle. First, I scratch the bottle to create a line around it, and then I subject the cracked to different temperatures ranging from hot and cold. After this treatment, the bottle will simply break from the weakest point," Kiwinda explains.
He learnt the art of cutting glasses on his own as a child. The knowledge was just a childhood game until two years ago when he decided to make it useful while starting up his bar. Another factor that motivated his concept was the need to save the environment from pollution caused by glass waste.
"It occurred to me that there was a lot of rubbish in form of used glass bottles, but nowhere to take it all, so I thought, why not?!" Besides alcohol bottles, Kiwinda also upcycles jam, cheese and ghee jars. "People deliver them to me. I have a mountain of bottles that are yet to be cut. In fact, I might never run out of stock!" he says.
Kiwinda, however, points that although the glasses are free and readily available, they do not last long in use, saying "The cut glasses are prone to breakages and do not last long as compared to factory-made glass."
That said, he does not regret the hassle because it saves him a lot of money, which he would have otherwise used to purchase glasses off the shelf. Moreover, he does not flinch whenever a patron breaks a glass, or when pesky 'bar-lifters' steal his utensils.
Apart from beer glasses, Kiwinda also makes flower vases, wind chimes and ashtrays from waste glass. With the Christmas festive season quickly approaching, Kiwinda has now teamed up with 254 Brewery, a new brewer in the market and together they have made a beer called Dagoz which can only be purchased at the Bar for only Sh300 per bottle.