CS's disdain for all was always there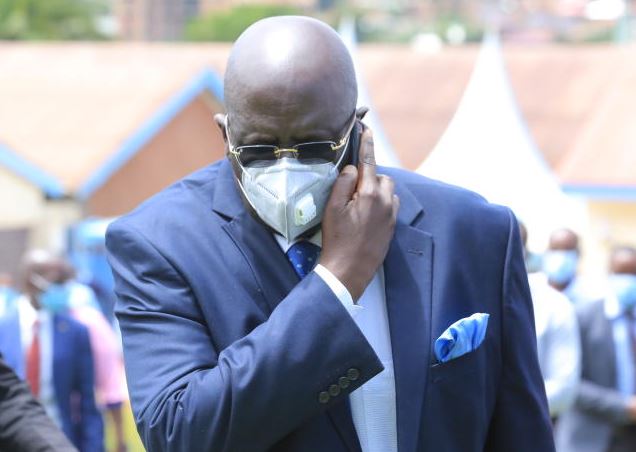 Things started well for him. His sterling performance at the Kenya National Examinations Council (Knec) made Kenyans put their heads up and notice him. At that time, with the education sector riddled with cheating and unfair grading of students in national examinations, Prof George Magoha (pictured) was the hero Kenyans needed.
But the signs were always there. In critical moments, the nation chose to ignore them for the greater good promised by a tough-talking State officer.
The disdain for junior officers and the superiority complex did not just dawn on the professor. The job has not changed him. The power that came with the Education docket revealed who he truly is.
And it did not begin at the ministry. Neither did it begin at Knec. It goes back further to his days as Vice Chancellor at the University of Nairobi. In a setting of rowdy youth, and within the rigid structures of academia where reverence dictates all forms of interaction, the roughshod manner in which he ran the institution turned him into some form of deity. He beat the once boisterous Students Organisation of Nairobi University (Sonu) into submission and towered over the institution's council, running it almost as a personal fiefdom.
And when he walked into Knec, he had had enough practice at lording it over colleagues. He took over the government institution and ran it like his shop. He took over almost everyone's job.
If it were up to him, he would take over the arduous work of marking national exams by himself. After all, in Magoha's world, he was the only one who could do it to the required standards. But, here was something that his PhD could not handle. The thousands of teachers who had been in charge of the examination process for decades simply didn't have enough knowledge between them to execute the task ahead to Magoha's liking.
High pressure
At the time, it looked like Magoha took every opportunity to outshine Amina Mohammed, current Sports CS who was his boss then. At state functions, he appeared more versed in matters education; appeared more competent in dealing with unfolding situations in the fluidity of the education ministry.
Knec was Magoha's magic lamp, and just like Aladdin in Arabian Nights, he rubbed it until it granted his wish of heading the education docket.
But the high pressure job eventually made him crack and within no time, his armour started to fall off.
Earlier in the week, he was in Uasin Gishu County on another scorch earth mission. The scene was Langas Primary School. The victim, a senior ministry of education official. The witnesses, pupils, teachers and the media.
"Nikisema wewe ni mjinga ni uongo (If I said you are foolish would I be lying?)," Magoha said, before asking the senior staff to walk away from the meeting.
"Wewe ni mjinga kabisa," the CS added.
The professor has been behaving like a textbook African strongman who sees enemies everywhere. A fly cannot just land on a roast rib that they are about to bite. The fly has to be sent by someone.
Often, he is bound to enquire from journalists asking uncomfortable questions whom their paymasters are. For Magoha, questioning his decisions was a declaration of war and he has always been ready to shoot the messenger from the hips.
Magoha has never shied away from telling people that he was the smartest human in the room and perhaps the only individual capable of deducting logic from unfolding situations.
"I wanted to offer you this book since it looks like you have not gone through it," he told legislators at his vetting in Parliament prior to his appointment. The legislators were asking questions about his personality. The professor promptly referred them to read his biography.
In lording it over other people, he too forgot perhaps the most crucial of facts. That sometimes hard-nosed science does not provide all solutions. And that some little bit of humility goes a long way in forging relationships with the people he is supposed to serve.
And service need not be in a suit.