I missed the president's call in noisy matatu
THE STANDARD INSIDER
By Mumo Munuve | November 7th 2020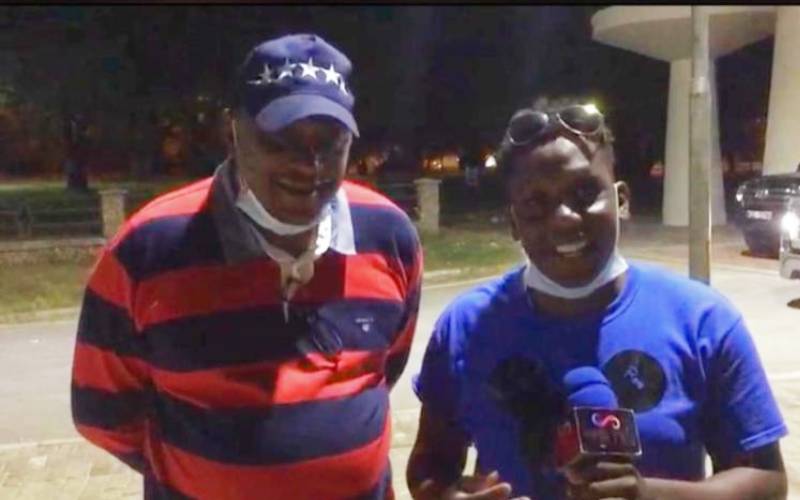 Tell us about yourself.
I am 24 years old and passionate about journalism. I'm also a DJ. I was born and raised in Kakamega County. I am a creative design and animation graduate from Talanta Institute and currently working for MKTV in Kakamega.
Why did you decide to study journalism?
There are so many untold stories and untapped talents. My purpose is to change the lives of people through the 'Hustle Mtaani' show and highlight their plights so that they get help.
Many people came to know of you after the infamous interview with President Uhuru. How did you get the president to agree to an interview?
I had travelled to Mombasa for my show, 'Hustle Mtaani.' Coincidentally, when I was finishing my interviews at around 7pm, the president arrived at the scene. This was a golden, once-in-a-lifetime opportunity for me.
So, you approached him for the interview?
Actually it's the president who spotted me first and approached. He asked me what I was doing there and upon hearing that I was shooting for my show, he jokingly requested for an interview.
I did not know what to ask him since I was used to interviewing watu wa kawaida. I got overwhelmed, and I was ridiculed and trolled online.
Did the president make any promises to you?
Yes. After the interview, he promised to help me grow my channel. I lack equipment for video recording and have been using my phone to shoot content. He promised to make things better for me. He was very supportive of what I'm doing.
Has he ever tried to reach out to you after that day?
The president asked me to visit him at state house. He promised to help me grow both financially and professionally. However, things have not gone as expected and I'm yet to meet him. He called me recently while I was travelling and I missed his call. I called back but I couldn't get through. I believe he was busy.
You missed the president's call? I was in a very noisy matatu. I didn't have the number on my phone, but Truecaller indicated it was him.
How did you handle the trolling on social media? I almost went into depression. Everyone was commenting negatively about the video clip. That really dealt a blow to my self-esteem. Within hours of the botched interview, I was trending for the wrong reasons. But a few celebrities encouraged me. In the end, the experience made me a better person.
You became a celebrity within two days...
After the video went viral, media houses started looking for me for interviews. I met so many high-profile people who have since had a positive impact on my life. It was a great feeling to meet people that I only see on TV. However, it came with a lot of challenges.
What were some of the challenges?
It affected me psychologically. It reached a point that I decided to quit and do other things. The interview raised expectations and people started seeing me as someone who has already made it in life. Some would ask where I had parked my car, yet I don't even drive. Others would ask me why I was still recording my shows with a phone when I had recently met the president. There was too much pressure.
How has life been since then? Generally, things have been good for me. I am now into event organising and I am partnering with a number of celebrities in different projects.
What lessons have you learned from the experience?
I have learned that social media can build or destroy someone. It was tough for me to read all those negative comments, but ultimately it made me stronger.