How graduate juggles dairy and mboga farm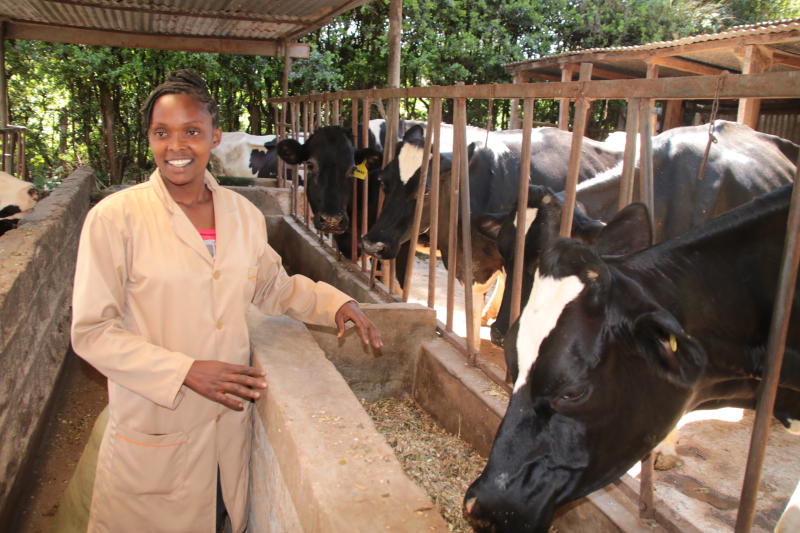 Naomi Ruhara is busy harvesting vegetables on the day Smart Harvest and Technology visits.
On her three-acre farm in Thakwa village, Kiambu County she grows terere (amaranthus), managu (giant night shade), saga (spider plant), mito/miro (crotolaria), kanzera (collard greens) and mrenda (jute mallow) in rows and sub-divided into different sections.
Before she dived into farming, Ruhara like many graduates, desired a white-collar job after graduation.
"l had high hopes of getting employed. However, after three years of job searching, l gave up and resolved to do farming," says Ruhara who graduated in 2014 from the University of Nairobi with a degree in commerce.
At first, she ventured into broccoli farming but it flopped due to market issues. "I had no market for the broccoli and all my investment went down the drain."
As she was debating on what to do next, she got wind of a training programme by the United Nations Food and Agriculture Organisation on growing indigenous vegetables for commercial purposes and she joined the bandwagon.
The FAO training is run under the project Rural Youth Migration, Social Protection & Local Value Chain Development and seeks to empower youth with agribusiness skills.
Here, she learnt a lot on indigenous vegetables from sourcing for best seed varieties, to planting, harvesting and marketing.
"After training, the organisation gave me drip irrigation equipment, water pump, seeds and fertilisers. That was the beginning of my journey into indigenous vegetables."
This time round, she had a ready market because residents were aware of the high nutritive value of the vegetables.
"With many people going the healthy route, the market comes to me. I have a number of clients who buy wholesale while others get retail orders," says the farmer who has since hired two farm hands.
Easy to maintain
On average, she makes Sh50,000 profit from the indigenous vegetables.
To supplement her income, she also runs a thriving dairy project.
Ruhara started six years ago with two calves which she bought from her mother at Sh30,000 each.
Today, she has 35 dairy cows, which produce 480 litres of milk per day, with the highest producer giving between 35-40 litres per day.
To keep abreast with latest information, the breeder researches for info on Google, YouTube and attends agricultural expos.
Lucky for her, she has secured a deal to supply milk to a large established processor.
She says although the milk production is high, her target is to hit 500 litres a day to boost her income.
To reduce cost of feeds, she buys only dairy meal and plants fodder on some leased 8 acres of land.
During the dry season, fodder becomes expensive and she has to think of alternatives.
"As a coping mechanism, I am forced to ration the feeds to my cows and this eventually affects milk production that drops to 400 litres a day."
As a strategy, the farmer sells male calves but retains the females ones.
"This is how l increase my flock of dairy cows in my farm," she reveals.
With her expertise and experience, she also teaches youth dairy farming.
In future, she plans to start a milk processing plant to capitalise on value addition.
Though she knows how to mix feeds for her dairy, she has contracted a company that does that.
She wakes up at 4am and goes to bed at 10pm.
Ruhara is among 58 groups and 1,250 individual youths who have benefited from FAO's run 'Rural Youth Migration, Social Protection & Local Value Chain Development' funded by Government of Italy to address problem of rural to urban migration through agri-business.
According to FAO baseline survey, Kiambu County has an out-migration rate of about 21 per cent. The rural-urban is highest with 22 per cent, urban-urban 14 per cent and urban-rural at 11 percent.