Veteran remembers Naivasha raid that gave Mau Mau teeth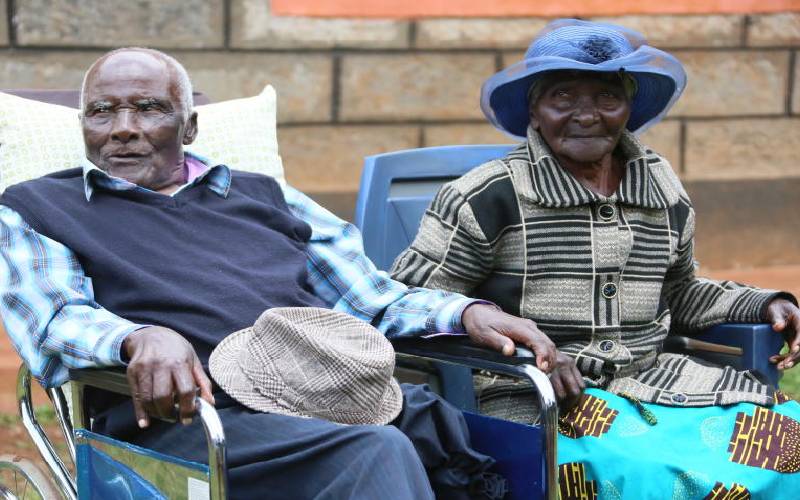 A lot of things at Mzee Githinji Gakuru's home at Nyarugumu settlement scheme on the border of Aberdare National Park in Nyeri Town run with military precision.
When the wheelchair-bound 96-year-old Mau Mau war remnant meets guests under the shade of an artistically-shaped Cypress tree, his 90-year-old wife and everybody else pay attention to his captivating narratives.
Such is the discipline that this veteran, with a sharp memory, runs his personal life and brought up his large family of three daughters and six sons, which he attributes to the Mau Mau vows.
Githinji was a thriving tobacco trader newly-married to his village sweetheart Wangui with two young children when clandestine mobilisation for the Mau Mau started.
"I had bursting stalls at Othaya and Kiria-ini markets while my wife ran a cereals store at Othaya when recruitment through oathing started," recalls the veteran.
Chief recruiters
Later, he would become not only one of the chief recruiters and oath administrators but also the secretary of the underground movement in Nyeri.
Take a quick survey and help us improve our website!
Take a survey
He had dropped out of school at Standard Six after failing the Kenya African Primary Examination at Nyeri Primary School then located inside the Mathari Catholic Mission or what is today Nyeri High School.
That was still some tidy education then, but his rebellious nature meant he never landed a job reminding him of an encounter with his former mission school teacher at Nyeri who told him that "little education is dangerous"
"I was long convinced that the missionaries and Europeans had come to exploit our land and as a couple, we readily joined the resistance and never looked back," said Githinji.
As Mau Mau Nyeri District Secretary and chief oath administrator, he kept the records for all recruits in the whole of what is now Nyeri County.
It didn't take long for the radical wing to agree on launching an insurgency from the forests, leaving behind young families and aged parents.
Githinji recalls that when they first moved into the Aberdare Forest, they were only armed with swords, machetes and spears and posed a limited threat to the colonial establishment.
But the informers within the system kept sending detailed information about where firearms could be captured and it was one of those briefs that informed the raid at the Naivasha Police Station on March 26, 1953.
Githinji said two battalions of Mau Mau fighters, one led by General Mbaria Kaniu in then Murang'a District and Kihara Kagumu who commanded the Nyeri battalion, jointly executed this raid, winning praise from Dedan Kimathi himself.
Historical records put at 80 the number of men who raided the police station killing three constables and a white police officer who tried to resist, as they made away with assorted rifles.
The raid happened on the same day that another Mau Mau battalion raided a village at Lari, killing over 100 colonial loyalists and their families, including the main target, Chief Luka wa Kahangara, two of his six wives, two children and a visiting sister.
That raid is popularly known as the Lari Massacre or Muito wa Lari in Gikuyu.
After trekking through the Aberdare Forest and the Kinangop plains at night, which were then covered by large scale settler farms, Githinji said they hid in the thickets outside Naivasha town and attacked at 10pm.
It happened fast as Mau Mau attacked from all directions and the officers on duty bravely tried to resist. Taken by surprise, no guns could be corked and it was mainly a hand combat affair.
"One officer hit me hard on the head with his rifle that I fell down," he recalls, showing us a scar on his head. "Many of our fighters were down and when I regained balance, I finished off that officer."
The colonial account given by the British Parliamentary Under-Secretary for Colonies Edward FitzClarence was an understatement, saying the Mau Mau had been repulsed and only managed to break into the nearby Kenya Police Reserve Armoury.
But the raid was a major turning point in the Mau Mau struggle, according to Githinji. With firearms, they could stage more daring raids and it gave an assurance to the newly-conscripted that they weren't plunging into sure death.
The Naivasha raid even inspired one of the popular Mau Mau war songs, Mucii Wari Munene", which translates into "The Raid of a Fortress."
According to Lord FitzClarence's statement, some 30 pieces of .303 rifle, 18 Lanchester sub-machine guns, a double-barreled shotgun and some rifle and revolver ammunition were stolen.
Githinji, however, says when they finally broke into the armoury, they could not believe their eyes.
"We were spoilt for choice. Everybody could pick any gun they fancied. Maybe even two," he recalled.
"While the attack on the police station was going on, another part of the gang freed 137 remanded prisoners, of whom some 50 have since been recaptured or returned of their own accord. Military and police forces are now combing the district," FitzClarence had told parliament on March 31, 1953.
Githinji said their trek back to the Aberdare was the hard part as colonial forces were mobilised to intercept them and at least two ambushes happened.
"I was suffering immensely from the injury inflicted on my head by the rifle blow that when we finally got into the forest, my commanding officer decreed that I be given lighter duties. Eventually I was discharged and escorted home by two fighters due to recurrent migraines," he added.
For months he hid himself in a nine-foot hole covered with millet straws sometimes for up to five continuous days.
But when his health continued dipping, his family reported to the Othaya chief who ordered that he be brought to his office.
"The chief recalled me as an astute Othaya Football Club player and promised to protect me from major harm. I was taken to Nyeri courts and jailed for one year for belonging to Mau Mau and imprisoned at Embakasi where we worked on the airport project," he recalled.
One year later, he was back to Othaya a free man. But not for long as a hooded witness (the so-called Tukunias) identified him as one of the Naivasha raiders and a key oath administrator.
He was then detained in Manyani where his prison mates included his Othaya village mate Josiah 'JM' Mwangi Kariuki and Kariuki Chotara.
"Manyani was a bad prison where food rations were tiny, the heat devious and mosquito bites famed for their intensity," he recalled.
Githinji recalls a son of one of the Kapenguria Six who had been jailed for belonging to Mau Mau would visit occasionally for very unpopular lectures.
"His main message was imploring us to denounce the Mau Mau for our freedom since his father just conned us," said Githinji.
Githinji would later be released from prison in the early 1960s and by then his wife had also served a one-year prison term.
He and his wife complain that the State has never properly recognised Mau Mau veterans, adding they missed the compensation that the British government offered some of his compatriots.