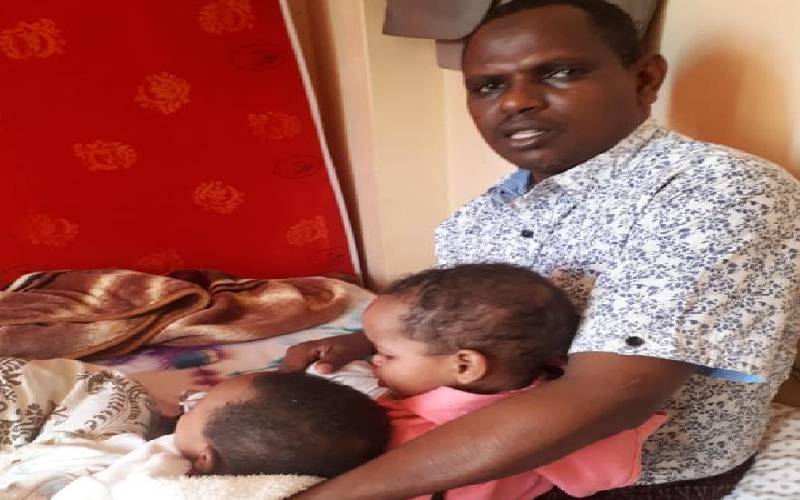 A businessman is in anguish after his wife allegedly abandoned him and their two children.
Abdikadir Abdulahi claims that his 35-year-old wife Muna Hassan left on claims that the family was cursed.
Abdulahi told The Nairobian that they married in 2014 and have two children; a girl and a boy.
The girl was diagnosed with cancer of the eye after seven months.
"The doctors had to remove her right eye to save her life," said Abdulahi.
The father claims Muna started neglecting the two children without explanation. Abdulahi who runs several businesses in Kericho and Nairobi said he confronted the wife who threatened to leave.
"She informed me that she was worried that misfortunes were befalling our family and threatened to leave," he said.
Abdulahi added that Muna claimed that the family was cursed due to cancer that had affected their daughter.
"She said that she believed cancer is a curse, claiming that our daughter will soon die and the family will be left in sorrow," said Abdulahi.
On September 23 at around 10pm, Abdulahi claims he was called by his neighbours informing him that his child was crying in the house.
"I was disturbed. I later received a phone call from a stranger informing me that my daughter had been left at my shop in Dandora and my wife was nowhere to be see," he claimed.
Abdulahi said he travelled to Nairobi and took his younger child to Kericho to stay with his grandmother before taking the daughter for a check-up at the Kenyatta National Hospital.
He said that he had to stay with his daughter at the hospital for a week while searching for his wife who had switched off her mobile phone.
After a week of searching, Abdulahi says he found Muna at her ancestral home and tried to convince her to come back home.
"My family's efforts were futile since my wife refused to return to our matrimonial home. Her family supported her, claiming that their daughter could not be associated with a cursed family," he added.
He claimed that Muna informed his family that their daughter had a dangerous disease associated with a curse and would soon die.
"My children are suffering. They need their mother. The youngest should be breastfeeding and the other one has to go for medical check up every week," he said.
Dr Kahaki Kimani, an ophthalmologist, said children with cancer of the eye need a lot of attention and in some cases, the child might lose the eye.
"The child undergoes examinations in the theatre to see their progress and best medication," she said.
When The Nairobian tried to reach out to Abdulahi' s wife, her phone was switched off and she did not respond to our text messages.