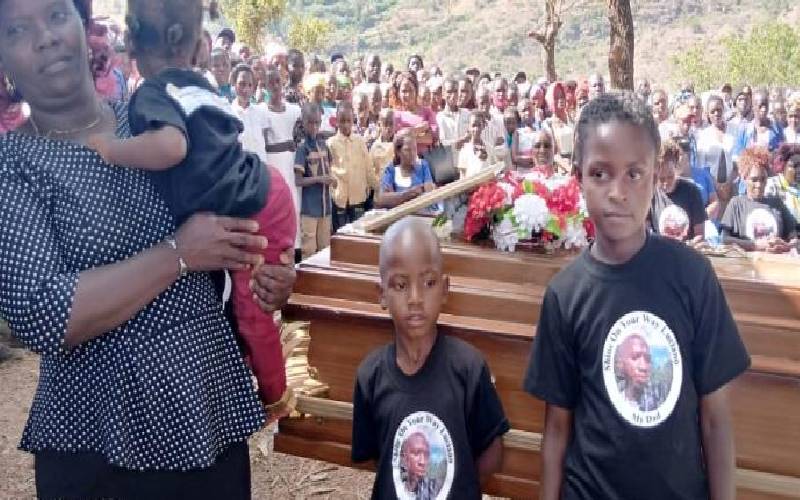 In February this year, a group of pupils from Itithini Primary School in Makueni County went to school drunk to the shock of the local community.
Joel Mwongela, the headteacher, blamed parents who allow their children to be involved in brewing illicit liquor and selling marijuana.
The school is situated in the hilly region bordering Mbooni and Kaiti. After The Standard exposed the drug menace that has engulfed the region, what followed were unending security meetings and blame games among local State officials.
Nothing was done to remedy the situation. Now, murder, arson attacks and general lawlessness reign over the expansive region, which includes Ngai Sub-location, Kithungo, Mbooni and the villages of Mutula and Uthekeni in Kaiti Sub-county, as drug cartels fight for territorial control.
Read More
On Saturday, October 3, Consoletta Achieng' buried her son, Luciano Musa. Musa was killed on September 20, allegedly by a notorious marijuana peddler.
Drug feuds
Musa became the latest murder victim of drug feuds that have rocked the region after another man was killed at Kithangathini area, a place where youth meet for drug business. Achieng' sobs as she remembers that fateful night when she was called by unknown people who asked her to whisper her last words to her son who was about to be killed.
"They called using my son's number. They said they will kill him and set his body on fire. They did not say why they wanted him dead," said Achieng'.
And kill him they did, in a most gruesome manner, by chopping off his private parts. Separately, his two brothers were also attacked with machetes.
"Musa's brother went drinking at a home in Mutula when there was a scuffle. He called another brother to help him out, but the homeowner overpowered them with machetes," said Onesmus Munguti, Musa's uncle.
Mutinda Martin, the homeowner, was arrested and put behind bars after the scuffle. Defending her son, Mutinda's mother Ann Musomba said her family was no longer involved in the drug business.
"We are always being targeted by police for marijuana and illegal alcohol claims. On the day the brothers say they were attacked, police were here and they did not find any bhang or liquor," said Musomba.
She added that at a police parade, she can confidently identify the officers who visited her home. A man who was fingered in Musa's killing was arrested and presented in court. Police asked the court for more time to complete their investigations.
Back home, angry villagers set his house on fire. On Saturday, as Musa was being buried, residents expressed their anger at the state of lawlessness in the area. Mukuyuni Catholic Church priest Fr Dominic Mutinda accused the Mukuyuni Police Station boss of laxity and corruption.
"Police have given youth space to sell bhang. I once tried to take the Mukuyuni police station boss to the affected villages but he alighted from the car on the way. He claimed that police have their own operational plans," said Mutinda.
Murdered son
Musa's father, Leonard Musa, also faulted the local administration. "Let my son's blood find its way to the killers, but I forgive them," said Leonard.
Villagers whisper of 11 notorious brewers and four bhang sellers who are currently recruiting young people to the business. Their names have been forwarded to authorities, but nothing has been done.
Jane Thiga, the Kaiti assistant county commissioner blames the influx of illicit liquor on the lack of a market for sugarcane in the area. She said illicit liquor brewers usually step in to buy the cane for brewing.
There is a police post in Iuani but police officers have not been posted there. When something happens and officers are called from Kaiti, it takes time for them to arrive because of the hilly terrain.
Thiga, however, could not comment on the allegation that police officers have been collecting bribes from the drug peddlers. She only promised to dig deeper into the matter.
Nicholas Bernard, a former Kaiti assistant county commissioner now stationed at Makueni, was attacked with arrows when he first visited Iuani in an attempt to nab the notorious drug lords.
As parents continue to whine, the flasks at hotels in Katulye, a market centre in Mbooni just across the Kaiti border, no longer carry soup or tea, but illicit brew. The operators know who to serve tea and who to serve alcohol.