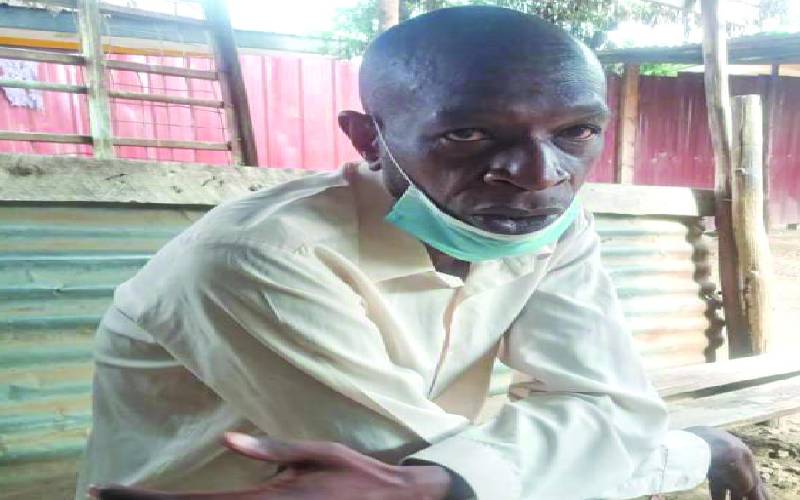 Joseph Wang'ondu Wamugunda believes he was sacked from the National Police Service for exposing a criminal ring, which was protected by some of his seniors at Buruburu, Nairobi. For the last 20 years, Wang'ondu has been fighting to get back his job, which he lost while serving as a constable based at Jogoo Road Police Station.
He has written several letters to successive police chiefs, National Police Service Commission (NPSC) and Independent Policing Oversight Authority (IPOA) explaining his plight and wish to be reinstated, but without success.
Wang'ondu (pictured) and colleagues Frankline Mutegi Kaburu, Joshua Mwanzi Maluki and Charles Mutembei Kimatu were dismissed on August 16, 2000, for allegedly sneaking out of police lines contrary to regulations.
They faced two more charges of unlawful detention of a taxi driver identified as John Karanja and being guilty of an act of prejudice to good order and discipline.
Read More
Wang'ondu says the charges were trumped up by his seniors, keen on suppressing information that a police impostor was operating within their jurisdiction. He blamed then Jogoo Police Station OCS a Mr Kyule and Buruburu deputy OCPD one Koome for instigating the cover-up and subsequent dismissal.
This was after the sacked officers arrested one Sammy Agunda, who had been posing as a Flying Squad officer using the identity of Sergeant Lorima.
According to witnesses paraded, Agunda was a common figure within the area where he made 'arrests of suspects', especially along Jogoo Road. He frequently charged his police pocket phone at Makongeni Police Station.
He preferred using a cab driven by Karanja. Wang'ondu became suspicious and made an inquiry from Flying Squad officers, who informed him they never had a Sergeant by the name Lorima.
Wang'ondu and his colleagues started trailing Agunda and arrested him at a bar on the night of August 9, 2000. Upon interrogation, Agunda confessed he was a former officer sacked from General Service Unit (GSU).
Agunda and his taxi driver Karanja were immediately arrested a few hours after the impostor had allegedly assaulted corporal Mburu of Muthangari Police Station and the matter was recorded at Jogoo Police Station under OB 42/9/8/2000.
The officers moved around with Agunda in search of the police radio. They first went to Sagana bar in Makadara Hamsa where Agunda claimed he had left it. The suspect then said the gadget was in Muthurwa estate before changing the story that the pocket phone was in Kaloleni estate.
By the time the operation ended, it was approaching daybreak yet they had not recovered the pocket phone.
"We went back to the station and booked the said Lorima for the offence of impersonating vide OB No. 5/10/8/2000 at 2.40 am. We agreed that Mutembei would brief the OCS regarding our efforts to recover the radio phone," says Wang'ondu is one of the letters.
That evening, OCS Kyule led a search in the houses of the four officers before they were arrested and taken to Buruburu Police Station. They were informed Agunda had said they took the police pocket phone from him with the impersonator further accusing the officers of extorting money.
The officers were summarily dismissed after orderly room proceedings. The dismal signal was read to them by then OCPD Nemwel Mochache.
Wang'ondu says they were never given a chance to defend themselves, insisting the dismal was a cover-up by superiors protecting Agunda, who was later killed in a botched robbery incident along Kangundo Road.
"This was a way of victimising and silencing us in order not to follow, recover and reveal more about the pocket phone, which we wanted to recover and establish who issued a civilian with government equipment, its origin and for which purpose," says Wang'ondu.
Two years after their sacking, a court acquitted the four, ruling that there was no sufficient evidence of the alleged improper conduct.
"I have considered the evidence before the court. I note this was a case that was poorly handled. The effect is that the evidence before court is contradictory and lacks corroboration. It is too insufficient to warrant this court to place any of the accused persons on their defence," ruled Resident Magistrate, madam Gachohi.