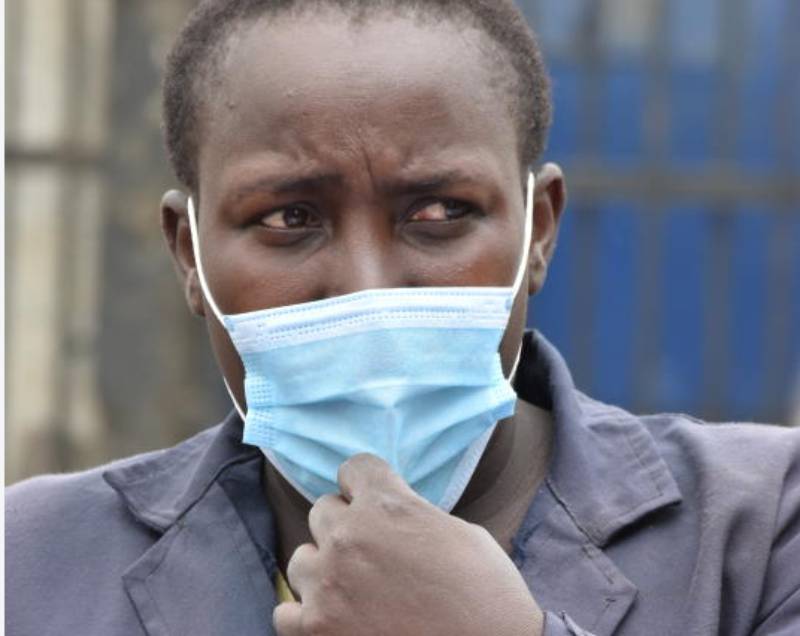 It is the nightmare every person dreads. One moment a relative casually explains an illness to a doctor, and the next minute they are gone. No goodbyes. And the family's descent into hell begins.
These are the circumstances under which 38-year-old Robert Maina died on Friday, August 7 after being admitted to Mbagathi Hospital.
His widow, Muthoni Mwangi, recounted her traumatic experience at the hospital.
Read More
This is her story in her words.
Scared and traumatised
The death of my husband was not God's will. He was taken from me in the most callous way. Now things are not the same. I am scared and traumatised. I finding myself passing time just staring into space. My friends had to force me out of the house before I got consumed by pain and misery.
Everything was well until August 1. I did not know it at the time but the events of the day would leave me shattered – widowed with two children under age five.
My husband was carrying our one-year-old son outside the house when he tripped on a stone and fell, injuring his leg. We did not make much of it at the time. The following day, a Sunday, he reported to work in Kasarani, where he is an electrician.
But everything took a turn for the worse on Monday. His leg started swelling. By Wednesday, he was complaining of endless pain in his leg muscles. By Friday morning, Maina was in distress.
We left our home in Njiru on Friday morning so I could buy him painkillers, but he opted to visit a medical facility just in case his leg had a serious infection. So we went to Ngara Health Centre but the facility was closed.
We were informed that it was because a Covid-19 case had been reported there.
We considered going to Kenyatta National Hospital but ultimately settled on Mbagathi Hospital after a friend told us that Maina would be treated faster there.
By the time we got to the gate, Maina's condition had deteriorated. He couldn't walk so we took a motorbike.
When the guards were taking our temperature, he had developed breathing difficulties and was panting endlessly. The medical personnel took him to the casualty ward and put him on oxygen.
Maina asked me to call his mother but she did not think it was serious because we had gone to get his leg checked.
His oxygen got depleted and it needed to be replenished. Astonishingly, no one was willing to help me. The workers told me to get a card to start Maina's treatment, but when I got to the place they had sent me to, I was told to pay using M-Pesa.
Unfortunately, I only had cash. Strangely, the guards told me they had receipts and sold me one for Sh100. I paid for a file and took it to the medical workers. They directed me to get a stretcher from the Covid-19 isolation unit.
I walked from the casualty section to the isolation unit and returned with the stretcher. Sadly, the medics taunted me with threats of quarantine. I pleaded with them, saying I had a breastfeeding baby who would have to join me in quarantine. That shut them up.
The workers avoided touching Maina. I lifted him from the bed and put him on the stretcher all by myself. Someone brought him a mobile oxygen tank. I wheeled him into the X-ray unit for a chest X-ray.
A nurse directed me to the isolation unit. I asked for an explanation but she said they would like to treat him there. She told me to give him water and bid him goodbye because I would not be able to see him again after he was admitted.
I wanted to leave Maina with his phone so we could communicate but he told me to go with it. His condition was bad but not horrible. He was fairly okay so I left to get him food and tissue papers in town.
Barely ten minutes after leaving, at around 4.30p.m., I got a call from the hospital. A nurse asked me to return urgently because Maina's condition had deteriorated.
In a panic, I alighted from the bus at the next stage and hurried back to Mbagathi on a motorbike. I got there and a nurse told me, vile ulimwacha, hajatoboa (he did not survive after you left). I quizzed her, desperate for answers on what had transpired in the few minutes I was away.
I was overcome with shock. I cried but tears did not flow. The pain was overwhelming. I could not understand what had happened.
After taking in the devastating news, I insisted that I wanted to see him. I was not prepared for what awaited me. What surprised me the most is that they had undressed Maina, placed his body inside a white body bag and sprayed it because the top of the bag had liquid on it. His left hand was placed over his groin.
The body was in a different section of the isolation unit from the one I had left him earlier. I failed to understand how they were able to do this so quickly.
Enough courage
Everything was a blur in that moment. I cannot recall how the rest of my dear husband's body looked. No one offered me an explanation. No one cared.
I finally mustered enough courage to leave the hospital and find a place to sit. I was still very weak. I called my friends because I could not walk. They came at around 6.30pm, and we went home.
The next day, the hospital asked me to return. They explained that Maina had died of severe pneumonia. We pleaded that they give us a copy of his X-ray so we could get a second opinion.
But they dismissed us, saying we would have to wait for Maina's Covid-19 results in 24 hours. They told us that the people in charge of Covid-19 results did not work Sundays so we could not get the results.
I returned on Monday with family members and they changed their tune. They told us to bury Maina within one week, or wait for two weeks because that is when the results would be out. Rather than engage in a tussle, we opted to bury him on the expiry of the one-week deadline, on August 14.
I had demanded that they conduct a post-mortem but they told me that could only be done after two weeks and upon confirmation of his Covid-19 status. They assured us they would preserve his body.
But when we went to pick up the body on the 14th, we were shocked to discover that the mortuary had not preserved it. The body had stayed seven days in the airtight bag. We couldn't dress or view it because of the horrible smell.
One family member stayed and watched as the mortuary attendants put the naked body into a different body bag and place it inside a casket. We couldn't get his body dressed in the clothes I had carried for him.
We were not allowed to leave with the body yet we had planned the burial. The mortuary attendants said they had to notify the authorities in Othaya to send a team to bury Maina. This was news to us.
Some of the people in our entourage insisted that we had to leave with the body and the attendant in charge said they were on strike. They offered Sh5,000 as a token to fuel his car, which was essentially a bribe. I was still overwhelmed by emotions and did not participate in this deal.
Maina's body was signed out at 10.30am, and we left for Othaya. We had paid Sh1,500 for his treatment and Sh600 for every day he was in the mortuary. The burial went on without a hitch.
It has been more than a month since Maina died. We have not been given the Covid-19 results or received news about his status. I am confused. Are we the ones to call them or should they call us?
I have accepted that there is nothing I can do. I have had to gently tell our four-year-old daughter that her father is not coming back. Her playmates already told her that her father died. I think she realises what happened.
There is nobody he loved more than his children. Who will ever love them like that again?