How dentist and banker power beekeeping startup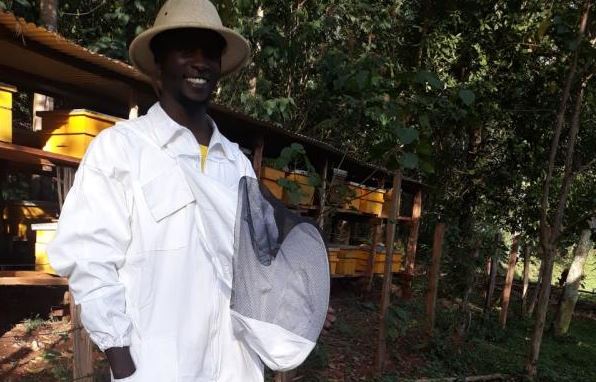 A dentist and a graduate of business science and finance. These are the people leading charge in running a family-owned bee farming venture.
Who said farming is boring and only meant for the illiterate? Dr Diana Okello, 32, and her brother-in-law Lester Ontegi (pictured), 25, have demystified that.
This is especially important at a time many young people graduate from college to seek employment. Many get stuck at job-seeking and never quite break off.
Okello, a dentist and Ontegi a banker share with The Smart Harvest and Technology how they are powering a bee-keeping venture despite their demanding careers.
With each bringing different skills and knowledge to the table, they have managed to steer the business from the rural home in Kisii to a stable outfit in Nairobi and creating jobs for young people.
Their agribusiness, Bee Happy Ltd, operates over 70 beehives in Kisii and has also sub-contracted aggregators from Baringo and Kitui counties.
But how did it all start?
Power of a dream
Together with Okello, and with support from his family, he managed to put together an agribusiness that is showing great promise three years later.
"I had not planned to graduate and start a honey business," he says. "It happened by chance."
It did not matter that he had a fancy degree having graduated with a Bachelor's degree in Business Science and Finance from Strathmore University.
It was 2017 and he was 22. The month was June. At his family's rural home in Keumbu, Kisii County, bees had colonised the chimney in the main house.
"We would light a fire and see honey dripping down," he says. "We needed the bees out of the house. We built three hives for them to move into."
The hives were placed strategically around the compound. The bees did move into them.
"So, the bees made honey and we would harvest and use it domestically," he says.
Working from the kitchen
In the weeks leading to graduation (towards the end of June 2017) Ontegi decided to pack the family's kitchen honey in a jar, brand it, and market it on social media.
Interestingly, that post on social media was the first block that has led to this moment.
"I was surprised by the orders I got. Before one week elapsed I had sold 20 jars," he says. Orders kept trickling in.
Around the same time he got a call from a local bank, offering him a position he had applied for.
He turned it down. He had different ideas.
"I went to my parents and explained the numbers. I needed them to invest. My aim was to convince them of the potential of the honey business."
Pitch idea to parents
He must have done a good job, because, in the end, he got the money and technical support. His mother helped him register the company.
Ontegi stopped applying for jobs to focus on the honey business. With zero experience in bee-keeping, he delved into available literature.
"I started reading books on beekeeping and honey business. The internet became a good companion. I knew that for me to do a good job, I needed to arm myself with as much information as possible."
For a name, he settled on 'Bee Happy Enterprises Limited'.
Before 'Bee Happy' Ontegi had interned for some companies — getting involved in developing business strategy, branding and design. These skills came in handy as he mashed up the language to sell as much honey as possible.
In the course of reading wide — on bee farming — Ontegi discovered that honey can be infused with ingredients such as ginger and cinnamon.
The idea to diversify into infused honey was reinforced when a client asked for honey with chilli, ginger and cinnamon.
He resorted to learning the infusion processes. The internet became a valuable resource for him.
The process of infusion takes days. But the results are worthwhile for the target client, he says.
Ontegi relied on social media platforms, almost entirely, to sell Bee Happy honey. This was in tandem with the business model from inception.
Most orders, he says, came through Instagram, a sizeable number through Twitter and Facebook.
Honey business in Kenya has grown over the years with some businesses employing backstreet practices — mixing sugar and other impurities to achieve higher volumes.
Ontegi knew that authenticity would win him clients.
The same year in December — with sales ramping up every month — he took a booth at the agricultural show in Nairobi. One of the exhibitors was Kenya Industrial Research and Development Institute (KIRDI).
"As I walked around I came across the KIRDI tent. I found people getting their honey tested real-time.
"I did not even know that there was a chemical test for honey. One of the staff told me that they have a department that offered training on honey," Ontegi says.
Hungry to learn he took a few contacts from the Kirdi tent and got in touch later.
"I took up a training that lasted six months and cost Sh10, 000."
It was a worthwhile investment. Through training at Kirdi he acquired the Kenya Bureau of Standards quality mark.
In 2018, Bee Happy maintained an upward trajectory. As turnover grew so did the business — so much that the enterprise moved its operations from Ontegi's living room to a physical address along Lang'ata Road in Nairobi.
Dentist cum strategist
Enter Okello, Ontegi's sister-in-law and chairperson of the board of directors.
Okello, who Ontegi says is Bee Happy's co-founder – is in charge of developing business structures from legal, operational and financial needs.
She says: "We are a balance of forces. Like two peas in a pod. We leverage each other's strengths and skill set."
Okello, a paediatric dentist, is now as involved in the business as her brother-in-law. Why would a dentist, with a private practice, want to be a bee farmer?
Natural sweetener
"I don't take sugar myself. And as a dentist I advise patients to seek alternatives that are healthier for their mouths, teeth and general well-being. Honey is a natural sweetener and in that sense my involvement feels purposeful."
But how does she juggle her busy career with beekeeping and motherhood?
"Most mornings I am at my dental clinic, but in the evenings after work, I catch up with Ontegi and we touch base on progress on our bee agribusiness.
"We also make time over the weekends to visit the hives and check how things are progressing," she says.
She says she sleeps for four hours. A good percentage of the remaining 20 hours is divided between dentistry and Bee Happy.
Lucky for them, bee-keeping is not a labour intensive business and they sell through social media accounts: making home deliveries in Nairobi and partnering with a courier service for countrywide deliveries.