Man's appetite for land spoils wildebeest party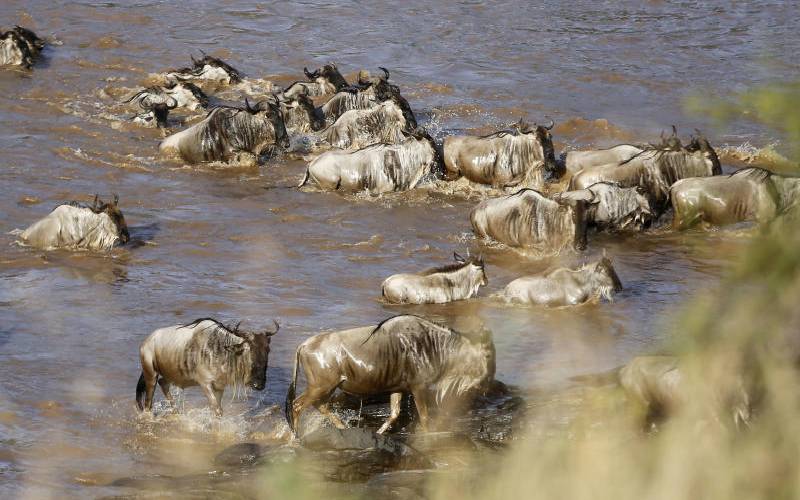 Human development has progressively cut off wildebeest migration routes over the years, confining the spectacle to the Mara Serengeti corridor, experts warn.
In the past, the phenomenon would be witnessed in Kajiado and Nairobi until skyscrapers, fences and roads blocked the thrills of the migrating animals.
In Liota plains in Narok, wildebeests used to roam the plains and would migrate in to the Mara to join the larger spectacle from Serengeti.
Between 1977 and 1978, wildebeest populations in Loita was estimated at 123,930. By 2016, 19,650 individuals roamed the plains and would migrate to Mara.
World's spectacle
"But that is no longer happening because people have fenced off farms and others have been fenced in there and can no longer move. The little migration from Loita is currently extinct because of developments and wildebeests no longer visit Mara," Mara Chief Warden James Sindiyo said.
Mara-Loita migration, is part of five premier East African ecosystems, among them Serengeti-Mara, Athi-Kaputiei, Amboseli, and Tarangire-Manyara in Tanzania. Of the five, only Mara-Serengeti is currently active and forms one of world's spectacle.
The migrations in the other ecosystems have been blocked as a result, a situation that has seen a dramatic decline of wildebeests in the areas.
Athi-Kaputiei, wildebeest migration has also collapsed as a result of land sub-division, fences and settlements coming up. Existing populations have literally been locked up.
The Athi-Kaputiei wildebeest population used the Nairobi National Park during the dry season due to its reliable water supply and abundant grass and move to calve on the pastoral lands to the southeast of the park during the wet season.
They also migrated as far as Murang'a and the Yatta Plateau while others migrated as far as Thika River in the dry season. Populations of wildebeests that resided in Thika and those near Juja in Nairobi were declared extinct.
In a research conducted to map wildebeest migration, status and threats in East Africa published in 2019 February at biorxi.org, indicated that the Athi-Kaputiei wildebeest population suffered a 95 per cent decline in numbers from over 26,800 animals in 1977-1978 to less than 10,000 by the mid-1990s and under 3,000 animals in 2007-2014.
"The decline of this population has been much more dramatic in recent decades, leading to a virtual collapse of the migration," the research noted.
The migratory wildebeest population in the Amboseli also declined by 84.5 per cent from about 16,290 animals in 1977-1979 to 2,375 by 2010-2014. Between 2008 and 2009, there were less than 5,000 wildebeests in Amboseli.
"Migratory wildebeest population size and their routes declined in all the five ecosystems except the Serengeti-Mara. The declines are related to expansion of agriculture, settlements, fences and roads that progressively occlude wildebeest grazing resources and migratory routes," the research noted.
According to Sindiyo, the thriving populations in Mara-Serengeti is as a result of conservation in Tanzania and Kenya.
"Unlike other populations that were fragmented, Mara-Serengeti is an extensive ecosystem and protected areas on both sides. These migrations are interesting phenomenon in that these animals even choose places to calve at the same time," Sindiyo said.
The current migration where millions are migrating in to Kenya, he says, favours mating season.
"When they will be leaving the Masai Mara, almost 90 per cent of the adult females are pregnant. By March, thousands of babies are born," he adds.
And while the season has been marred by Covid-19 pandemic, he said tourism is picking up and hot–air balloon flights have started taking off where visitors view the expansive plains.
"For the first time since the lockdown was lifted, hot-air balloons took off this week and that is a sign Kenyans are embracing their gems," he added.