Unemployment was a big blessing in disguise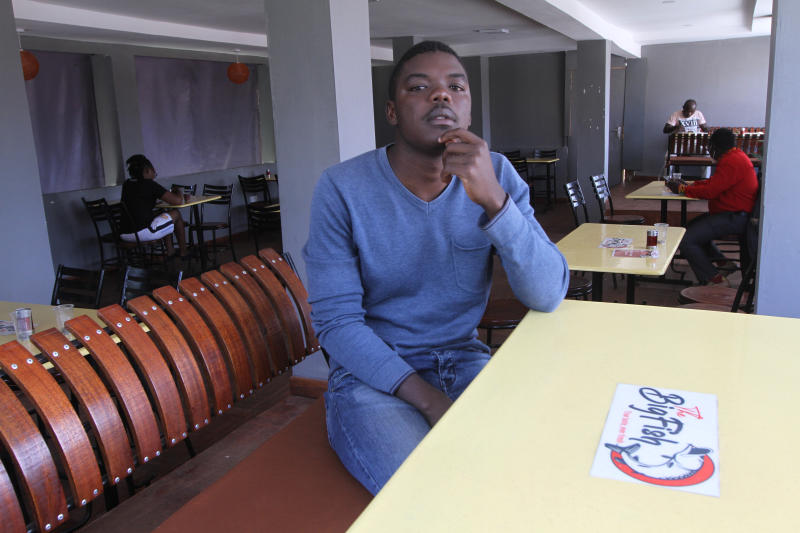 Bradox Osumo, 27, graduated from Kenyatta University with a degree in Biochemistry four years ago. He would then spend the next two years sending endless job applications in vain. His story is reminiscent of many a youth's experience in Kenya; a country where 80 per cent of the unemployed are below age 35.
Frustrated, Osumo gave up the fruitless search and decided to get into fish business. Today, he owns two successful establishments, aptly named The Big Fish, in Nairobi's Garden Estate.
When the Hustle team visited on a weekend, the place was bustling with activity even with the set social distancing rules in place.
Osumo shares the ups and downs of setting up a business in a crowded industry and what he has had to do to survive the pandemic.
What is the ultimate lesson that your job search and business journey has taught you?
Regardless of your education, you have to get down to work without necessarily being too choosy. I was unemployed and penniless and had to try something out, in spite of my education. My sister (who is a Master's degree holder) also works here. We started this business with her. At the end of the day, you have to work to make a living. So, one should not be hesitant to start something.
One should start from what they have. I would also like to tell them to use the internet well. If one has a business venture, promote it on social media as much as you possibly can. Abstain from posting negative things that may kill your brand in the future. Avoid posting unnecessary things. Also, post consistently. Consistency in advertising makes people associate with one's business.
They should also consider getting into the food business because in this one, you are always assured of making sales no matter the period.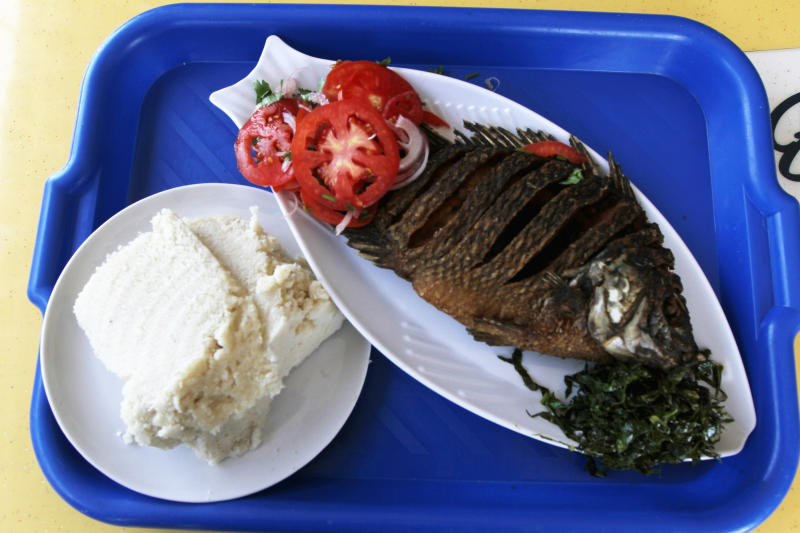 But why fish?
Why not fish (laughs)? Anyway, my sister, a trained teacher, used to sell fish as a side hustle, often during vacations. It was a small-scale business which she conducted by the roadside.
After a two-year stint of unsuccessful job hunting, I suggested to her that we could expand the fish business. She agreed. And thus Big Fish began.
The plan was to start an outlet, like a hotel, from where we would serve a larger base of customers. We started with a small place in Garden Estate, next to where we are now.
How much did you invest at the start?
Around Sh100,000. Most of the money actually went into buying furniture, utensils and paying rent. I paid a deposit of Sh20,000 and a two-month advance rent.
I also acquired a freezer from the landlord, paying in instalments. We made individual contributions and collected the rest of the money from our family.
How did you attract customers initially?
I served the locals, especially people working at the garage around my first hotel, and often got more customers courtesy of referrals from satisfied customers. I used to sell The Nile perch, which did not fetch very good returns. I later introduced tilapia, which, unlike Nile perch which was sold in small pieces, fetched way more money.
A full course of Nile perch cost Sh120, but then tilapia goes for Sh200, Sh300, Sh400 and even Sh600 a piece.
Where do you get your fish from?
I am from Muhuru Bay in Migori. I get my fish from the same place in Lake Victoria. We are many fish sellers in the city and share the cost of transportation.
The truck that ferries them to the city stops at the pick-up point, which is Gikomba. The fish is usually fresh as it is usually stored in ideal, well refrigerated containers within the truck.
What makes your fish attractive to customers?
We always serve our fish fresh and prepare meals on orders. It takes such a short while for fish to have a stale taste and smell.
As such, we only cook when customers order and it thus means customers have to wait for a while before their order is placed on their table. We also do not add spices to the fish. We want customers to have the authentic smell and taste of fish and not of the spices.
When was your big break?
In December 2019. I posted my business on twitter, and it went viral. There were many retweets that followed. I came from 300 followers to, currently, more than 15,000.
As it stands, I now serve more online customers than locals. Actually due to demand, I had to open this second branch in June this year.
Sometimes over the weekends, which are the busiest of days, this place, which has a capacity of over 80, gets so full that some people have to stand outside waiting. We serve over 200 people on such days.
How many people do you employ?
I have eight employees, that is three chefs and five waiters. Add my two sisters (who are actively involved in the business) and myself, which puts the number at 11.
How is business during the pandemic?
Fortunes have tanked. We are operating at around 50 per cent capacity. Most of the people we are serving now are those asking for deliveries, especially in offices. But I cannot complain. We are able to pay for the overheads and take something home.
Would you ditch this for formal employment?
No way. This venture employs people who I would leave exposed if I left. Further, this venture gives me satisfaction. It is what I want to build.
What is the biggest challenge you have had in this business?
Handling fish requires a lot of care. To keep the fish fresh at all times is a challenge. Customers sometimes complain when it takes time to place their order on the table, but as I said, we prepare fish on order to ensure we serve only the freshest. So we take time not to compromise on the quality we offer.
What is the greatest lesson you have learnt?
When you start this business, the aim should not be to fetch profits. It should be to serve the customers to their satisfaction and offer the best. A satisfied customer will be loyal to your brand and will always refer other people to your business. Quality should be offered consistently without ever compromising on it. Time and dedication ultimately bring profits.
About financial responsibility?
You have to save in the business account as much as possible. When a business makes a profit of Sh20,000, you should save at least Sh15,000 for the business. Anything could happen any day and the business could need an urgent infusion of cash, which, without proper savings, are impossible to get.
What is your ultimate dream?
To expand and become a household name, a brand, like Mama Oliech and Ranalo. I want to serve a lot of people and to get to a point where when people mention fish, they mention The Big Fish.
Parting shot?
Breakthroughs only come once you have started something.