How studying law helped me start my own line of beauty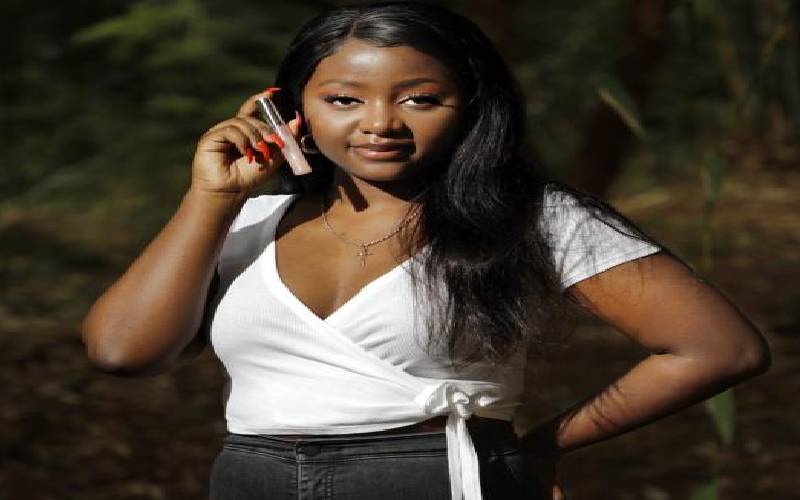 Halima Hussein, a 21-year-old law student, is looking to leave a footprint in the beauty industry with her newly launched organic lip gloss HH Glam. She tells Vivianne Wandera what it took to get here and what it's like to run a startup.
My background
I am currently a law student but my business background stems from various internships over the years. I had an amazing opportunity, in 2018, to intern for an all-organic hair and skincare brand where I learnt a lot on the benefits of natural products and how to formulate them to create various different products.
It was also here where I learnt a lot about selling organic goods and how to run an Instagram based business. This internship was the perfect foundation for my company today.
Some of my other work experiences have been at various law firms, which helped build my love for the law. I also learnt how to create and execute partnerships and procurement contracts as well as company rights and the rights we owe our consumers. The rest of my experience has been with marketing companies which was really an asset in executing all our campaigns and adverts.
The idea
I have always been a makeup enthusiast. In December 2018, I realised that running a cosmetics company is what I really want to do for the rest of my life, that it's my calling and passion.
I was very sure I wanted to start my company while still in university and still under my parents' care as I can afford to fall and get up without having to worry about sustaining my life. I don't have to rely on any profits or funds from my business for my livelihood. This allows all the profits made to go right back into building the brand since most businesses take time before they can bring in returns.
So I thought of what product I would start with -- what I love the most and what makes me unique. Lipgloss immediately came into my mind as I have never been someone to wear lipsticks or lip colour so I knew that starting my company with a lipgloss would really embody who I am in terms of cosmetics.
I have also always been an advocate for using natural products. After learning all the benefits and necessary techniques from my internship, I knew that my company would have its unique factor by being all organic. We would create products that help women look good and feel good; products that improve their skin and general health in the short-term and long-term.
What happened next
In January 2019, I met with various manufacturers in Nairobi as I decided my products would be 100 per cent made in Kenya and will showcase that high-quality work can be done here. I wanted to provide homegrown solutions to our beauty care needs.
Once I found a manufacturer who could create my vision of an all-natural lipgloss, I began formulating it. It took us six months to formulate the product. I was formulating it while completing the first year of my law degree at Brunel University, London. During this time, I also did all the branding for the company, sourced all our packaging and reached out to various Kenya beauty influencers to endorse our company and upcoming product.
Once I came back home for the summer in June, the formation was done. We did a photoshoot and shot the campaign video and on June 20, 2019, HH Glam launched its first product ever – Sweetheart Lipgloss, an all-organic gloss made of avocado oil, shea butter, cocoa butter and Vitamin E.
This combination brings out various benefits making our gloss extremely unique and a formulation loved by many. The avocado oil heals and soothes chapped and cracked lips as well as effectively fixes discolouration (especially from smoking). Vitamin E helps skin cells retain water and is therefore extremely moisturising. Shea butter and cocoa butter help provide SPF 15 for protection against UV rays. And what's truly loved the most is that our gloss is non-stick.
Running a startup
It's challenging because I oversee most of the work even though we have an amazing team that makes the day-to-day running of the business possible and smooth. I still take care of our key relationships with brands, companies, creatives and influencers and manage all key aspects of the company from marketing to finance and accounting. I work Monday to Sunday at all hours. However, I truly love what I do, and this truly is my life's calling and passion so even when I am beyond exhausted and sleep deprived I am truly content.
Where I am now
We have just celebrated our first anniversary after a successful year. We have more than 20 influencers on our team in Kenya. We also have several employees. Our products are available all over East Africa and, occasionally, worldwide.
We have collaborated with various creatives and brands and a few charity organisations. We are currently working with For the Love of Girl Charity which fights for menstrual equity in Kenya. We give five per cent of the proceeds from the sale of our products to helping women and girls in Kenya receive sanitary products.
We have just launched our new gloss, Sanguine Kisses. This gloss is 100 per cent organic/natural. It has cocoa butter, beeswax and Vitamin A, and has a sun protection factor (SPF) of 11. The lip gloss also lasts for over an hour. We have also just launched our own 3-ply reusable and washable masks.
My tip
Keep pushing. Business is volatile, so you have to learn how to deal with setbacks with a sound mind and keep pushing, especially in these trying times that are harder on small companies which have less security.