Uhuru new allies push for Cabinet changes to edge out Ruto loyalists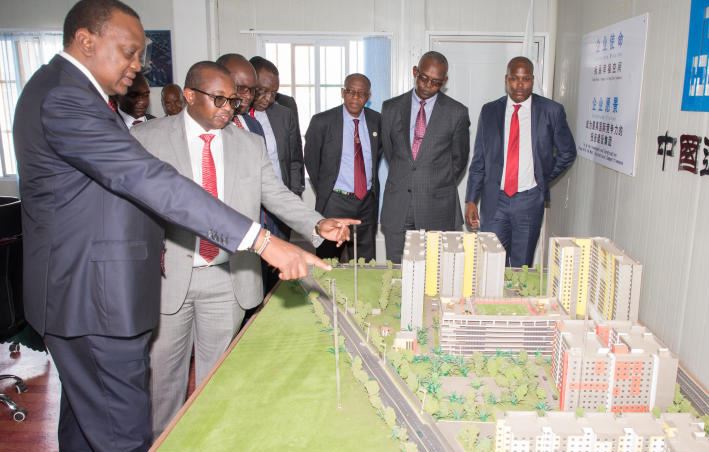 Pressure is mounting on President Uhuru Kenyatta (pictured left) to reshuffle his Cabinet to accommodate his new political allies.
Sources close to the president informed The Standard that after the successful purge in parliament to oust Deputy President William Ruto's loyalists from parliamentary leadership, Kieleweke wing of Jubilee and Uhuru's new allies from the opposition want a revamped Cabinet.
There is also a push to have Cabinet Secretaries (CSs), Principal Secretaries (PSs) and Chief Administrative Secretaries perceived to be allied to Ruto to be shown the door to create room for new entrants nominated by parties that are working with Jubilee.
These include the Orange Democratic Movement (ODM), Kanu, Chama Cha Mashinani (CCM) and Wiper.
The Standard reliably learnt that despite the president's assurance during a recent Cabinet meeting that there was no looming reshuffle, some five CSs and 10 PSs have already begun to clear their desks.
Sources said the group that fears the axe will fall on them have quietly removed their personal effects from their offices to avoid the embarrassing spectacle of having to pack after their sacking is made public.
One CS is said to have stopped using his official car and was being chauffeured in his private one to avoid the humiliation of having the State vehicle rudely taken away him should he be fired.
Senior Jubilee official
A senior Jubilee official acknowledged there was pressure on the president to reorganise his Cabinet.
"The parliamentary leadership cleaning is over, but the fumigation in Cabinet is still pending. The president is reluctant to take action now, but this is the next stop," said the official.
"The president has made up his mind that he is going home. He is more interested in his legacy agenda. However, some CSs are in their comfort zones, it's high time he rejigs his Cabinet. This will serve as a wake-up call to them to deliver," he said.
Among the parliamentary committees where Uhuru and ODM leader Raila Odinga loyalists were installed is the National Assembly's Committee on Appointments, which vets the president's nominees for Cabinet and Principal Secretaries, signaling that changes in government were in the cards.
Besides the committee chaired by House Speaker Justin Muturi, the purge on Ruto allies targeted four other committees central in processing constitutional reform Bills central for the success of the Building Bridges Initiative (BBI) campaign spearheaded by Uhuru and Raila.
National Assembly National Security and Administration Committee chairman Paul Koinange yesterday said the current Cabinet members were a letdown to the president's legacy plan.
"No job has been done so far. About 80 per cent of his Cabinet should go home. We legislate on laws, allocate budgets for implementation and oversight the executive yet the problem lies with the CSs and PSs," said Koinange.
Fast-tracking legacy
"The best the president can do to fast-track his legacy agenda in the remaining two and a half years is to do things within one year (that are) equivalent to five years and deal with corruption," said the Kiambaa MP who is also Uhuru's ally.
Kanu Secretary General Nick Salat said the independence party expects to be included in the Cabinet should the president decide to reshuffle his team.
Salat said the party's decision to enter a post-election coalition agreement with Jubilee makes it part of the ruling coalition.
"Making changes in the Cabinet is a prerogative of the president. It is him to decide how he wants to guide his legacy. We would expect to be included in the Cabinet – if the president decides to make changes – because we are part of the ruling coalition," said Salat.
He claimed that some elements in the Cabinet might be keen on sabotaging the president's agenda.
"The same way some bad seeds were trying to sabotage the president in parliament, there could be such elements in the Cabinet hindering his legacy. As Kanu, we are ready to help the president to realign his legacy," said Salat.
ODM Secretary of Political Affairs Opiyo Wandayi said changes in the Cabinet would rejuvenate the performance of the executive in the remaining two years of Uhuru's last term.
Constructive engagement
Wandayi said ODM will continue engaging Jubilee "constructively" both in and out of parliament.
"We are just past mid-term, and it is good to rejuvenate the executive's performance by bringing in new faces to the Cabinet. As ODM, we shall continue engaging Jubilee constructively in and out of parliament under the framework of the handshake," said Wandayi.?
Yesterday, The Standard established that Uhuru was not keen on changing his Cabinet until after the BBI report is tabled in parliament.
A source within the presidency said those pushing for a reshuffle fear that when it is done after the BBI report is made public and introduced in parliament, it will water down their bargaining power.
"If he makes the changes in the middle of the BBI discourse, when the country and international community will be keenly watching, it will attract minimal attention. If he makes the changes now, he might face a backlash," the source explained the dilemma the president finds himself in.
Uhuru has signed a post-election deal with Kanu, while his Jubilee Party signed a cooperation pact with Wiper Party and CCM.
Just like the handshake with Raila which saw ODM get leadership slots in the National Assembly and Senate, Kanu, Wiper and Ford Kenya also got posts.
"We have entered into a cooperation with the president. He should get rid of people who don't work in tandem with what he wants, and build a serious reservoir to help him finish his term," said Borabu MP Ben Momanyi (Wiper).
Nyeri Town MP Ngunjiri Wambugu, however, argued that the president works at his own pace, recounting that Uhuru did not immediately act when Kieleweke was piling pressure on him to deal with their Tangatanga colleagues in parliament.
"The president does things at his own time. He runs his programme without undue pressure. He did it with BBI and the parliamentary leadership purge, as he thinks ahead and leads us," said Wambugu.
"The president has dealt with the political rebels. Cabinet members are technocrats and when he makes changes, he will do so based on the technical value being added. He plays his own game," Wambugu said.
ODM chairman John Mbadi said the party was not keen on changes in the executive, but on long-term reforms that will ensure a more united and inclusive country.
"It should be clear that we are not agitating for changes in the executive because our agenda has been and remains reforms, inclusivity and a united country. We would not mind if he continues with the current team so long as the envisioned reforms are achieved," he said.
The party, however, indicated that it would not mind if Uhuru picks some of its members to the Cabinet for inclusivity purposes. Mbadi said before the March 9 handshake, Cabinet appointments only came from Uhuru and Ruto camps, and that breaking this trend would create a sense of inclusivity.
"Ours was not to enter into a coalition to form government. Our intention was reforms. That is why we were keen on changes in parliament. But if he (Uhuru) decides to make changes and pick people from ODM, we will not mind," he said.
On July 7, the president discounted claims of planned Cabinet changes, terming the reports rumours.
Meeting all his CSs, PSs and CASs virtually, Uhuru used the occasion to announce that he did not intend to reshuffle his Cabinet.
"Ignore media reports on pending reshuffle. I gave you a job to do. If you are unable, leave," he said in reference to reports he intended to reshuffle his Cabinet.
The president also told the meeting that he does not use proxies to run his government.
"Don't listen to those coming claiming to be sent by State House. You have my number and you are free to talk to me in case such people come. Ignore them," he said.
[Roselyne Obala, Moses Nyamori and Cyrus Ombati]