Regrets, hopes and lessons for NASA as Chakwera is inaugurated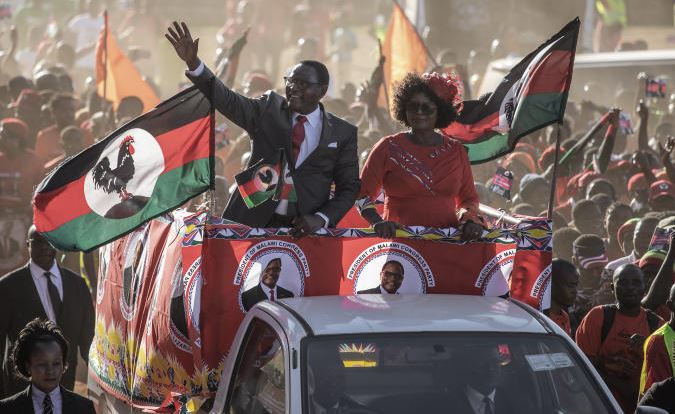 The decision by NASA candidate Raila Odinga to boycott the 2017 repeat poll has come under a sharp spotlight following the victory of Malawi's Lazarus Chakwera under similar circumstances.
As Chakwera (pictured left) is in inaugurated today, opinion is divided on whether NASA, then dazed by a surprise electoral petition victory, should have boycotted the repeat polls or whether it should have tried its luck on the ballot.
Unlike Odinga who kept off a re-run he triggered by a Supreme Court decision, the Malawi Opposition candidate went the whole hog, and was rewarded with a resounding victory, garnering 58.5 percent of the vote against incumbent Peter Mutharika's 39 per cent.
In nullifying the election, Malawi became the second county in Africa after Kenya to invalidate a presidential vote over electoral malpractices. The irregularities cited by the Opposition read like a script out the NASA election petition.
One-man decision
"It was a one-man decision," Ford Kenya leader and NASA co-principal Moses Wetang'ula told The Standard on the decision to boycott the 2017 poll.
According to Wetang'ula, it was a shame that NASA prayed to be given a re-run only to back off after being given the opportunity.
"We embarrassed the court that had given us an opportunity. We started making demands that we had not prayed for. We had an opportunity to do a Chakwera but we lost it," the Bungoma Senator said.
Odinga himself has largely kept off the discussion, only observing that the election was followed keenly beyond Malawi and "is a symbol of hope for those who support democracy in Africa and around the world."
"I congratulate the people of Malawi on the successful and peaceful presidential election and Chakwera on his impressive victory. I commend the outgoing President Peter Mutharika for creating the environment for a peaceful and orderly transfer of power," Odinga tweeted last week.
Chakwera's win came after he succeeded in his demands to have the chair of the Malawi Electoral Commission (MEC) resign for his role in the bungled election. Here in Kenya, IEBC chair Wafula Chebukati stuck to his guns and instead turned the heat on his CEO Ezra Chiloba.
Chiloba, in turn, took time off on a long break, keeping away from the repeat poll. Odinga had also demanded the opening of the election results servers to determine who between him and President Kenyatta had won the election.
"All indications are that the poll scheduled for October 26 will be worse than the previous one," Odinga said while announcing the boycott.
Former Machakos Senator Johnstone Muthama served as co-chair of NASA coordination committee. He has no regrets over the decision and says there are no hard lessons to be learnt from the Malawi situation.
"We insisted that servers be opened because we were sure we had won the elections. Had that happened, it would have been clear that we won the poll...," said Muthama, who then pulls the heavier quote: "The court ordered a repeat poll and we did not have money to participate in a re-run."
Marcus Agenga, a senior programmes officer at elections monitoring group Elog, said that the circumstances in the two countries were different. He says there are a lot of lessons for Kenya and the whole of Africa to learn. He says the Malawi electoral commission's move to implement and institutionalise the reforms directed by the court was a game-changer.
"In future, it would be important that IEBC and other actors work towards incorporating court rulings and directives. This would go a long way in building public confidence. Sanctity of the vote is crucial," Agenga said.
Lawyer Brian Weke, who was Elog's steering committee chairman in 2017, also cited systemic weaknesses in Kenya's electoral processes as contributing to the the Opposition boycott of the repeat polls.
"Kenya, unlike Malawi, has systemic failures which we need to deal with. Even if NASA had participated in the elections, they would still have lost unfairly. Moving forward, there is need to interrogate the internal systems of IEBC because we are running out of time," Weke said.
Writing in African Arguments, Nic Cheeseman, a professor at the University of Birmingham, says that discrediting an election very rarely means winning one. He says: "Showing that the process was flawed can hurt the government, but does not usually lead to its defeat – at least in the short-term."
Former ODM strategist Eliud Owalo argued that the Malawi case offers vital lessons for democracy on the continent, and the need to strengthen democratic institutions. He said that incumbents must learn to accept defeat, not hang on to power.
"The biggest lesson to be learnt is that we need to strengthen our system so that Kenyans can have confidence in their electoral systems. Credibility in electoral processes is fundamental. This will however happen only if those in power learn to accept change. We should institutionalise the culture of accepting change," Owalo said.
Chakwera's official inauguration is set for today, to coincide with the country's 56th anniversary of independence from Britain. The unprecedented political feat was credited to a cohesion of several powerful forces -- including the resilience of the judiciary that gave the historic judgement. In extraordinary scenes, Constitutional Court judges came sporting bullet-proof jackets and under military escort to deliver the ruling on February 3, overturning Mutharika's re-election. That was after six months of hearing evidence during a groundswell of civic society-led street protests.
Mass demonstrations
"For a year, they persevered with mass demonstrations against the wanton theft of their votes despite threats and repression by the beleaguered and discredited government," said historian Paul Tiyambe Zeleza.
The election result showed that despite the power of incumbency, an organised and smart Opposition can win, Zeleza said. "This election will certainly influence subsequent elections across the African continent," said Grant Masterson, programme manager at the Johannesburg-based Electoral Institute for Sustainable Democracy in Africa (EISA).
He expects that elsewhere on the continent "Opposition leaders will become emboldened by this success... and ramp up post-election protests against results that did not go in their favour, combined with court challenges."
Opposition leaders from neighbouring countries are drawing inspiration, hailing the "professionalism" displayed by Malawian institutions and "citizens' vigilance".
Nelson Chamisa, Zimbabwe's main Opposition Movement for Democratic Change-Alliance (MDC-A) leader, failed in his legal bid to have the courts overturn the 2018 election.
[Additional reporting by AFP]