Uhuru's dilemma: Pressure mounts to reopen economy amid rise in Covid-19 cases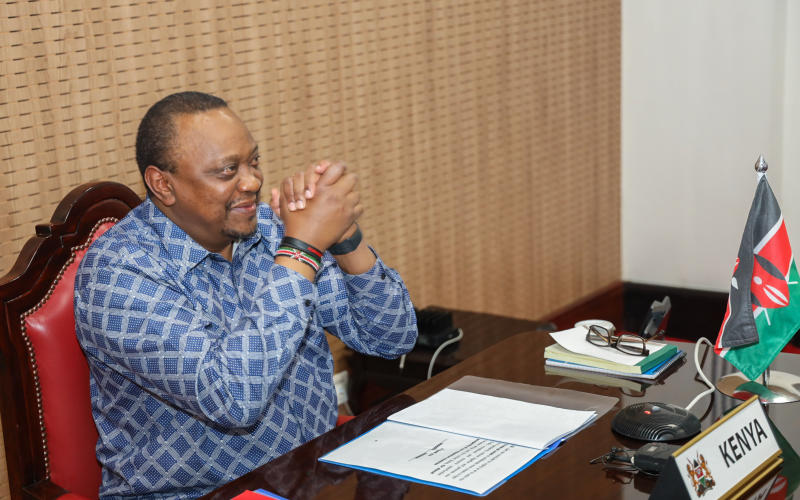 Six months into the coronavirus pandemic, and with Kenya's infection rates yet to peak, President Uhuru Kenyatta (pictured) has given the strongest hint yet that he is considering relaxing the current lockdowns and opening up the State for business.
Over the past two weeks, there have been suggestions, not just from him, but his Cabinet ministers as well at the possibility of this, with different ministries echoing the president's message of "life must go on".
But here is where it gets complicated. The science shows we are nowhere near ready to open up the country and resume business as was six months ago and that the worst is yet to come.
In the 24 hours into Tuesday, the country recorded the highest number of positive cases. Out of 3,591 samples, 307 came positive, a staggering 8.5 per cent of the samples, pushing the total positive cases to 6,673 out of a sample size of 173,355.
"I want to make a special appeal to each one of us to take personal responsibility over the coronavirus disease," Health Chief Administrative Secretary Rashid Aman said.
Two days earlier, worldwide infection rates reached the highest daily tally, peaking at 189,077 cases.
"We are going to be starting domestic flights, we are opening up the lockdown that we have been having," President Kenyatta told a panel during the 8th Atlantic Council meeting. The Atlantic Council is an ideas platform for global leaders to discuss the defining challenges of our time.
Scientists say relaxing these restrictions could significantly increase the pressure on our health facilities and possibly add to the death toll.
In an earlier briefing, Health Cabinet Secretary Mutahi Kagwe said the country had moved away from accommodating all Covid-19 cases in government facilities because there just wasn't enough space to take the swelling numbers.
While health officials have maintained that the initial social distancing rules and regulations put into place continue to be necessary, a different kind of pressure has made a nonsense of these regulations.
People are no longer staying home. The streets are full once more and even bars and restaurants have been allowed to operate as long as they comply with rules set by the public health department. And the numbers are a reflection of the effects of the flouting of the regulations.
Other countries too have tried lifting restrictions after perceived lulls in infection rates and the World Health Organisation (WHO) believes the growth in daily cases, similar to what Kenya is experiencing, is down to a genuine acceleration in the spread of the virus.
"Intense transmission is going on in many communities in many parts of the world," the global health body says. There are also flare-ups in countries that successfully lowered infection rates, but have since relaxed restrictions.
One study by the Imperial College London states that in many countries that quickly enforced lockdowns, only about five per cent of the population have had the virus.
"Which means as soon as you start to open up and connections start to come back between countries, it's very likely to take off again," the study reads.
Two weeks ago, South Korea, a country previously lauded for its handling of the pandemic and the efforts it put in place to stop the spread of Covid-19, announced the beginning of a second wave of infections after clusters of positive individuals started to emerge after the loosening of restrictions in May.
China has re-imposed a lockdown on 400,000 people in a section of Beijing City after 18 new cases were reported
"We are likely to see, in every place, a relaxation and then maybe a ramping up of interventions again to control it. I expect we will see continual waves," the study, by the Imperial College's epidemiologist Azra Ghani, reads.
The United States, which has the world's highest number of confirmed cases and deaths, has had a surge of cases in places that previously seemed to have the virus under control.
Two months ago, almost all 50 states had an estimated reproduction number (R) of under 1, indicating that the epidemic was in decline.
The reproduction number is a way of rating a disease's ability to spread. It is the number of people that one infected person will pass the virus on to, on average. If the reproduction number is higher than one, then the number of cases increases exponentially.
But if the number is lower, the disease will eventually peter out, as not enough new people are being infected to sustain the outbreak.
New data from the Centers for Disease Control and Prevention (CDC) shows that 45 of these 50 states have recorded a surge in infections, which has forced 19 states to reconsider an earlier decision to relax lockdown rules enforcing closures of bars, gyms, theatres and recreation parks.
Europe, once the epicentre of the outbreak, is also seeing a surge in new infections, forcing authorities to take drastic action. Sweden, identified by WHO as one of those witnessing a surge in numbers, however says the new figures are as a result in greater testing.
If President Kenyatta makes true his promise of opening up the country by ending inter-county movement, particularly out of Nairobi and Mombasa, then there is a possibility that Kenya too might see a surge of infections.
"Flare-ups are to be expected as countries start to lift restrictions," WHO Director General Tedros Ghebreyesus said in a July 1 briefing.
"However, we are concerned that some countries have not used all the tools at their disposal and have taken a fragmented approach," he added. "These countries face a long, hard road ahead."
"Nobody has any idea what is going to happen, we have seen situations where countries have opened up and within two months closed up again," Health CS Kagwe said. "There is no country that is an example of what we should do."
But there are anomalies in the Covid-19 narrative. Countries such as Tanzania kept off full lockdowns, with primary and secondary schools reopening on June 29.
"Our economy must come first. It must not sleep. If we allow it to sleep then we will not receive salaries. Life must move on," Tanzania's President John Magufuli said.