Airstrip turned into brothel as county stares at corona wave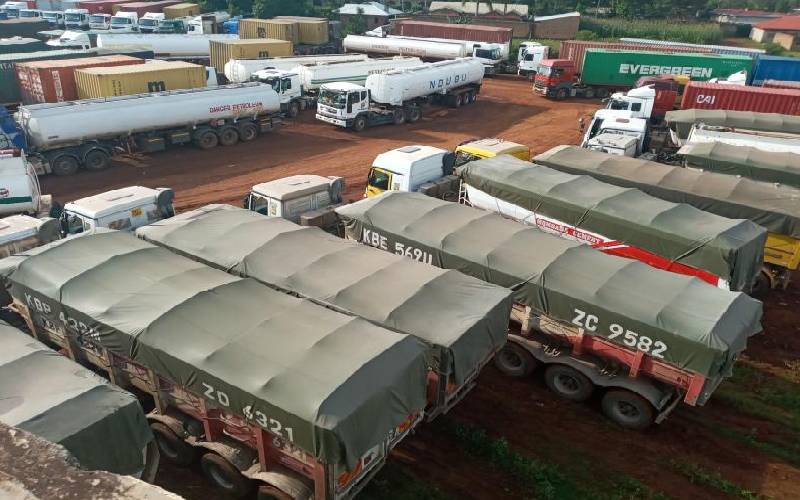 In the good old days, politicians, government officials, traders and rich wheeler-dealers flew in and out of Busia airstrip often.
Although it was not fenced off, allowing locals who had built their homes around it to stroll in to view the arrivals and departures of the mighty and rich, it still enjoyed its moments. But not anymore.
Today, the airstrip resembles a crowded scrapyard where every space is parked with humongous trailers.
The airstrip could soon become a hot spot of coronavirus after the government, due to lack of trailer parking space in Busia, directed truckers to keep their heavy commercial vehicles at the facility.
Today there are at least 200 trailers parked at the airstrip.
The directive to park the trailers at the airstrip appeared to have been a blessing in disguise to some residents.
Enterprising locals
Many enterprising locals have put up makeshift structures and sell food to the truckers during the day.
The food is given to the truckers by vendors who collect money afterwards. In some instances, it is just women selling tea and chapatis, and are paid instantly.
However, when night strikes, nocturnal flesh-peddling takes over as twilight girls and women swoop into the airstrip for opportunity to make quick cash, turning the yard into an open-air brothel.
Commercial sex workers, we have established, are having a field day servicing their captive clients.
It is safer here, as on the road police officers might arrest them for flouting curfew hours.
A club that is next to the airstrip and about 200 metres away from Airstrip Police Post operates round the clock. When The Standard visited the place at around 10am, revelers, majority of them truck drivers, were still sipping alcohol.
The proprietor used to own a similar club in Uganda, just across the border, but set base here when the border was closed and movement restricted. The place is a hive of activity in the evenings.
The illegal activities begin once night strikes. The revellers start trooping into the bar from about 7pm.
Some caretakers have converted rooms that were yet to be rented out into lodgings, where truck drivers check in at any given time in the company of women.
There is also a place one can shower for Sh50. Some women collect clothes from truckers and wash them at Sh10 per piece. Some tenants are worried that they may contract the infectious disease because of the greed and carelessness of the caretakers.
A man, who only identified himself as John, stays with his 66-year-old grandmother. The old woman is a small-scale trader of several items, including soaps.
The room adjacent to hers has been converted to lodging and a bathroom.
What worries John is that the caretakers buy soap from his grandmother and the money is paid in cash.
"If the virus explodes in the airstrip, I can confidently say many people will be infected," John says
John regrets that the newly-opened bar operates round the clock and some people go there in private vehicles yet police have never arrested the owner. He fears sharing the information with police because, he says, they may expose him to the bar owner.
"If police can launch a crackdown at night, I'm sure it will bring some sanity," John tells The Standard.
Sylvanus Oduor, a resident of Airstrip, wants the government to come to their rescue. He also wants mass testing of people living near the airstrip to establish if the virus has spread beyond the truck drivers.
"Something needs to be done urgently because these truck drivers are posing a great danger to our lives. Some are sleeping with women from this area and mingling freely with people even before knowing their status," he said.
"Recently a driver was picked by an ambulance. Immediately those selling food to the truckers realised one of their clients was taken to Alupe, they disappeared," he added.
Oduor says there is need for the airstrip to be fenced with chain links and police deployed at the gates to restrict movement of the non-truck drivers inside the area.
Commercial sex workers in Busia, led by their chairperson Caroh Kemunto, admitted that they were putting their lives at risk by having close contact with truckers.
"We know we are at risk of contracting the virus from the truck drivers, but we have no option since the government has not reached out to us with any support," she said.
Daniel Awindi, one of the drivers, says a lot takes place inside there at night. He says some drivers do not sleep inside their vehicles.
"It is business as usual here at night. There is no police officer to control movements and mingling between drivers and sex workers," Awindi says.
County Commissioner Joseph Kanyiri told The Standard truckers, especially those who parked on the roadside, were buying fresh food and having them prepared by locals oblivious of the risk they were putting themselves into.
Kanyiri says it is dangerous, and now wants the drivers to restrict their interaction with locals. Motor bike operators in Busia County could also be the weak link in containing the spread of Covid-19.
Long queues of trucks extending dozens of kilometres, on the Malaba-Bungoma-Eldoret highway and Busia-Kisumu highway is good business for boda boda operators as truck drivers ride on bikes to access centres for Covid-19 testing.
For instance, the trucks have been parked on a long stretch from Busia Customs, extending beyond Bumala town. This has seen truck drivers use motorbikes to access places where samples are taken in Busia and Malaba.
None of the riders fumigates the motorbikes in between trips. William Barasa, a rider in Busia, says he gets Sh50 whenever he carries a passenger from Korinda to Customs, and Sh100 to Mundika in Busia or beyond.
After money
"Most of us are after money and that is why it may be difficult for one to interrogate a passenger," said Barasa.
He admitted that his colleagues were at risk of spreading the virus and wants the government to set aside a vehicle that will be ferrying truckers to the Customs office for sample taking.
As of Sunday, Busia had 312 positive cases of truck drivers. "It is hard to tell who has the virus and who doesn't," said Barasa.
Michael Oduor, also a boda boda operator, cautioned his colleagues against carrying truck drivers. "You will be paid Sh50 and maybe the passenger has the virus, so you end up infecting other people unknowingly," said Oduor.