Chasing hope: Doctor on TV charts fresh path in health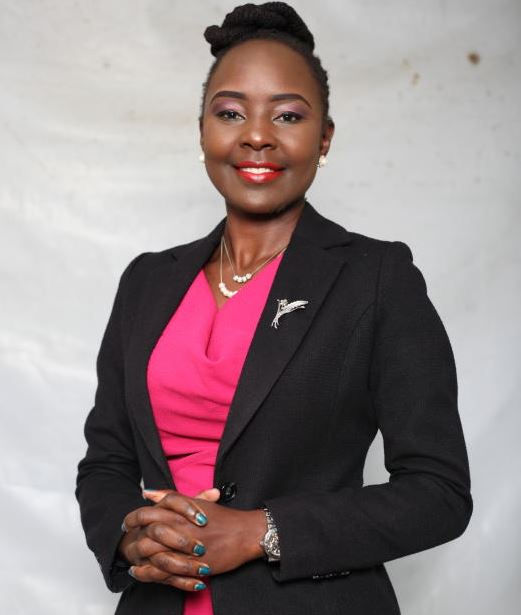 Dr Mercy Korir has lived true to the adage; hard work pays. Four years since she joined the Standard Group as a journalist, she has become a go-to voice in medical journalism.
She is an authority in the newsroom, be it on TV, radio, print or online, a feat which sets her apart. Imparting medical knowledge is a passion fellow journalists benefit from often.
And recently, her work was recognised by President Uhuru Kenyatta during this month's Madaraka Day celebrations, where she was among health reporters picked for the Uzalendo Award, for informative coverage of the Covid-19 pandemic.
Success, however, did not fall into her lap, but has been the product of a long trail of sweat and determination.
The story of the 33-year-old, born in Kapsoit, Kericho County, and brought up by a single mother, reads like a lesson in the virtues of hard work and perseverance.
She grew up in a remote village, and their home was a humble mud hut. "I did not know we were poor because we lived with people of similar economic status. We had enough food and shelter over our heads. We walked to school, played together and it was all fun," says Dr Korir.
The missing father figure did not strike her until she was in upper primary school when she realised other children had fathers, unlike herself. "When I asked my mother about my own father, she told me he walked out to find his own life," she says.
This, she says, prompted her to make use of the available opportunities and work harder for an independent life.
"I realised that if you are abandoned, you are on your own. So you need to make sure you learn to stand on your own because you cannot rely on other people. The people you think should be there for you are not necessarily always going to be there," she says.
Turning point
Her inspiring mother, a police officer, encouraged her. She says an encounter with American neurosurgeon and author Ben Carson through his book Gifted Hands, was another turning point in her life, helping her visualise and model her future.
In 2000, she sat her Kenya Certificate of Primary Education where she performed impressively and went on to Bahati Girls High School for her secondary school education.
It was in high school that she says she started to realise there were little things that made life interesting and vowed to ensure she would not go back to the life of want she had in the past.
"When my mother was transferred to Nakuru, we went to live in a self-contained house. It was the first time I knew it was possible to have washrooms inside a house. I realised some small things made life interesting and it encouraged me to work hard and get better things in life," she says.
With her eyes set on passing examinations and studying medicine, Korir made a step closer to her dream when she scored an A in the 2004 Kenya Certificate Secondary Education examinations and secured a slot for medicine at the University of Nairobi.
"I was certain that I must succeed in academics so that I do not go back to the life I lived in the past. I made use of the opportunity I had because I knew there are other children who had potential, but circumstances around them could not allow them to progress," she says.
At the university, she discovered another interest outside medicine and she embraced it. She joined the association of medical students and created a regular magazine.
"I was voted in an editor while in third year, and that is where my love for communication came. I also became the secretary-general of the association and it involved mobilising people for certain causes," she said.
The dream of venturing into media and communication awoke again when she came face to face with the underlying inequalities in healthcare when she started working in the medical field.
The first experience happened immediately after her 2011 graduation while working as an intern at Machakos Level Five Hospital.
"I came face-to-face with the inequalities in healthcare. There were those who afforded insurance and many others who did not. I saw people struggling to clear medical bills and I felt it was not supposed to be the case. We all should enjoy good healthcare irrespective of our backgrounds," she says.
Different path
She started raising questions on issues of equality, especially on health, and decided to look for a platform where she could get answers and push for change. "I enrolled for MA in Communication Studies at UoN in 2013. My former classmates and colleagues were also going back to universities but to specialise in medicine. I had chosen a different path and I was determined," she says.
In 2016, after her postgraduate studies, she joined Standard Group where she now works as a medical journalist, reporting for KTN News, radio, online and print.
With several stories to her name on all platforms, Dr Korir looks back at her journey with a smile but with more plans to elevate the state of health reporting in media.
"If your health is not assured, then everything else will not work. I am passionate about universal health coverage so that everyone has the best healthcare. I don't understand why people in Nairobi have options while those in the periphery have facilities kilometres away and, even there, they don't get everything they need," she says.
She adds: "I speak for those whose hope is to see that the government works. We should all have equal opportunities. It should not matter where you come from."
Korir was even more inspired after President Kenyatta recognised her efforts in reporting on health, especially after the outbreak of Covid-19.
"I didn't see it coming, I was just doing my work. Covid-19 came and found me at the right place at the right time. I owe it to the public to deliver my best and, with the support of everyone in the newsroom, someone recognised my efforts," she says.
She says the awards to her and other media practitioners confirmed that health is an important issue and that we should recognise our professionals.
For now she says Covid-19 is here to stay and Kenyans should practise good hygiene and follow all directives from health experts. "Covid-19 is here to stay. We are lucky that it is mild for us, it is polite to us compared to the UK and other countries. Let's not stigmatise patients, it is not a death sentence, practise good hygiene, embrace it and live with it," she adds.