Keep portraits off donations, agency tells errant politicians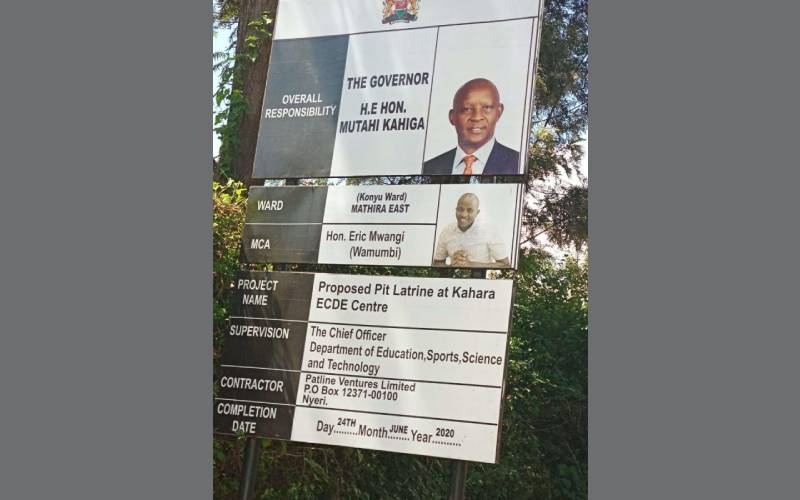 The Ethics and Anti-Corruption Commission (EACC) has slammed the brakes on the frenzy of politicians branding donations processed through their positions or State coffers.
In an unprecedented move, governors, senators, MPs, MCAs and aspiring politicians will have to think twice before branding any projects or items they give to the public.
EACC boss Twalib Mbarak has written to the Council of Governors (CoG) warning them against such practices saying that those who flout the order will be prosecuted.
"The commission's attention has been drawn to an emerging practice where county officials are branding items such as sanitiser bottles, water tanks, masks, flour and related items with their personal portraits, creating an impression that the items are their personal donations towards emergency response for coronavirus disease," reads Mbarak's letter to the council.
He said the EACC has received reports that such branding are being used to advance personal interests whereas the items being branded are purchased using public funds.
"The commission is empowered under section 4(2) and 4(4) of the Leadership and Integrity Act 2012, to require public entities to carry out such functions and exercise such powers as may be necessary to enforce compliance with the rule of law, leadership and integrity requirements," Mbarak said.
Misplaced priorities
The order is a blow to politicians who have been using public money to hood wink the public that they are doing them favours.
The practice has peaked during this time of the pandemic when majority of Kenyans have been hit hard by loss of income.
Politicians have jumped at the opportunity to brand any item they distribute to the public, including toilet papers, sanitary towels, flour and sanitiser.
In the latest incident, the public were irked by Nyeri Governor Mutahi Kahiga who erected a billboard indicating he was building a pit latrine.
The board was later pulled down when the public accused Kahiga of misplaced priorities and using money on non-essentials.
This has drawn in the which is vowing to punish those who flout its notice.
"The commission advises that each county government takes measures to ensure such practices do not occur.
"For purposes of accountability and transparency, it would be prudent to make pronouncements to the public or place the name of the county on the items to demonstrate that the initiative is supported by the county government without necessarily including individual portraits or names," Mbarak said.
Governors have also been branding their county projects with their portraits or names.
Mbarak advised the CoG to circulate the commission's advisory to all county governments for compliance.
"Meanwhile, the commission looks forward to continued collaboration with the council in order to enhance transparency and accountability in the management of public affairs in their jurisdictions," he said.
[The writer is a 2019/2020 Bertha Fellow]