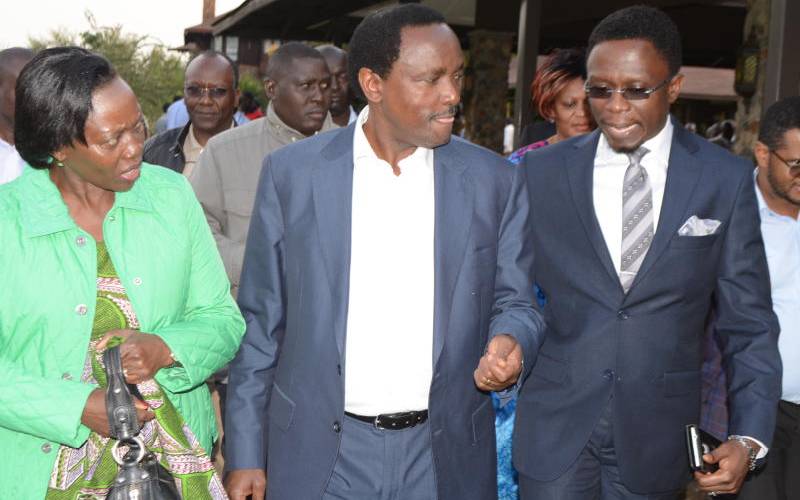 A suit by former Vice President Kalonzo Musyoka, former Justice Minister Martha Karua and a host of prominent lawyers has revealed the intrigues in the fight for the coveted senior counsel title.
With only 26 senior counsel out among 15,000-odd lawyers, it is a title which every lawyer with more than 15 years experience wants to acquire, but which is so elusive and has caused division within the Law Society of Kenya (LSK).
A suit filed last week by Kalonzo, Karua and 20 others adds to two separate ones challenging the nomination criteria. Although the title has no monetary gain, the privileges that accompany it make senior lawyers fight for it.
The honorary title and highest accolade for an advocate has similar privileges, rank and prestige of the Queens Counsel (QC) in the United Kingdom, and which commands respect amongst one's peers.
The Advocates (Senior Counsel Conferment and Privileges) Rules, states that a SC enjoys the privileges of having their cases dealt with first when appearing in court or in a tribunal.
Read More
"They also have the prestige of appearing robed in court, wearing the gown and court sleeved waistcoat similar to Court of Appeal Judges. In addition, they have exclusive right to sit in the front benches," states the rules.
According to the rules for admission, one must have minimum 15 years experience as an advocate, high integrity, unquestionable professional conduct and has contributed to scholarly writings within the legal profession.
"The person must have not been convicted of any professional misconduct, has sound knowledge of law, must have argued a substantive precedent-setting case before a superior or international court, undertaken community service and served LSK in any capacity," says the rules.
Controversy emerged last year after the Committee on Appointment of Senior Counsel recommended 24 names, including Kalonzo and Karua, but which some lawyers challenged in court claiming some did not deserve the honour.
Last month, LSK revoked the nominations following complaints that the process was not fair and biased to undeserving advocates.
LSK President Nelson Havi said majority of lawyers complained about composition of the selection committee and impartiality of its members leading to two cases at the High Court.
Fair and transparent
"We want to ensure that the process of nomination is done on merit and is fair and transparent," Havi said.
But the suit by the affected 22 lawyers accused Havi of having a hidden agenda in halting their elevation and obtained orders suspending LSK decision to strip them of the title.
Kalonzo and Karua filed the suit with other nominees, namely Philip Murgor, Otiende Amollo, Taib Ali Taib, Fred Ngatia, Waweru Gatonye, Kiragu Kimani, Judy Thongori, Wilfred Nderitu, John Ohaga, Kioko Kilukumi, Zehrabanu Janmohamed and John Chigiti.
Others were Albert Mumma, Patricia Nyaundi, Abdikadir Mohammed, Parkash Nagpal, Wainaina Kagwe, Pravin Bowry and Rautta Athiambo.
Lawyers Donald Kipkorir and Hillary Mokaya had two separate suits contesting their nominations, arguing that the process was not fair.