The biggest casualty is democracy, not Kindiki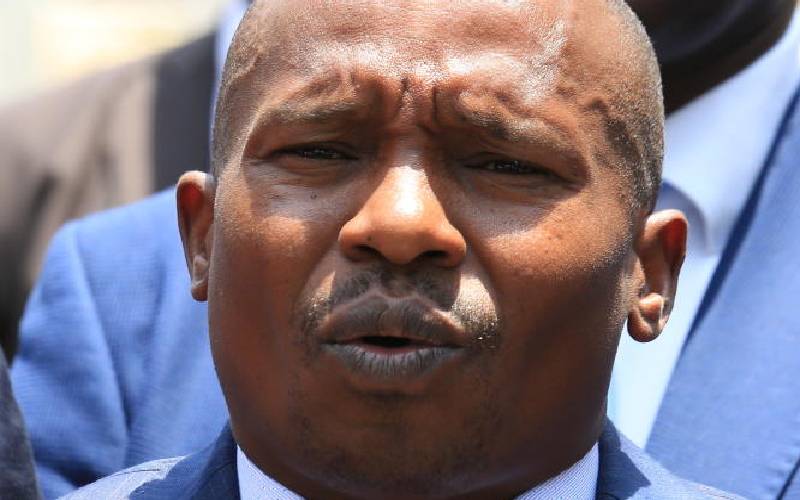 "Friends, Romans and countrymen, lend me your ears; I have come to bury Caesar, not to praise him." These opening lines of a speech by Mark Antony in William Shakespeare's Julius Caesar had a hauntingly familiar ring last week. In Senate proceedings to vote for the removal of Deputy Speaker Kithure Kindiki (pictured), speaker after speaker waxed poetic, quoting extensively from Shakespeare and the Bible. In the end, after extolling his virtues, they buried Kindiki, dispatching him from the lofty perch he has occupied from the start of the 12th parliament.
Whilst Kindiki's career may have taken a turn for worse, it is democracy that was at risk of burial. Going by reports in the public domain, senators voted him out, not from conviction or conscientious desire to serve, but out of convenience borne of self-preservation. Among the reasons advanced was that Kindiki had failed the loyalty test to the president, who is also Jubilee Party leader.
It is evident that things are no longer rosy between President Uhuru Kenyatta and his deputy (DP) William Ruto. Jubilee, the party they co-founded, is split in the middle with factions allied to both. Some have argued that the DP has undermined Kenyatta's leadership by campaigning relentlessly to take over come 2022. Others have averred that the president has lost the goodwill of a significant number of his party members.
In advanced democracies, party members with ideological differences from the leader leave for other parties or start their own. In the same vein, when a party leader is unable to create consensus or support for a position they hold, they resign. Ascribing these standards to the Jubilee Party, one of three outcomes would have obtained: Resignation from the party by disgruntled elements, impeachment of the party leader or dissolution of the entire party, having failed to live up to the causes for which it was formed.
Prof Kindiki was voted out because of his perceived fealty to the DP. His ouster was not on account of incompetence or inability to conduct House business with impartiality. Those against him were at pains to belabour the fact that they were constrained to do so by extraneous considerations. A section of the media has reported that the president and Raila Odinga, a political rival of the DP, had "issued firm instructions to senators to sack Kindiki". There is talk that those who bucked this position were threatened by sanctions that included withdrawal of sponsorship of those nominated by party and the recall of those in elected positions. Senator Mithika Linturi of Meru decried the expectation that senators should "unquestioningly endorse pre-determined outcomes on matters that come up for debate and resolution before the Senate".
A widely shared view is that Kindiki is a mere pawn in an intricate game of political chess. His ouster is a shot across the bows, a warning to Senate and by extension, the National Assembly that dissent against the president and his constitutional agenda will not be tolerated. In the words of a senator, after a meeting with the president, "the coming days are crucial in constitutional reforms and we must clean the House by removing all those who don't conform to this agenda". A referendum is expected later in the year, which will expand the Executive to include more politicians at the helm. It is thought that the DP is opposed to this expansion whereas Kenyatta and Raila favour it.
Clearly, Kindiki is collateral damage. In the words of Senator James Orengo, his ouster "is all about politics of power and not principles". One wonders how many other innocent Kenyans out there are collateral damage. One asks whether the electoral body IEBC was truly independent or in the thrall of powerful but shadowy operatives going by the cockamamie of a recently released results audit. It showed losers to be winners and vice versa. One speculates about the corruption purge that saw heads of parastatals charged; whether this was driven by principle or political process.
But most worrying is when the legislative arm of government is railroaded into obsequious support of an agenda it may not believe in; when the public begins to lose faith in the democratic credentials of those who have been threatened and cajoled into singularly predetermined decisions; when the august House is reduced to navel-gazing, beholden to the wielder of the stick and carrot. Democracy would then have been buried six feet deep!
Mr Khafafa is a public policy analyst