Unafraid and unbowed, Stella Nyanzi fights on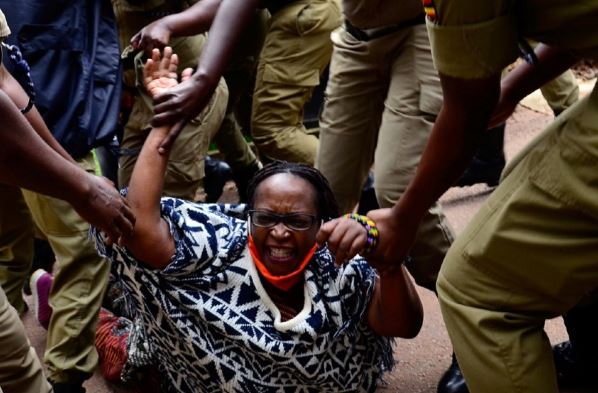 "You can handcuff my body but you can never handcuff my spirit"- Stella Nyanzi
Dr Stella Nyanzi sails too close to the wind, flies too near the sun, and walks on the razor's edge.
Less than three months after she was released from jail, the rights activist was in the news again; handcuffs and all.
The writer who has been referred to as Uganda President Museveni's fiercest critic doesn't know when to stop.
On Monday, May 18, Nyanzi was arrested as she led a group of protesters against what they called "slow distribution" of food and other relief goods to poor Ugandans affected by the coronavirus pandemic.
"We detained her for inciting violence. She is exploiting the Covid-19 situation to advance her political motives," Police spokesman Patrick Onyango told local media.
Her bold attacks against Museveni have earned her a huge following on social media, perhaps the largest in Uganda.
More arrests
In February this year, the former university lecturer was released from prison, where she had served a sentence of more than a year for "insulting" President Museveni.
DW reported that the feminist academic spent almost 16 months in Luzira prison in Uganda for writing a poem on Facebook about Museveni's mother's anatomy.
However, Nyanzi came out of prison her pen and mouth sharper. On the day of her release, just outside court, she donned a sash with the words sic ("F*c* Oppression") and immediately began addressing her supporters who were waiting with bated breath.
During her trial in August 2019, while appearing via a video link from prison, Nyanzi swore, screamed profanities and flashed her breasts in the full glare of the cameras.
The judge had sentenced her to an additional nine months in prison for harassing Museveni. At the time of the verdict, the academic had already spent another nine months behind bars.
In March 2017, she likened President Museveni to "a pair of buttocks". This statement would again land her behind bars, where she was charged with cyber harassment, offensive communication, and abuse of the president.
A month into her conviction, doctors from Butabika Hospital in Uganda were asked to carry out a psychiatric assessment examination to determine whether she was insane. However, she resisted the examination and requested that her personal doctor and at least one family member be present if they were to carry out a medical test on her.
In an interview with AFP the same year, Nyanzi said that the "so-called vulgar words are sometimes the best way to get your message across".
After her 2017 arrest, Nyanzi was fired from her position at Makerere University and placed under a travel ban.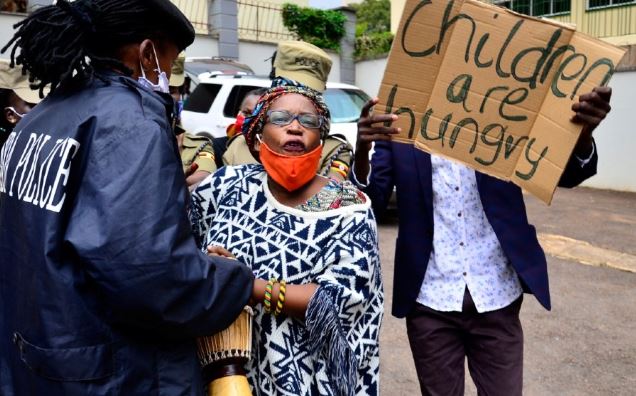 Accolades
Despite all the razzmatazz, the academic boasts of several accolades.
She won the Oxfam Novib PEN International award for freedom of expression early this year, at the Writers Unlimited festival in The Hague.
She is also a well-cited scholar in her fields, with over 50 articles and over 1,000 citations and is one of the first scholars to publish research on African homosexuality.
Nyanzi holds a doctorate in Anthropology.