How DP's allies left him at hour of need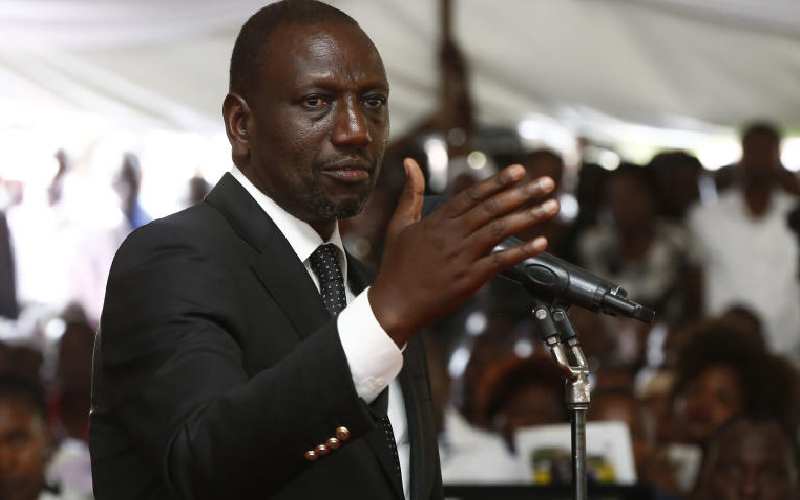 In politics, a day is a long time, they say. For President Uhuru Kenyatta and his deputy William Ruto (pictured), however, a three-hour meeting on Monday last week proved longer, as the two battled for numbers.
The President had called for a Senate Parliamentary Group meeting with a clear agenda; cut Ruto allies to size by occasioning changes in the House leadership.
The communication had been done on Sunday afternoon, and knowing it was going to be a night of long knives, the President's team and that of Tangatanga, which is allied to the DP, immediately went on an overdrive. To each group numbers meant everything for the Monday 8.30am meeting.
Monday 7am saw frantic calls. The meeting soon began and by 9am State House had 11 senators. Their target was 18 to get the majority needed to occasion changes.
As the State House numbers went up, the deputy president's team was also urging on its side and asking those loyal to it to stay away from the house on the hill. They had pitched "tent" at Parliament and were collecting signatures.
Minutes later, State House got five more members, bolstered by a coalition agreement with Kanu. The Independence party's three senators, led by its party leader and Baringo Senator Gideon Moi joined in together with two more Jubilee senators.
Then four senators, including an independent one from Kirinyaga, walked in, giving the president side a quorum.
Take a quick survey and help us improve our website!
Take a survey
List growing
The list on the Tangatanga side was also growing, with up to 15 senators signing a letter signaling their unwillingness to attend the State House meeting. But it is the desperate moments that exposed the soft underbelly for the Tangatanga group. Some of their presumed loyal senators had shunned them and instead sided with the party leader, perhaps for fear of political repercussions.
In an interview with Chamgei FM later, outspoken Kapseret MP Oscar Sudi laid bare the betrayal the DP suffered "like Jesus who was shunned by Peter minutes before crucifixion". Sudi said Ruto was put in an awkward position when his trusted lieutenants did not pick his calls.
In Sudi's account, eventually out of all the senators from Rift Valley, only four - Nandi Senator Samson Cherargei, Trans Nzoia's Michael Mbito, Margaret Kamar of Uasin Gishu and nominated Alice Milgo - did not sign the list at Parliament.
According to Sudi, Ruto at one point called Cherargei 22 times to try to convince him to stay away from State House. The DP also later wanted to understand the allegations that Cherargei had supported Kipchumba Murkomen's ouster from the Senate Majority Leader position.
"The senator kept giving baseless reasons when the DP finally found him on phone. He was lost for words... saying he was far from Nairobi and that he would not sign our list in person," Sudi said in the radio show.
Eventually, Sudi added, Cherargei did not sign the list at Parliament in person. "Instead, he sent us his scanned signature, which was downloaded and added to the list," Sudi said, adding: "As we were busy with our list, which we would use to challenge change of guard at the Senate, we heard reports that Cherargei had also signed the list at State House".
He added that Cherargei, out of fear, had told State House that he would not sign any of the two lists, but remain neutral in the fight.
From Sudi's account, Cherargei gave Ruto and the Tangatanga team a hard time by ignoring calls at their hour of need.
The politically interesting thing, however, is that the DP's home senator had signed the president's list, to the chagrin of Ruto and his allies.
Sudi, a close Ruto ally, confirmed that Prof Kamar had indeed signed the president's list at State House, and later after a long chase, also signed the Ruto camp's list.
According to Sudi, Kamar had sought protection from the State House group, asking that her name not be made public after she signed.
"Cheruiyot informed me that they had called the Uasin Gishu Senator, but she was not picking calls. I tried calling her but she never picked mine as well," Sudi said.
According to Sudi, Kamar went to State House, signed the list at the gate then turned back without attending the president's meeting.
Sudi said they asked Ruto to call Kamar. The Senator picked the DP's call but kept stammering and saying she had not signed the State House list. "We cornered her after we were told by insiders that she had signed the president's. We also made sure that she signed our list as well so that the truth could be known," said Sudi.
He added: "After taking us in circles, we, together with senator Cheruiyot, Ms Kihika and Bomet Senator Christopher Lang'at, caught up with her at Parliament at 10am where we gave her our list and she signed it despite us knowing very well that she had signed Uhuru's list."