Former national team captain Rakep's love affair with cricket 20 years on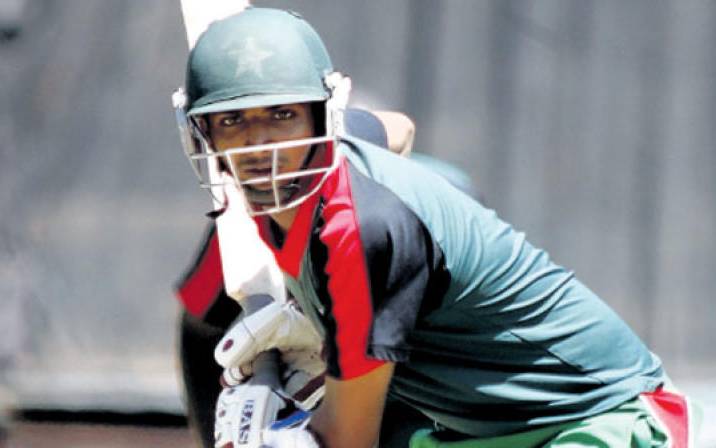 Soft-spoken and easy-going, former men's national cricket team captain Rakep Patel is without a doubt held in high regard by both the young and the old in cricketing circles.
The 30-year old batsman respects everyone and that has earned him admiration from younger players in the national team, his teammates at Kanbis Sports Club teammates and cricket enthusiasts at large.
Coll-headed at all times, Rakep or Rako as he is popularly known within the cricket circles, never hesitates to stop and listen.
His courtesy is immeasurable, whether it is a journalist asking for an interview or a fan yearning to exchange pleasantries -- he is always ready to put everything on hold, listen and assist when needed to.
Despite part of his family being in India, he is a proud Kenyan who was born and bred in Ngara. He fell in love with cricket at a very tender age and has remained solid in the game for over two decades.
From age-group cricket, humility saw him earn the trust of Cricket Kenya selectors and national team players who entrusted him with the captaincy for four years. Driven by his own dreams and those of his father, he never let anything come between him and cricket.
At 10 years, Rakep was certain he had found his passion and wanted to play cricket only.
It was in 2000, Kenya was thriving globally and cricket environment was good making it a very vibrant sport. Cricket was irresistible more so to children who grew up in Ngara, the home of the game of bat and ball.
And who could have resisted the cricket bug while living close to Nairobi Gymkhana and Nairobi Simba Union as Kenya took on the game's top guns? Certainly no one! Not even the soft-spoken Rakep.
"I used to sneak out of school to go watch games when Kenya played at Gymkhana. It was a very nice experience. I got to see national team players and I admired them, seeing them ignited in me the desire to don the national colours and play for Kenya one day," Rakep said.
Recollecting the memories of playing school cricket with his Kenya teammates Alex Obanda, Shem Ngoche, Nelson Odhiambo and Elijah Otieno among others, Rakep says he was not very good and they still tease him to date.
"They were all better than me. They knew it and took advantage to intimidate me whenever I played against them. Even today, whenever we are unwinding, they remind me and we make fun of it."
From River Bank Primary School, Rakep was always eager to catch up with his cricket buddies who also came from various schools in Starehe Constituency.
Be it hitting the ball in a quest to perfect their skills or enjoying a meal of ugali and sukuma wiki, chapo (chapati) or githeri, these boys were united by cricket and without doubt had formed an unbreakable bond that has stood the test of time.
In Rakep's inner circle of friends, there was also the late Alpesh Bhudia and Harshil Shengani, his Kanbis teammates who died in a road accident in 2011.
"I learned half of my cricket skills from him (Alpesh). We were very close and I was devastated when they died. It was just a day after I had given them the good news that I had made the cut for the World Cup team."
He started playing in 2000 under coach Mudasser Nazar of Kenya Cricket Association (KCA) Academy at the Simba Union.
Inspired by Steve Tikolo and former India's Sachin Tendulkar, he worked very hard and made it to the 2004 Under-15 national team. "I was very happy to make the final squad for the Under-14 team because it was an opportunity to improve."
He moved to Nairobi Gymkhana in 2005 and immediately made it to the club's first team and played in Nairobi Provincial Cricket Association (NPCA) Super League.
In 2006 he got a chance to go for three-month training in India together Hiren Varaiya courtesy of the Nairobi Gymkhana Club.
He returned from India a better player making the cut for the 2007 Under-19 team national team that participated in the 2008 ICC World Cup qualifiers in Benoni, South Africa. They, however, failed to qualify after losing to Namibia by 39 runs in the decisive clash.
There was no looking back for the right hand batsman as he worked his way up into the senior team.
"I loved playing cricket and wanted to be in the national team, it was also my late father's dream that I play for Kenya. He was very passionate about cricket and I worked very hard to fulfill his wish," Rakep added.
It did not take him long to transition from age group cricket to the senior team where he got a chance to play with his idol, Steve in several tours as well as the 2011 ICC World Cup.
In 2009, while on the tour of Canada, disaster struck and Rakep lost his father to the cruel hand of death forcing him to abandon the tour and return home to be with his family.
"It was a very tough time for me and I even contemplated quitting cricket so I could help my mother with the business because I feared she couldn't manage alone," he said.
It was Alpesh and Harshil who convinced him not to quit cricket but instead find a way of handling both responsibilities.
"I was ready to drop the bat and focus on the family business but Alpesh and Harshil helped find a way of striking a balance between cricket and business."
His mother continued with what his father had started and encouraged him to play. She attended some matches whenever he played for the country or even Kanbis Sports Club which he had signed for in December 2007.
In 2011, his dream to grace the global stage came true when he made the final squad for the World Cup staged in India, Sri Lanka and Bangladesh.
"Playing at the World Cup was the highlight of my career, I had fulfilled my father's wish and my dreams had also come true. Even though we lost all matches it was an amazing experience being on the same stage with crème de la crème of world cricket. My family in India came to watch me play and it was memorable moment for me," Rakep said.
His hard work and leadership abilities earned him the national team captaincy in 2014, a post he held until 2018 when he stepped down.
He is grateful to coaches David Asiji and Alfred Njuguna who coached him in the Under-15 and 19 national teams respectively.
"They were patient with us because at that age it is more of learning rather than winning. They helped the basics right and have a feel of playing cricket the international scene and shaping my playing career."
Away from the crease, Rakep runs a hardware business in partnership with friends and also helps his mother. He remains optimistic that Kenyan cricket will rise again.
"If we focus so much on what has failed then, it will take us longer to rise again.
We can only overcome this by looking at the bigger picture and concentrating on rebuilding our game because I believe all is not lost, we just have to direct our efforts in the right places," he says.