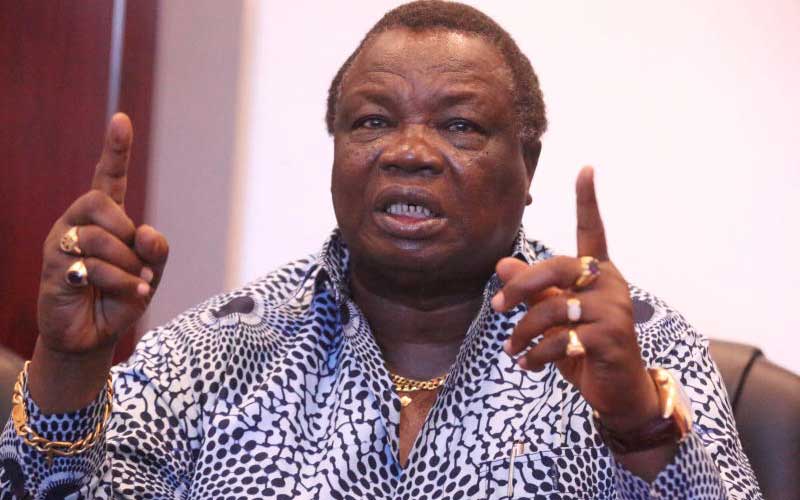 Today the world marks Labour Day with no celebrations because of coronavirus. The Standard's Protus Onyango talks to Cotu Secretary General Francis Atwoli (pictured) about measures to cushion workers during the pandemic.
1. This is an extraordinary Labour Day, there will be no celebrations, no talk of salary increment because workers are not only taking pay cuts but they are losing jobs.
No one should talk of pay cuts and job losses. We have agreed with government and employers that there should be no pay cuts and no employee should be sacked. Government has excluded taxation of workers earning up to Sh24,000. To ensure no worker losses his or her job, we have asked employers to allow employees to take leave and those who don't have leave allowed to proceed on unpaid leave. But we will mark this day in solidarity with employees, employers and government. This is a unique moment that requires us all to work in harmony.
2. In history of labour movement has the world witnessed anything like this?
Read More
Not during my lifetime. I have been in the labour movement for 53 years and there is no time where Labour Day has not been celebrated, even during times of political misunderstandings. We were expecting an annual wage increment of 22 per cent today. We are still, however, optimistic that we will hear something positive from government.
3. In the worst case scenario, what are projections about job losses in Kenya and which sectors will be hardest hit?
As I said earlier, we don't expect job losses. We expect things to normalise and employers should be willing to take back their employees so that in the Kenyan spirit of working hard, they work to recover what the companies lost. We expect our workers from the floriculture, artisans, credit staff and the rest of 4 million members we represent to retain their jobs.
4. Given the massive job losses, how will Cotu and other trade unions survive with shrinking workers' contributions?
Cotu and its affiliates do not exist simply because of contributions from workers. As a labour movement, we will remain objective and continue representing the interests of workers. We are a pressure group, an alternative organisation to national governance.
5. Does Cotu and other trade unions have rescue packages for members?
We do not have rescue packages for our members, but we have ensured that they don't suffer during this period. I am signing an agreement with the Labour Cabinet Secretary now, which provides that employers continue submitting statutory deductions for workers and don't sack anyone.
6. Do you think you have done enough to champion the welfare of workers in these hard times when they are at the mercy of employers?
Yes, I have championed good policies so that we have a good working environment, advocated for economic and social well-being of our members.
I am relentless on corruption. I am on record demanding for accountability of all the monies raised and received during this Covid-19 pandemic so that it does not end up in a few corrupt individuals' pockets.
7. What structures have you put in place to cushion employees from unilateral pay reductions and to ensure once normalcy returns they get back to their normal salaries?
Any employer effecting pay cut is committing an illegality. We expect this not to happen. In this case, therefore, all employees, unionisable and those not in unions, should continue getting their dues as set out in their collective bargaining agreements. I cannot lead Africa, but fail to provide leadership in my country Kenya.
8. Do you have a team to assess the economic outlook so that workers are not on reduced pay indefinitely?
We have a team that is reviewing the current situation. After the lapse of 21 days, we will in the first week of June appeal to government to reopen more businesses so that the economy begins to pick up.
9. What is your reaction to claims that you have been quiet on workers' plight in the Covid-19 crisis, considering you were vocal on politics, Building Bridges Initiative (BBI) and Uhuru succession?
I have in the past and continue to advance the welfare of workers. Through my leadership, I have advised all affiliate unions to discuss with employers on packages beneficial to workers. It is only through tolerant politics that workers can work peacefully. BBI and Uhuru succession are all hinged on good politics. In all the meetings I attend, I have never failed to advocate the welfare of workers.
10. Is there relief for workers sent on unpaid leave?
We have agreed with government and private sector that they continue remitting statutory deductions, including NHIF and NSSF. This will allow workers who are on leave to access medical care.
11. After Covid-19 what are your plans for BBI and push for unity government?
BBI is on course, we have a team of technocrats working on the way forward. Our only rescue as a country is through a government of national unity. We have the capacity to make sure that the right person assumes power after Uhuru's term.
12. Do you think the new alliances you are pursuing will not suffer the betrayal that has characterised similar political deals in the past?
I know there will be many alliances towards 2022. What I am involved in is not open to betrayal. We have looked at the past and understood what ails us as a country. We are in control of our destiny. We are old and wise and have the capability to leave a legacy to young Kenyans. We will deliver a unified Kenya in 2022. Something supported by majority of Kenyans cannot fail. Ask any Kenyan who does not want peace and an inclusive government, the answer will be "none"! Anyone who is not supporting BBI and government of national unity will be swept aside and watch from the periphery when a government of national unity is formed in 2022.