NIS gets billions to spy on patients, medics warn virus war is militarised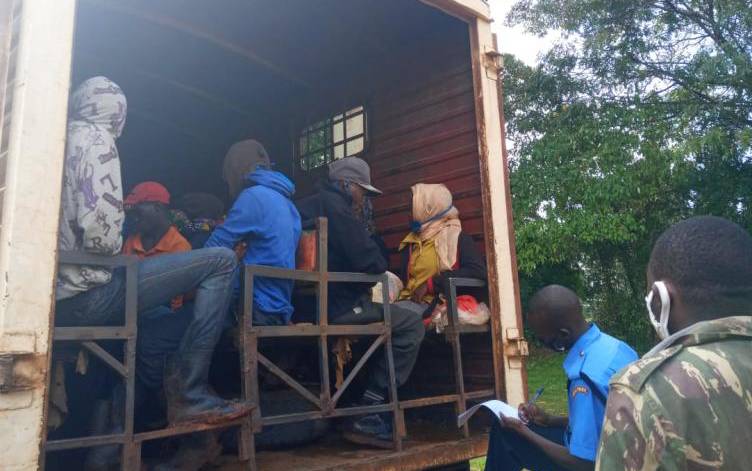 The National Intelligence Service (NIS) has been allocated an extra Sh1.5 billion for anti-coronavirus operations.
This comes even as medics cautioned against militarising the fight against the virus.
In the mini-budget tabled in Parliament last week, the National Treasury allocated more cash to the NIS as part of what the ministry described as 'Covid-19 related expenditures.'
In notes to the National Assembly's Budget and Appropriation Committee, Treasury CS Ukur Yatani indicated that the money was part of Sh40.3 billion expenditure on Covid-19 and would be used by the spy agency for "enforcement."
Yatani could not be reached to elaborate on what 'enforcement' entailed.
As part of efforts to stop the disease, the government has been gathering intelligence to identify hotspots and help track down suspected cases.
The government is also monitoring movements of people who might have been in contact with those infected by the disease and those who might have slipped back to the country unnoticed. In one case, a woman who defied self-quarantine orders was tracked down by intelligence officers to a hotel in Nairobi and was picked up by the police.
But even as the police intensify the crackdown against Kenyans violating regulations to stem the spread of the disease, health workers have raised the alarm on the manner in which security agencies are handling patients and suspected cases.
The health workers have warned that the mistreatment of patients and suspected cases might discourage many Kenyans from volunteering for tests and promote stigma.
Kenyans have been sharing stories of painful encounters with security personnel enforcing curfew and shutdown regulations in the fight against Covid-19.
In one such case, Muirel Gacheri had been cleared to travel from Kwale to Meru for a health workers job interview after successfully applying for the jobs recently advertised by county governments.
Ms Gacheri says she had all the documents required before setting off to be interviewed for a job listed as an essential service under the coronavirus guidelines.
She also ensured that her mother, driver and breastfeeding baby were cleared and found fit to accompany her to Meru.
Gacheri had travelled with her mother to hold the baby as she went in for the interview.
The family and their driver were waved through numerous roadblocks in Mombasa and Taita Taveta counties after their documents were scrutinised by security officers.
However, on entering Kitui County, they were arrested by security officers, who said they were acting on instructions, and locked up in a quarantine centre.
The Kenya Clinical Officers Union (KCOU) has condemned the incident, and others across the country as an affront in the fight against coronavirus.
"We are causing a lot of stigma in the manner in which we are handling the Covid-19 pandemic in this country. Why subject a person who has agreed to serve the nation as a health service provider to such torture? It is wrong," said the KCOU Secretary-General George Gibore.
According to Mr Gibore, increasing incidents of forcible quarantine in the country amounted to criminalising coronavirus and instilling fear.
"The thought of a police vehicle and an ambulance arriving outside the gate to pick family members or contacts when one tests positive has led to a lot of stigma. It rekindles memories of how those who tested HIV positive were treated between 1994 and 2005," he said.
"Why all the drama with sirens and several police officers who should be assigned other duties? The government should change how it is handling the pandemic to make society stop looking at Covid-19 as a death sentence," he added.
According to Gibore, a number of health workers have also suffered in the hands of overzealous security agencies enforcing curfew and shut-down regulations.
He gave an example of a clinical officer arrested on a Saturday evening on his way home from work, driven to Kilimani Police Station and later taken into forced quarantine.
Gibore claims during the arrest, the clinical officer was bundled into a police truck full of suspects, some who did not wear masks.
The union has warned that many people might be infected with Covid-19 in the hands of the law enforcement officers and inside quarantine facilities.
"Rooms in quarantine centres such as the Kenya Medical Training Centre (KMTC) have not been fumigated, even putting up several people inside an open dormitory is very risky and traumatising," said Gibore.
The union further warned that some actions by security personnel in the name of fighting Covid-19 will drive more people to hide the illness instead of seeking health care and cause mental anguish.
Psychologists have also waded into the debate, saying people who test positive for coronavirus and their contacts should be handled with dignity. They also stressed on the need for empathy and open communication to reduce fear and stigma.
"We have seen gaps, especially when it comes to handling those who test positive and their contacts. We have formed a psycho-social team to brief those affected what quarantine is all about, how long they are to stay in quarantine and even talk to their families," said Wangari Gikonyo, a Nairobi County psychologist.
The psychologists described the fear generated by Covid-19 as normal human reaction for people trying to understand the disease, and called for compassionate treatment of patients and their contacts.
"People are all trying to understand the mystery around Covid-19, but when they get to understand the dynamics in dealing with it, such as washing hands and staying at home, the stigma will stop," said Nancy Wanjiru, a counselling psychologist.
In his daily briefings, Health CS Mutahi Kagwe said the government was aware of the effects the fight against Covid-19 had on Kenyans' mental health and set up a help line.
According to the CS, anyone in need of psychological help should call 1199. "We are particularly concerned about mental health. Towards this end, we have established a psychiatric and psychological care help framework over this period," he said.
But even as local health care providers look for ways of de-stigmatising Covid-19, other countries have embraced World Health Organisation (WHO) guidelines on how to deal with those who test positive without discrimination.
The WHO recommends home-care for patients with mild Covid-19 symptoms. "If there are patients with only mild illness, providing care at home may be considered, as long as they can be followed up and cared for by family members. Home care may also be considered when inpatient care is unavailable or unsafe," states WHO guidelines.