Ezekiel Kemboi's 'old flame' speaks out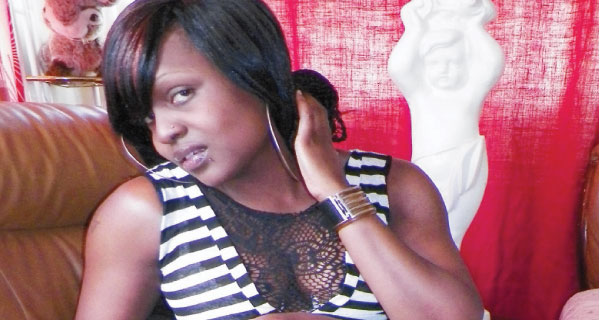 Kemboi's lover PHOTO: Ale
By David Odongo
A woman linked to world steeplechase champion Ezekiel Kemboi has for the first time broken her silence about a scandal that almost cost Kenya an Olympic gold medal in 2012.
Njeri Otieno, the woman who accused Kemboi of stabbing her, has finally revealed how the matter was settled out of court.
"Kemboi paid me over Sh4 million to drop the case. He also threw in a two-week trip to Dubai," Njeri said in an exclusive interview with The Nairobian.
"We had a thing. We had been friends for a while and eventually became very close until we broke up after the incident. We reconciled but eventually broke it off when it became obvious that we had completely opposite personalities."
Njeri, who met Kemboi when she used to run an eatery in Eldoret town, further revealed that the star runner almost became her husband.
"I could have married Kemboi but I felt I would not have a special place in his heart because he is so busy. If I became his wife, I doubt he would have had time for me," Njeri says, claiming Kemboi already had two wives.
When contacted, the famous athlete refused to comment about Njeri's claims.
In June 28, 2012, the world woke up to news that Ann Njeri Otieno – a businesswoman in Eldoret – had reported Kemboi to the police for stabbing her in the chest the pervious night.
According to The Standard, Njeri said they had been drinking with the athlete until around midnight when, "as he was dropping me home, he made sexual advances at me and I declined. He locked the vehicle and started demanding it.
"But as I was hurriedly opening our gate, he ran and caught up with me. A scuffle ensued and he threatened to kill me. He reached for a knife and stabbed me," she reportedly said from her hospital bed.
The incident made global news, with UK's Daily Mail reporting that Kemboi had said "the woman was stabbed while taking part in an armed robbery against him."
Since, Kemboi was preparing for the London Olympics to start on July 27, he asked the court to defer the assault case till September.
It was widely believed that the case would affect his performance but the athlete proved the world wrong by winning the 3000m steeplechase on August 5.
His was the second gold medal for Kenya, which boosted the country's dismal performance. Kenya left London with 11 medals (2 gold, 4 silver, and 5 bronze), a performance that was highly criticised as having not met expectations.
Weeks later, Njeri dropped the assault case, saying she needed to concentrate on her university studies and her businesses.
Njeri also told The Nairobian that after the 2012 incident, the negative publicity adversely affected her business and Kemboi advised her to close it down.
"He told me to chose any other business that I wanted to do and he would fund it. But I declined. How many men can do that? He has a big heart and he is always ready to help people. I just didn't want him to fund a new business for me," she said.
The 25-year-old woman who trained in journalism revealed she comes from a business savvy family. She drives a Toyota Celica Sports car and said she was never with Kemboi for his money.
"Our family is stable, and I am also stable. I have businesses I run and I was with Kemboi because he is a good guy. The fact that he used to take care of me so well is just a bonus," Njeri said.
"He is a man I respect so much and I don't like it when people say bad things about him. He is an admirable character and has a lot of discipline. When I was with him, he took care of me so well. Any woman would be lucky to have him. He is a good man, and I can never say anything bad about him," the mother of a nine-year-old boy added.
She revealed that Kemboi is very disciplined when it comes to financial matters.
"No one can con him. He is very sharp about money. But he is extremely generous to people around him. He never thinks of himself. He never buys anything for himself but people around him benefit from his generosity," the young woman said.
She recalls an incident when she was on a date with Kemboi and he received a phone call that one of his farm workers had been injured.
"Kemboi abandoned our date, went back to the farm, took his worker to the hospital, paid all the bills and stayed next to him till late in the night," Njeri said.
Another time, she said, Kemboi decided to buy new phones and airtime for all his workers.
"He is very passionate about farming. He has green fingers. Nothing can distract him from going to the farm. If he had an option, he would live, eat and sleep in the farm," Njeri said.
She claimed that when she first met Kemboi, she did not know he was an Olympic champion.
"He introduced himself to me as Sammy Cheboi, and he is a very funny guy so I fell for him. I only realised he was Kemboi after a while because of the amount of attention he was getting. I was also financially stable so I think he was a bit surprised that I never asked him for financial assistance," she said.
Road carnage evidence of rot in traffic department
The Law Society of Kenya made good its threat to move to court and compel the National Police Service Commission to sack the National Traffic Commandant Samuel Kimaru for failing to protect life and property by curbing the carnage on the country's roads.