Uganda, Namibia now seek to join Ruto's ICC appeal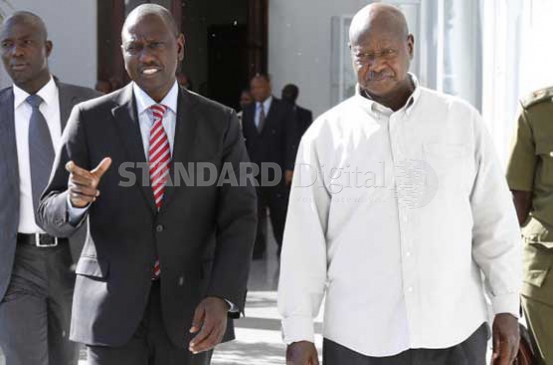 NAIROBI: Two African countries are now seeking a go-ahead from the International Criminal Court (ICC) to give submissions regarding admission of recanted evidence.
In separate applications to the Appeals Chamber, Namibia and Uganda Attorneys General asked to be allowed to file observations in the matter as friends of the court, and to make submissions on the contested ICC Rule 68.
Rule 68 of the Rome Statute provides that the chamber can use recanted evidence to make a final judgement in a case.
Attorneys General Sekaus Shaghala (Namibia) and Fredrick Ruhindi (Uganda) in the applications before justices Piotr Hofmanski, Silvia Fernandez, Christine Van Den, Howard Morrison and Peter Kovacs argued that their submissions would ensure the trial court would give a fair verdict to both Deputy President William Ruto and radio presenter Joshua Sang.
Namibia, a south-west African country and Uganda, Kenya's neighbour, were of the view that the appeal before the five judges raised strong issues of law that would also have an impact even on other cases lying before the international court.
"The Government of The Republic of Namibia, pursuant to Rule 103(1), requests for leave to submit observations as amicus curiae in the appeal on the decision on prosecution request for admission of prior recorded testimony," the request by Mr Shaghala read.
FIRST APPLICATION
Mr Ruhindi said: "The decision under the appeal is the first application of the amended version of Rule 68 at the court. The interpretation of the amended Rule 68 rendered by the majority in the impugned decision raised important, novel and complex propositions."
Uganda's AG added that the voice of the African Union in regards to that rule ought to be considered when the court will be making its final decision. The union formed by African States has been rallying for termination of the trial against the DP. In its meeting in June this year, the AU Executive Council resolved it would apply to be heard on why the rule touching on procedure and evidence ought not to be applied in Ruto and Sang's case.
The AU stated it only agreed to the amendment during the 12th Assembly of State Parties on the understanding that it would not apply, "retrospectively", on the two Kenyans.
"It would be in the interest of justice for the Appeals Chamber to hear observations and perspectives from State Parties, such as Uganda, in order to arrive at outcomes that satisfy the demands of a fair trial as contemplated under the Rome Statute," said the Uganda AG.