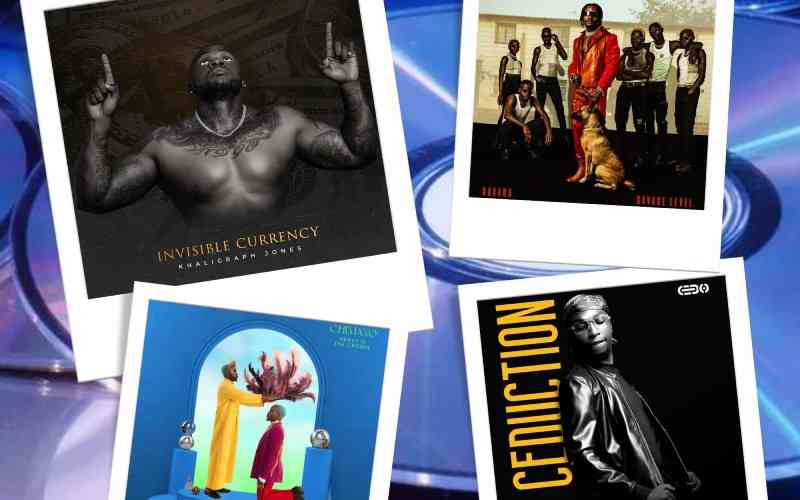 Wakadinali's Ndani Ya Cockpit 3 is set to come out in November. This would mark the year as one of the most productive, album-wise.
This year has seen an explosion of musical experiments. Some are concepts, others a collage of sound engineering and artistry, and some are a celebration of musical journeys so far. And not just in one genre, they are spread across RnB, Rap, Afro sound, and Gengetone.
Ceduction - Cedo X Various Artistes
A celebration of East African diverse but distinct sound, this album sees Cedo collaborate with some of the biggest artistes from around the region.
It is an imaginative arrangement that transcends sounds and borders, with 15 songs that feature musical experiments with other producers and instrumentalists, and old buddies like Nyashinski, H_Art the Band, Naiboi, and new artistes across different genres, from Gengetone to Bongo Flava.
The album is a journey that cuts across Jazz, Gospel, Reggae, Love ballads, and Rap.
Party Time - H_Art The Band
With slow love ballads and jams that walk a thin line between Reggae and Afro beats, the seven-song output is an experimental package made for parties.
Staying true to form, some of the songs, especially Easy Like ABC and On My Mind, are love jams, while Kelele and Buss Town/Party Time are made for dancefloors.
The trio of Mordecai, Wachira, and Kenneth featured Nyashinski, Alika, Phyl the Kangogo, Ndonji, and Gudah Man in an album that is a follow-up to 2021's Simple Man.
Uhuru wa Nafsi – Nafsi Huru
Not just content with releasing an album, Nafsi went a step further and released a documentary, Uhuru wa Nafsi.
It features snapshots of his career, performances, and drive, while punctuated with bites from his mother and industry players like Sharama, Juma Tutu, Kev Mamba, and G Hunter.
A true student of the game and one of the finest Swahili rappers, Uhuru wa Nafsi was mixed and mastered by Tanzania-based Chzn Brain, and features, among others, Kaa La Moto.
Thank Me Later – Dyana Cods
The 13-song album includes the previously released, and racy, Billie Jean, which features Dyana dancing semi-naked in a pristine garden.
On the weekend that the album dropped, she also released a video for Foreign, featuring Buruklyn Boyz.
One of the few femcees who have embraced Drill (the list includes Superstone Barz), Dyana Cods has the advantage of working with Wakadinali and sharing producers as part of the greater Rong Rende crew.
Other than Buruklyn Boyz, the album also features Wakadinali and Groovy Jo.
Tamasha - Ochungulo Family
This was the year's surprise, given the group, one of the busiest and craziest of all Gengetone groups, had split.
The seven-song album packed all that has been synonymous with the group, with themes borrowed from enjoying life, spirituality, cheating, alcohol, finding personal happiness, booty, and of course partying.
The album was the best way to announce the return of the group, which has given us smash hits like Pandemic, Aluta, Dudu, and Wanjiku.
Chonjo – Wangechi x Scar
Who said rap should always be serious and gangster? Not for this two, whose chemistry has been obvious for some time.
The 10-song album is mostly playful, and dialogues approach with an artistic back and forth between two rap artistes.
Mixed and mastered by Aress 66 of Big Beatz, the album is a concoction of the drill, straight bars, and slow Rap, with Scar bringing in the grit, and Wangechi the glamour of Nairobi.
Chimano – Heavy is the Crown
One of the boldest albums yet, it celebrates what Chimano is as a person; a man aware of what he is and represents, a fashion aficionado, visual artiste, and singer.
There has never been a video like Friday Feeling across Africa, and the buzz it created was worth the hype.
It is a celebration of the times we live in and captures the colour and glitz of Nairobi.
Vivi the Album - Vivian
Coming after the singer took an extended break after episodes of unexplainable sickness and a little dalliance with the gospel world, the Chingi Changa singer showcases her amazing melodies and writing skills.
She tries out new styles and sounds featuring Kidum, Sossun, and Trio Mio in the 10-song album.
Focus - Arrow Bwoy
Baba Kai does not play, with 14-song output that is arguably the best RnB album this year.
Featuring a host of A-listers including B Classic, Sanaipei, Otile Brown, Nadia Mukami, Nandy, Dufla Diligon, and Diana Spice, he takes the listener through a journey of African music, mixing contemporary Afro sounds with Lingala and Dancehall jams.
He works with the likes of Vicky Pon Dis, Ilogos, and Cedo.
As one of the biggest stars at the moment, Focus puts Arrow Bwoy at the heart of what's hip and trendy.
Three Wise Goats – Mbuzi Gang
One of, if not, the most professionally run Gengetone outfits, Mbuzi Gang is not joking.
The album, which came out in January, cemented their place in the genre. The featured artistes in the 12-song masterpiece pointed to industry approval from OGs like Wyre, Naiboi, Kristoff, and Jose Chameleone.
It also features peers like Ethic, Silvastone Barz, and Exray.
Invisible Currency – Khaligraph Jones
The man said to have recorded more than a thousand songs, managed to pack a few into an album that does nothing else other than showcase that he can do just that.
With an eclectic ensemble that features, among others, Prince Indah, Scar, Mejja, and American rapper Dax, the album encompasses the OG's journey so far, captured best in the last track, Khali Chronicles.
Savage Level - Savara Mudigi
In this album, Savara went for sound and rhythm more than rhymes and words.
His 14-song album was loaded with African sounds like Lingala, Chakacha, Afrobeat, and Reggae.
It has heavy percussions and rhythm arrangement.
Related Topics