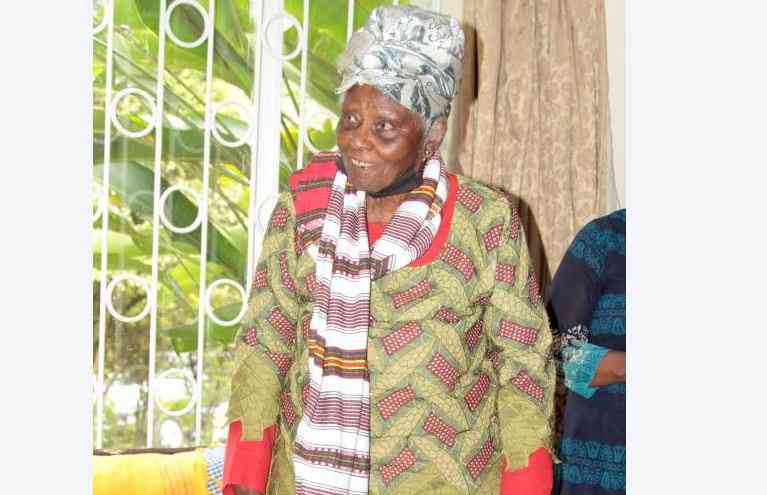 This week, the world celebrated International Women's Day. A day dedicated to celebrating the social, economic, cultural and political achievements of women.
Many women have achieved great things in many of these areas, but few have achieved so much in all these different areas like Muthoni Likimani.
Muthoni is a woman of many firsts. Pioneer African broadcaster, the first African to form a PR company, author, actress and politician.
Among the first women to travel abroad for studies, it was here that she found herself embracing broadcasting.
"In 1958, I applied for a scholarship for further studies in Britain even though it was rare for African women to travel abroad. My application was accepted for a two-year course at the University of London Institute of Education in Community Development and Adult Education," she says.
After completing her studies, she says, a Scottish lady at the London School of Hygiene and Tropical Medicine, Dr Mary Grant gave her another scholarship to study tropical nutrition.
"During my studies, I got involved with other diaspora students through the Kenya Student Movement in Britain. I got to interact with great African leaders such as Dr Kamuzu Banda of Malawi, Kambona from Uganda and even Professor Ogot and we discussed politics and current events.
Through this forum, I met John Ithau and Stephen Kikumu of BBC Africa who noticed I spoke good grammatical Kiswahili and they encouraged me to try out broadcasting a women's programme in Kiswahili. I went for a voice test at the BBC Bush house and was requested to translate English material into Kiswahili. That was how I became a broadcaster," she says.
Born in 1925 to missionary parents, she went to school at a time when there were no high schools for girls, and much of what she was doing was uncharted territory. Her parents were among the first Africans to convert to Christianity and hold the first African Christian Church wedding at Fort Hall District (now Muran'ga) in 1912.
"My first schooling experience was kiamuthanga (sand class) where missionaries taught us kindergarten content as we wrote on sand. We then moved to giathiriti (the slate class) where we wrote numbers and alphabets on a slate," she says.
When she came back to Kenya from Britain, her first stop was the Kenya Dairy Board, which needed a nutritionist.
During Kenya's emergency period, she says children in Nairobi and Central Kenya were malnourished as women were being forced to do unpaid communal work like digging trenches and were not given enough time to look after their children.
Many children suffered from kwashiorkor as they were fed on low nutritional maize flour.
"To solve this problem, I introduced the idea of mixing powdered milk rich in minerals and proteins with maize meal to make porridge for under-nourished children and distributed it at milk centres at Bahati Community Centre. We would employ women to make the porridge and earn themselves some money," she says.
But broadcasting was soon to come calling again.
"African Broadcasting Services at the time requested me to broadcast women and children's programmes on a part-time basis called Shangazi na Watoto and Kipindi cha kina Mama," she says.
At the same time, companies such as Johnson & Johnson, E. A Industries and Kenya Power & Lighting invited her to endorse their products and teach women about nutrition during pregnancy and baby care.
"After a while, I took up the broadcasting job on a full-time basis and was awarded Best Creative Producer in 1969," she says.
She was, however, to find herself at odds with those around her growth in the sector.
"Frustrated, I resigned and went to work in a PR firm in Mombasa. I brought many clients and decided to open my own company. In 1973 I started the first African-run PR Firm called Noni's Publicity, which became popular with companies that dealt with women's products such as baby care, beauty, fashion, food industry," she says.
But even as the corporate end of things started looking up, politics was not far behind.
In 1974 she contested for the Bahati parliamentary seat against Jael Mbogo, James Muriuki and Fred Omido.
"I discovered that politics in Kenya can be quite tribal and I was discriminated against for being a Kikuyu electorate married to a Maasai," she says. She lost the bid.
She met her husband, Dr Jason Clement Likimani during her college years. He went on to become the first African doctor to be appointed as district medical officer of health. At the time, it was quite daring to marry from a different community.
"He was a Maasai medical doctor and at the time he was working at Fort Hall Hospital, now Muranga District Hospital and was the first African doctor to be appointed as District Medical Officer of Health," she says.
In 1979 she was nominated as a councillor in the Nairobi City Council.
"I believed I could help Nairobi residents as I knew politics through the women's activities I was involved in. However, I was amazed to find many corruption incidents, which I did not agree with. I was at the time deputy chairlady in charge of housing and social services. Eventually, the government later decided to dissolve the council and a commission was appointed to run its affairs," she says.
During all this time, she was and still is a keen writer.
"I am observant and creative. Being good at acting and debating, I creatively write what I observe in life," she says.
Her latest book Passbook Number F.47927, is a record of the freedom struggle in Kenya.
Unlike many accounts of the freedom struggle by many writers, this one focuses more on the suffering and participation of women in the struggle.
The book attempts to give the reader a glimpse of what it meant to live during the emergency. The despicable acts of the home guards and the brutality meted out on the African people by the white man are well laid out.
It is an account of the sacrifices that the women had to make to ensure that their children were fed, their farms tilled and the fighters taken care of in the forest.
Her other books are; Fighting without Ceasing, They Shall be Chastised, What Does a Man Want, Shangazi na Watoto, Grandmother Fireside series, Women of Kenya Publications, IFLAC Anti-terror and Peace Anthology 2016.
Muthoni also acted in the movie Idi Amin.
Related Topics