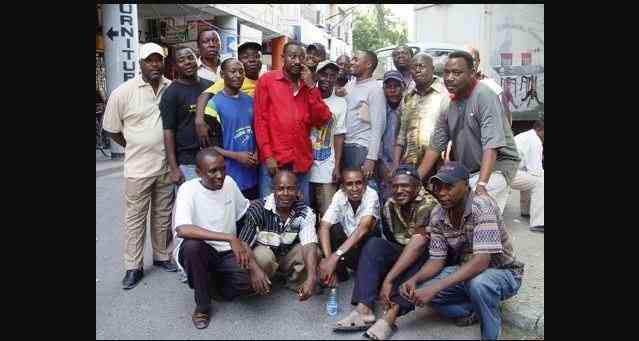 No Orchestra is better known for composing Swahili songs in the region than Mlimani Park Orchestra of Dar es Salaam, Tanzania. It was once better known as DDC Mlimani Park Orchestra.
Not even the fancied Tanzanian bands of Vijana Jazz of Chiriku Maneti, Maquiz Original and Orchestra Super Matimila of the late Remmy Ongala or Kenya's Simba Wanyika and her offshoots of Wanyika Stars of Issa Juma or Les Wanyika of Professor Omar Shaban.
It rivals the mighty TP OK Jazz Band of the late Franco Luambo Luanzo Makiadi in Lingala and French music in Francophone speaking countries.
Formed on August 1, 1978 by former Juwata Jazz Band members Muhiddin Maalim, Abdallah Gama, Cosmas Tobias Chidumule, Joseph Mulenga, Michael Enoch and Abel Balthazar, the band is based Dar es Salaam.
They were later joined by Hassan Bitchuka and Suleiman Mwanyiro who had been left behind at Juwata Jazz Band when the earlier sextet left for Dar es Salaam.
It started as a resident band of the Tanzania Transport and Taxi Services (TTTS) owned by Mlimani Park Bar in Dar es Salaam, the organization that also managed the band at the time.
When TTTS went bankrupt in 1982, the bar and management of the band were taken over by the Dar Es Salaam Development Corporation (DDC), part of the city council who renamed it DDC Mlimani Park Orchestra.
The band released a string of popular hits in the 1980s mostly written by Bitchuka, Chidumule, and Shaaban Dede.
Most of their songs were recorded at Radio Tanzania, Dar es Salaam.
They include 'Mtoto Akililia Wembe', 'Neema' and 'Usitumie Pesa kama Fimbo' all by Chidumule, 'Hiba' and Mume Wangu Jerry by Bitchuka and Nawashukuru Wazazi Wangu by Joseph Mulenga, among other popular hits of the 1970s and 80s.
And why were these musicians committed to the cause for a long time?
Most of them were under contracts and drawing regular salaries and a percentage of bonuses from the gate collections after their shows.
Most of these musicians worked as employees of the band, which invested in lucrative businesses giving them the ability to organise regular practice and performance facilities.
The band was known for its technical innovations in electronic instruments that allowed them to stick with the 'dansi' tradition.
Their motto was 'ngoma ya ukae' (the home dance) while remaining to their style of sikinde, inspired by Tanzanian traditional dance of ngoma.
"Kenya bands were good but DDC Mlimani Park's composition and music arrangement was in a class of its own that beat the Kenyan musicians hands down," says Hamisi Omar, an ardent fan of Them Mushrooms.
Michael Enoch, whose knowledge and experience is the force behind the development and success of the band, has been the band leader since he joined it as a solo guitarist.
While developing as one of the leading solo players and composers in Tanzanian music industry and as a multi-instrumentalist, Enock taught many Tanzanian musicians.
It is only with Mlimani Park that he picked up the saxophone full-time but also played alto solos on Tucheze Sikinde and Nalala Kwa Taabu.
DDC Mlimani Park Orchestra has 26 members at the moment. Chidimule left and went into gospel music after he got born again.
To date 79-year-old soloist-singer-cum-composer Hassan Bitchuka makes technical appearances on special occasions.
"The love of his work has made him (Bitchuka) make technical appearances whenever we want his sweet voice," said Omar.
And as the band celebrates 43 years in existence, they have released two more new songs, says band spokesman Abbu Omar.
The two songs are titled Mchepuko and Sensa. Sensa dwells on the recent population census in the country.
"These two songs have brought us back to the limelight at a time of harsh economic times but we are glad to have made a comeback to the pop scene," said Omar who one time played with Simba Wanyika Orchestra before moving to Les Wanyika.
Omar said the group is still intact after the departure of a few members and the demise of others.
Since its inception in 1978, the band has had 89 members, of which 38 have since died.
Related Topics