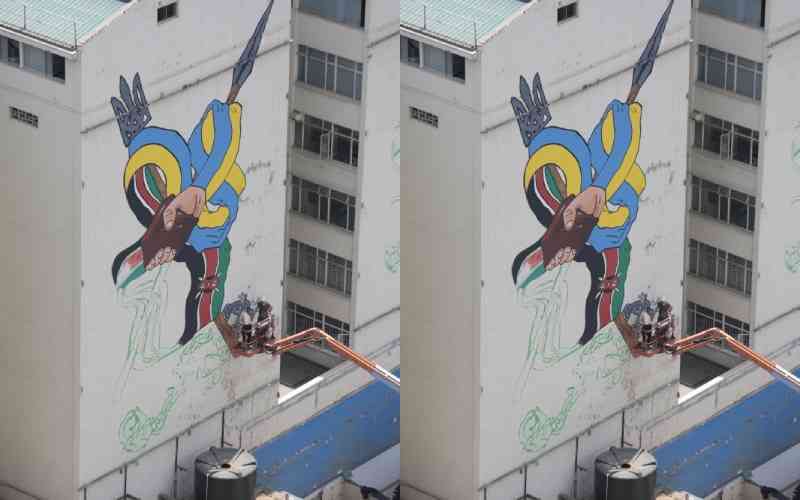 Street artists from Ukraine and Kenya will create a mural together in Nairobi.
The mural will be on the side of Phoenix House along Muindi Mbingu Street.
The Wall in Nairobi will be the final of five murals-symbols. The others are in Vienna, Berlin, Marseille and Brussels. Kenya will be the first country in Africa to have the mural.
The mural will be created with the support of the Embassy of Ukraine in the Republic of Kenya, the City Council of Nairobi, and the Phoenix House.
The opening event of the mural will have a special guest, Tvorchi, a Ukrainian electronic duo set to represent Ukraine in the Eurovision Song Contest 2023.
Some of the artists from Ukraine will be Nikita Kravtsov and Andrii Kovtun. Kenya will have, among others, Paul Kelemba aka Maddo and Eliamin Ink.
The Wall is a project initiated by Ukrainian Institute and agency for cultural development Port.
It symbolises resistance, stability, and armour that fences off the civilised world from the war.
At the same time, the title refers to the Pink Floyd cult album, a rock opera about a hero fenced off from the whole world by a wall behind, which he copes with his inner demons.
"Ukraine is dealing with an external demon. The Wall project allows us to discuss the world's attitude towards Ukraine as "us and them.'','' said Katya Taylor, Port chief executive officer and founder and curator of The Wall.
She added: ''We wish to rethink this idea and look at the mental and historical wall that separates us. And which must be eliminated so that we feel like a single community.''
The project, she said, aims to show that Ukraine has much in common with Kenya, including the same values, goals, and rights.
To emphasise their similarity while maintaining the individuality of every side, Port attracted six Ukrainian and Kenyan artists.
"The murals are our response to Russian brutal aggression on the cultural front in the civilisational war, which Russian President Vladmir Putin has launched. The policy of destruction and elimination of Ukrainian identity is one of Russia's key elements in the war against Ukraine,'' said Emine Dzhaparova, Deputy Minister for Foreign Affairs of Ukraine.
She added: ''We will open not only mural in Nairobi but start a friendship between two countries. We are talking here about traditional values, similar past and shared future.''
Within the opening preparations Port team will organise a matatu decorations workshop by Ukrainian and Kenyan artists.
Artists Konyk and Moha Graphix, will create the unique matatu art, mixing personal styles and ideas to make an art piece that will soon take place among other "moving street art" objects like and public service matatus and buses.
Port is a cultural development agency founded in 2017 and implementing projects on art and culture in Ukraine and abroad
Related Topics