Laughter and tears - it's all in the music, says composer
SUNDAY MAGAZINE
By Mike Kihaki | Dec 12th 2021 | 5 min read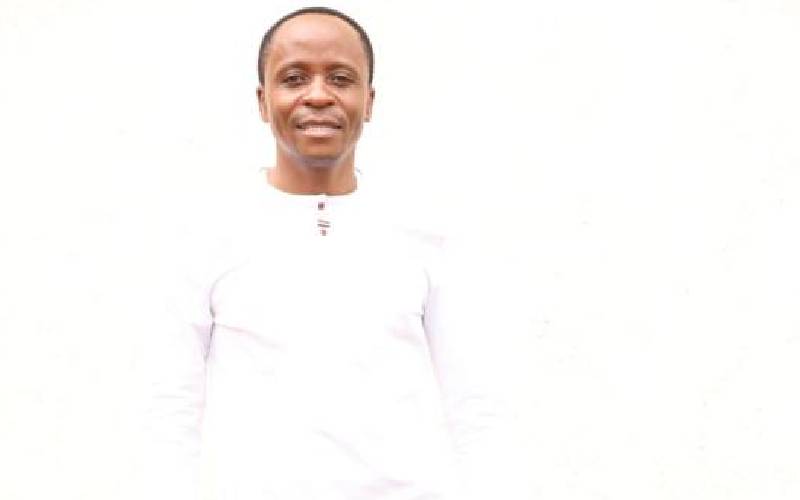 While the great composers may still reign supreme in choral circles, a generation of new young composers is challenging traditional boundaries.
Humphrey Kisia is one of them, a great Kenyan talent, whose colourful scores has had a huge impact on audiences and composers alike.
Whatever Kisia's physical stature – he is often described as a 'genius of a man' his works are anything but large in scale.
His music is renowned for its exquisite craftsmanship, its intricate textural detail and its delicate, shimmering colours and at all times raises the standard at any given music festival.
As a young composer, he is responsible for some of the most beautiful scores of the 21st century, which has set a modernist path and started a new genre of music across the country.
The painstaking care and extraordinary power with which Kisia polishes his scores, quantity of creative invention and emotional intensity into every one of his thrilling works make him outstanding among the rest.
Despite the extremely varied styles of Kisia's output over the years, as soon as you hear his music you instantly know it couldn't be anyone else: his harmonic language is that distinctive and he has an extraordinary gift for melody.
Doing music as his full-time career, his works cut across both circular, cultural and gospel songs with now more than 15 years span in performing art.
Apart from new works, Kisia also reworks his compositions and arrangements for premieres and sterling performances. His new intake is a Maragoli marriage symphony and orchestra.
Born in Vihiga County where he grew up living and breathing orchestral scores through the elbows of his mentor Mise who was a music teacher at his alma school.
Things escalated quickly: aged just 15, while a student at Friends Chavakali School, he found himself on stage at the Kenya Music Festival conducting his criticism', through the tutelage of his mentor the late Reuben Mise and Sagala initiated him into the world of choral music.
These perfectionist tendencies, or what Kisia described as ``my rather extreme capacity for self- vocal lessons as a boy ('I was a terrible music student'') and the instant he learnt to read music, began to compose.
"A piece wants to be what it wants to be," he later said,
His Arrangements titled "Christina by Maroon Commandos and Stella by Mwema Brothers" made him sprung to fame at a tender age.
'I wanted to write a piece whose light- headed and giddy qualities would suggest a crossing of the line that divides laughter from tears,' said Kisia. Kisia also owes his success to the late Ochieng Mac'Okeyo while at Maseno University.
His mother, a retired primary school teacher, was resplendent with sound: "It never occurred to me that not everybody thought [music] was the most important thing in life." He said.
Kisia began his full training at Vihiga high school in 1998 as he was taking his degree and a Masters' degree in Music at Maseno University and has never looked back.
He later moved to Chavakali School where he did several arrangements and compositions accredited to his name. Some notable ones are Reuben Kigame, Ombi Langu, Mbingu Zahubiri, Hapana Jina Jingine, Shari Martin Wanadamu, Gloria Muliro "Narudisha," Mary Ominde Nimetakasika, Nani Kama Jehovah, Ategisin, Emmy Kosgei, Nisizame by Tumaini, Omundu Omulosi by Joseph Shisia, Angela Chibalonza, Yahweh and Angela, Rose Muhando Hatumo, Sitanyamaza, Toujour Humble by JB. Mpiana, Maze originally done by Tabuley, Chandra by Josky Kiambukuta, Sandoka, Franco Manguana, Stella by Freshly Mwamburi and Mwema Brothers which earned him a name in and outside the country. .
In 2015 his Chavakali high school choir had a rare moment with President Uhuru Kenyatta at State House, Nairobi after they landed an invitation from a standing performance at the Kenya Music Festival.
This remarkable debut was followed by more success after another win of the Ultimate Choir competition with Chavakali Friends church organized by KBC and In 2014 which had a cash prize of 1 million shillings.
Described by Dr. Ruth Agesa, Assistant Director of Education and the Executive secretary of the Kenya Music Festival as 'the perfect miniature from the best ears in the business'.
"His scores often convey a jubilant playfulness and no music festival in the country goes without any of his songs performed. He is the supreme composer of all times.' said Dr. Agesa.
He says to succeed in life, he has to endure influence and long working hours adding that there are many reasons which might consider a composer great: innovation and originality, or the sheer consistency that results in many masterpieces.
"I sometimes skid through deadlines like a knife through butter, often finishing work late in the night and even going some nights without sleep at all. You have to endure long hours of working" said Kisia.
His unique stature, alongside those traits, is his ability to speak to the human heart and reach beyond the ears of his listeners in all its fragility and vulnerability with his ability to blend different musical traits from varying cultures and genres.
Beside Chavakali school, Kisia has also directed Vihiga high school, Keveye girls, Kaimosi girls, Sacho high school, Egerton University, Kabianga, Masinde Muliro University of Science and Technology among others.
Apart from his soft atmospheric style and piano melodies, Kisia is considered an outstanding baritone singer, a national facilitator and adjudicator in the Kenya Music Festival, Kenya Cultural music festival, Kenya drama festival, Church festivals and universities festivals. Currently holding the office of the director of culture at Vihiga County government he says that he wishes to use his expertise to inculcate culture trails from the old to the new generation through music.
He is credited with forming the Taifa Muziki and Vihiga Chorale, Nicholas Harmonies, male vocal groups which he is the founder and patron as platforms which he inspires many more.
He has also nurtured several upcoming talents some of who are flourishing abroad among them Sylvester Makobi who is doing his doctorate in music in the USA.
Kisia says choral music pays as long as it is used well and honesty plays supreme. "Honesty has been thrown through the window but for those who have the calling, the career pays well", he says.
Beside all his works, Kisia is yet to receive any state recommendation or award on his toil. ?