Heady mix of love, greed, hope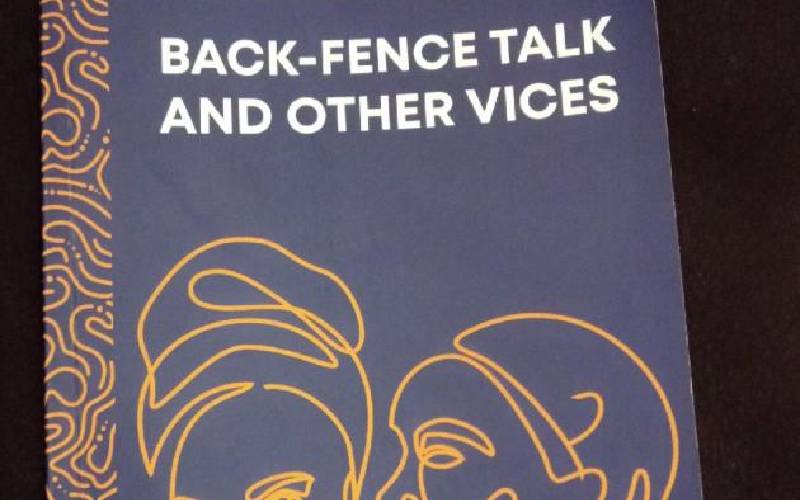 Book: Back-Fence Talk and Other Vices
Author: Caroline Kinya Mbaya
Published: 2020
The curiously titled Back-fence Talk and Other Vices is a collection of short stories providing a commentary about urban life, tribal and race relations and socio-economic and political undertones that colour Kenyans every day interactions.
Caroline Kinya Mbaya writes in a calm pace with the easy assurance of one familiar with the environment her characters are set in.
The story, Back-Fence Talk and Other Vices, from where the book gets its title, explores the uneasy marriage of the new and old, good and the periphery of dark arts and superstition.
The book's blurb describes the collection of stories as stories of "superstition, murder and unrequited love", poking fun at "human folly".
It also carries within it a running theme of a people in transit, whether literally (The Six O'clock Train and an African Proverb) or in the sense of belonging (Epistles and Back-Fence Talk and Other Vices). The Six O'clock Train is set entirely on the madness that is the evening train from the central business district to the residential areas - complete with its din of hawkers, politics and preachers. A snapshot of Nairobi's chaotic urban transport.
It is, however, refreshing to read about familiar experiences in familiar settings.
Epistles on the other hand is a story of African immigrant's dream for a better life outside our borders and the harsh reality of life 'out there' that makes home a refuge many can't wait to return to.
The story uses a letter from the protagonist's sister to set the scene and background. It is used superbly to talk about a lot of things without dwelling on any one particular thing, it's only running theme one of regret and hope.
Get rich quick schemes
Money Lender is a story of desire to climb out of poverty by whichever means. Betrayal, blackmail and Nairobi's get rich quick schemes.
It is easy to look at the shylock as the bad person through and through, ignoring her own troubles; hemmed in by greed and naked ambition.
But it is not all about the city's working class with The Women of Our Time opening the curtains between the rich and those who work for them.
It is more like a 'rich also cry story' with the themes of domestic violence and tribal undertones. It is also the only story that seems to borrow a character from another story (The Six O'clock Train), showing the other side of the characters we meet in transit from a workplace they can't wait to escape from and a home they wish they did not have to go back to. It also takes a stab at the complicated relationship between employers and their house helps.
But it is not all about Nairobi, An African Proverb is set in Schitpol Airport, Amsterdam while St Kizito is set in Meru, Back-fence Talk and Other Vices (Isiolo and Meru) and Epistles (Mombasa).
St Kizito revisits one of the worst tragedies to happen in a secondary school. One night in July 1991, in a mixed secondary school in Meru, then called St Kizito, boys attacked their female counterparts, killing 19 and raping and injuring tens of others.
Revisiting historic horror
The horrors of that night is something residents and those affected by it remember to date.
This short story happens in a mental hospital, prison and police stations and revisits the effects of that night and the people involved; perpetrators, victims and the community around them.
It shows the characters coping, or not coping, in their own ways and tells of dreams destroyed and a people still living in horror.
In seven short stories, squeezed in less than 100 pages, the writer runs the gamut of societal ills and dreams driven by hope and greed.
It is a quick, one-sitting read that is quintessentially Kenyan, complete with Khanga wise sayings.