Harold blames UK travel sanctions for blocking his travel to Ugenya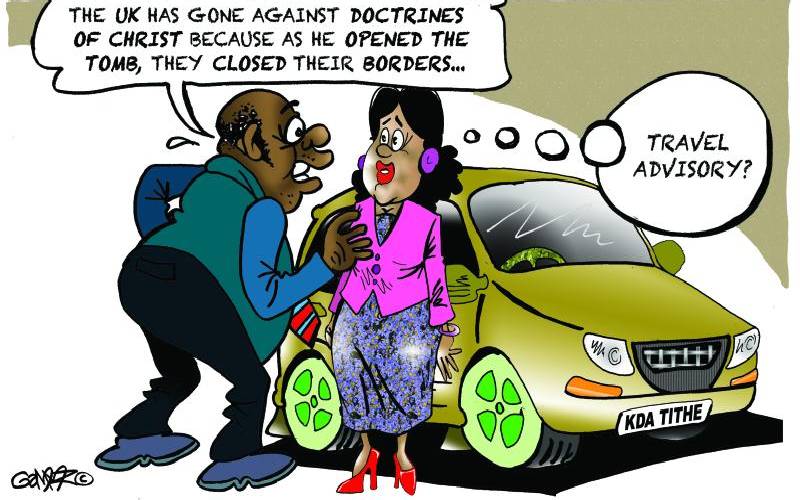 Uncle Harold began last Sunday's sermon with what he described as "very sad news".
"You have heard that we have been locked out of the UK starting Friday the 9th of April. I will not thus be travelling as I had earlier said," he said.
A man who had been sleeping next to the window woke up with a start, hitting his head against the wall.
"Your uncle was going to the UK? Just how much tithe do we give him?" he whispered into my ear.
Harold ranted on, saying that the UK had gone against doctrines of Christ because as He opened the tomb, they closed their borders.
"Probably we would get access if we were Scots. Or Irish. Or…or…"
I knew what was coming. Don't say that Harold!
Take a quick survey and help us improve our website!
Take a survey
"Or Poles. Or the Suede. Or the Germs!"
When he rants against the UK, it is because his father, my grandfather, was killed by British soldiers' bullets in the fight for freedom years ago.
Half of the congregation was unhappy that Harold had been forced to cancel his trip to the UK. They would have wished him away for some time. The other half was excited; Harold would not be asking for money to finance the trip.
But Sunday, after sneaking into his cubicle, I realised the UK he wanted to go to was not the one we had all thought about.
"Travel plans," read his diary, "for April include Kimahuri, Suez Canal (the new name for a brook in the neighbourhood he is considering for baptism sessions) and Ugenya, Kenya (the UK)."
When the massive Ever Given ship was stuck at Suez Canal, Harold wrote to the UN, asking that the water from the Red Sea be pumped into the canal to refloat the ship. I did not post the letter.
Lest we forget that it was Harold who started the debate of Tanzania's new president being the first female president in East Africa when he, in a sermon, said that Idi Amin Dada was the first female president.
When I later showed him photos of the dictator Idi Amin Dada, Harold said that he meant a different dada, and that he had been misquoted.
The perennial underperformer is now not going to the UK.
"In April, I won't. In May, I may," feeling dangerously poetic.
Lockdowns have helped Harold a lot. Unless he has sent me to the shops, or to lie to villagers to cover up for a crime he is about to commit, Harold requires that I do not leave the house.
Or when he needs a pint of alcohol from Sue (you remember he preaches, drinks, wine) but is too lazy to carry his thirsty throat to the watering hole.
Locking me in helps him obtain loans from friends. He goes out to claim that I am hungry and have badly lost weight.
But I then came to realise that the people that lend him money only do so because they know they will reap massive benefits. Despite unrealistic interests, Harold will still go for a loan even when he does not know what to do with it.
When the government announced new measures to combat the pandemic and Harold told me it was not safe to go outside, I know I am about to suffer.
"You will go out there and bring me the disease."
Now that he is saying he has been locked out of the UK, he is using that for sympathy from loaners hungry for interest.