Meru artistes put 'can't sing' claim to rest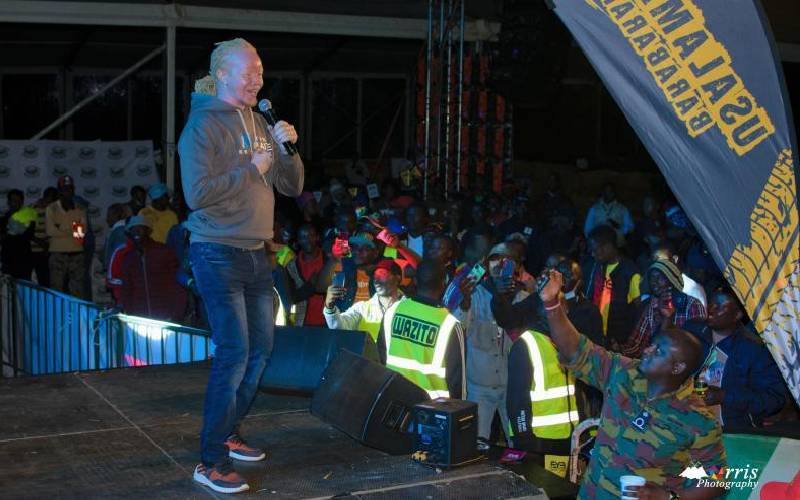 There is a popular sentiment that the Meru cannot sing to save their lives. And it's been around for ages.
To add insult to injury, many claim that not only are the Meru bad singers, they are also bad dancers
Meru Governor Kiraitu Murungi at one time promised to hold an event to showcase the abundance of talent in the county to dispel this widespread view.
And indeed Kamanu M'tuamwari of Kamanu and Band, and Karimi Bruno - two of Meru's biggest musicians, are proof that the view cannot be further from the truth.
The duo have made a name through their music.
Kamanu does benga and rhumba in the Meru language.
To promote his music, Kamanu hosts live shows dubbed Twine Cietu (let's sing our music).
Take a quick survey and help us improve our website!
Take a survey
Move with the trends
He says people have shifted from TV to phones and he has had to move with the trend.
"You have to follow the trend. I had to have a presence on Instagram, Facebook, WhatsApp and others," he said.
"My shows are attended by the Kalenjin, Luo, Kikuyu and Meru. Music is a universal language and it is loved by all, no matter where you come from. We all like Madilu system, yet we do not understand what he is saying," says Kamanu.
He adds: "No one cares what music is about, but what it is making you feel. We create music that people appreciate and sing and dance to. As I do my music, I champion the Meru culture and encourage Meru artistes to express themselves in their language."
In addition to earning from live shows, Kamanu says he has to push his music, to earn from Skiza tunes.
"I also oganise gigs. You cannot get cash from direct sales because CD sales are low as are Skiza tunes. I push my music on social media. If you push well you can earn as much as Sh100,000 per month," he says.
Karimi Bruno is also a big hit among the Meru. Her cultural music with a mix of gospel is loved by many. She has a good following on Youtube.
She enjoys an unrivalled dominance in Meru folklore fused with gospel. She promotes culture and good virtues in her music.
"I make sure the content favours everyone including children, youth and elders, and that it is not vulgar. My songs are derived from Meru cultural music. I seek to preserve this culture through recording," she says.
Her music is loved not only for their message but also for the rhythm and style.
Karimi's Ndi Miringine is one of her most popular tracks, and the ringtone is also popular. Another is Nkwiina Kimiru (I am singing in Kimeru).
In the track, she praises the sub-tribes of Meru; Chuka, Tharaka and Mwimbi in Tharaka Nithi County and Igembe, Tigania and Imenti in Meru County.
Karimi, who released her first album Ngwata Njara (Hold my Hand) in 2004, says she is proud of tapping into the rich cultural heritage of the Meru. She refutes claims that the Meru cannot hold a candle to other regions in terms of music.
"That perception has always been there and I have been trying to fight it. Musicians from other parts have been able to penetrate the national scene but Meru artistes have not, hence the perception," she says.
Heavy tongue
Karimi, a curriculum support officer in charge of Kilimani in Nairobi under the Teachers Service Commission, says: "It took time to convince people that we can sing, because some claimed Merus have a heavy tongue which is neither here nor there."
Her tracks cannot be categorised as purely gospel or traditional, but a blend of both and more.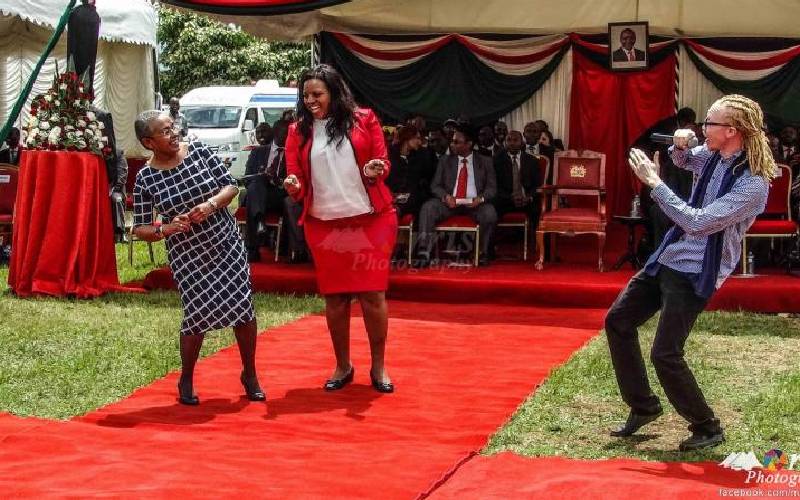 Karimi, who was a member of the Meru Melodies before it split, has held several performances at political rallies.
With her captivating smile and moves, she and her dancers are quite a sight, and the urge to sing and dance along to her music is irresistible.
In her track Ni Meru yetu Igutaamba, she praises the Meru people who live between Thuuci River in Tharaka Nithi and Ntonyiri, the farthest end of Meru.
And though she accepts that things are tough, Karimi has not relented, churning out hit after hit.
"Times are hard for artistes and they are mostly surviving on peanuts from Skiza royalties and other side hustles," she says.
"There is nothing coming from airplay because CMOs (collective management organisations) have not been operational for the past three years. Of course we have to retain our fanbase and keep enlarging it, by composing new hits and posting them on online platforms like YouTube, Facebook. We also eye airplay on TVs and FM stations," says Karimi, who also performs at social events for extra income.
For the younger generation, the Watanashati Classics has produced music and managed the artistes, even as its CEO Kelvin Kayfar Mundia laments lack of support for the artistes.
Local sensation Nassizu was among those signed to the label before he left.
Mundia, speaking when he unveiled their new kid on the block Jaysoul (James Ntiritu) recently, said leaders only seek the artistes' services during the electioneering period.