Why laxity about Covid rules has her worried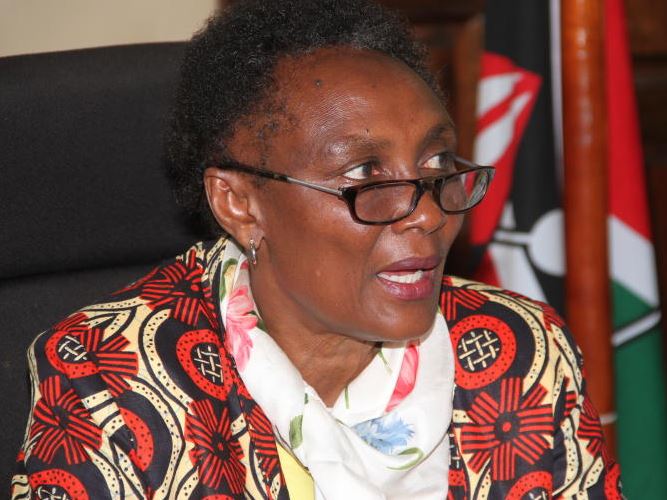 "Kenyans have let their guard down, and that is where our biggest problem is. That is why the numbers of infected people are soaring," she says, brow furrowed and arms crossed.
We are seated in Dr Eva Njenga's (pictured) office, and the cavernous room in the concrete shell that houses the Kenya Medical Practitioners and Dentists Board offices doesn't look like a promising place for a heart-to heart. But she looks right at home, which is surprising considering how little time she spends there.
Being a team leader in the country's Covid-19 response team doesn't leave much time for office stays. In the course of the interview, Eva's eyes continuously dart to three phones on her desk; two large ones and a compact one. But only the little one will ring. Twice. And when it rings, she will answer; because it could literally mean life or death for someone somewhere.
Both times, she consults with another doctor on the other end about someone who sounds much like a diabetic patient with worrying sugar levels. Eyes focused, she issues instructions on the treatment course while softly drumming the wooden desk with slim fingers adorned with multiple rings.
After she catches her breath, she tells me what really gets her goat.
"It is the laxity out there. Funerals and weddings now have people in hundreds. Social joints are crowded, passenger service vehicles are not adhering to the safety protocols, the ordinary mwananchi has forgotten the importance of maintaining social distance and washing hands or sanitising, and they are even wearing their masks wrongly, if at all."
"In short, we have stopped being vigilant. Kenyans are no longer being as cautious as they used to be during the first three months after the first case was reported. We need to go back to those basics, they're the ones that helped keep our numbers down. It is unfortunate that there are people who still think that Covid-19 is just an ordinary flu," she says, adjusting the N95 mask on her face ever so subtly.
Eva is the chair of the Kenya Medical Practitioners and Dentists Board, the professional body that regulates medical doctors and dentists in Kenya. She is the first woman to hold the position. She is obviously a busy woman.
Besides her board duties, she runs her clinic and makes ward rounds in a local hospital. She is also one of the country's top experts in non-communicable diseases.
However, these days, a communicable disease, Covid-19, is what occupies her mind a lot more. And one of the larger cell phones on her desk, she says, is for responding to any pandemic-related tasks. And that can ring anytime, even at 2am, sometimes for a briefing.
"Busy woman huh?
"That I am."
"With a steely resolve and endless stamina?"
At this, she seems to smile. Thanks to the mask I can only see the smile that reaches her eyes. Tyra Banks calls it a smize. She then goes on to tell me a short story one day long ago. She had got an overseas education scholarship to further her studies. But she had a young family and wasn't about to go anywhere without them.
"It was a great opportunity, and I wanted it. Plus, they were paying for all of it. But I had to go with my family. So I made the demand. Imagine the cheek of it; they are paying for everything and I am demanding they accommodate my family…."
How did that end?
"I went with my family."
Her children are all grown up now and while she has an empty nest, she is far from lonely.
"I have some great old friends, and we do have some fun together. And I visit my children; infact, I just came back from a visit with one of my daughters. Plus, I read too."
What book would you recommend?
"The Bible. A great read with all the answers," she says, with a cheeky glimmer in her eyes.
It is easy to see how she has scaled the success ladder. Eva has mastered the fine art of balance that eludes lesser folk. She can play, but not about her work.
Earlier, when I got into the building that houses her office, I had been informed to keep my mask on for the duration of my visit. Wearing a mask is something she requires of everyone around her, and she informs me that on the business premises, not wearing a mask is tantamount to actively seeking disciplinary action.
"Even the seller at my local market knows that I will not be buying from him if he isn't wearing a mask."
Doctors' strike
There is fire in her eyes as she says this. She is understandably passionate about this. In just over a fortnight, Kenya has lost about 10 doctors to the pandemic. And doctors, through the Kenya Medical Practitioners and Dentists Union, recently issued a strike notice citing concerns for their safety.
"As a council, we take the strike notice very seriously, especially at a time like this when we are dealing with a pandemic, and the people who are helping us fight it are the health workers.
"The council's CEO held a consultative meeting with different stakeholders from the health sector and the main objective of the meeting was to look at the Building Bridges Initiative report and then share their recommendations with the Ministry of Health.
"I am sure the recommendations that will be shared with MOH will address many of the issues health workers have raised in their strike notice."
A strike at times like these will not bode well for Kenyans. But the fact that three international firms have recently announced they have produced coronavirus vaccines, may be a sliver of hope the world can use. And Eva believes that Kenyan researchers are no slouches either in the race for a vaccine.
"Well, vaccines have to go through a process of peer review, and a review normally takes several months and sometimes up to a year of investigation to determine efficacy levels before submission for approval. So, until the World Health Organisation gives a greenlight to the vaccine that it has approved and announces that we have a vaccine that can be used widely, we shall be patient and support our local researchers at Kemri-Wellcome Trust in their attempt to come up with a vaccine."
Admittedly, Kenya, and largely Africa, has fared better compared to other developed nations, at least in the number of casualties. And Eva has a theory on why that is the case.
"There should be more research into this…. but you know, it could be in the food we eat. Or the region's weather. I keep telling people to go outside and catch some rays. Kenya is among the lucky countries that have very good weather that ensures that we have plenty of Vitamin D which has been identified as one of the vitamins in the treatment of Covid-19. That's why home-based care has been very successful," she says.
Gains from the pandemic
When all is said and done, Kenya will come out of the pandemic with better healthcare systems. And in her observation, the confidence among Kenyans in home-grown solutions is increasing.
"We have seen that Kenya has the ability to treat its own. Since the virus was first reported in Kenya and international flights banned, people has been seeking healthcare in the country's health facilities. That is a gain.
"We have also seen that there is a need for the country to invest in primary/preventive health care, and a need to strengthen collaboration with the counties to ensure no one is left behind because truth is, we are only as strong as our weakest link. In many counties, close to 2,000 Community Health Volunteers were trained to handle the pandemic to support the health care worker efforts."
At this point, the large 'pandemic' phone rings. This is the gadget that must also be picked up. And this phone conversation may take some time. But before I take my leave, she offers me a bottle of water with a "hydration is crucial" quip, and asks that I remember that one of my roles as a journalist is to spread information without panic, and to let people know that Covid-19 is indeed real.
That said, she reaches into a cupboard by her desk, removes masks and hands me some. And before I can say 'thank you', her attention has already been grabbed by the voice at the other end of the line. For Eva, the day might very well have started right then.