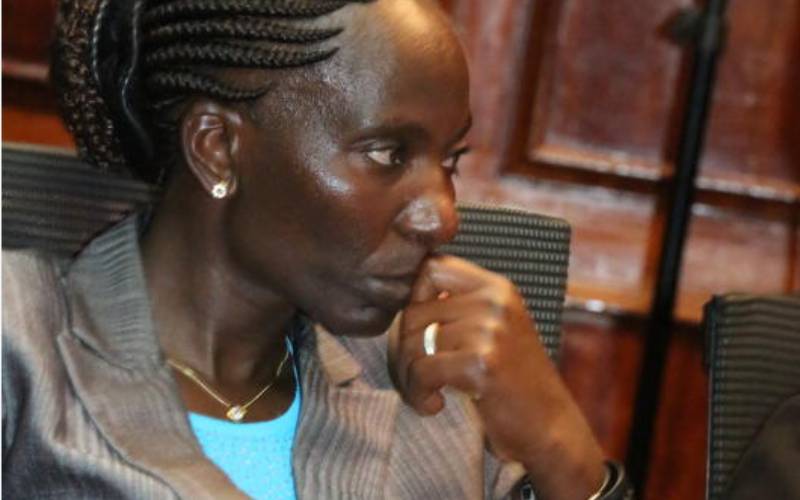 Catherine Ndereba was once described as the greatest female marathoner of all time. She might as well be, having won the marathon twice at the World Championships, won silver in the 2004 and 2008 Olympics and won the Boston Marathon four times. We caught up with the athletics legend, and she told us about the lows and highs of life.
"Catherine the Great" was not a nickname that was bestowed on her for no reason. Her name is ubiquitous with Kenyan Athletics. She will forever be assured of a mention whenever the greats in Kenyan athletics are mentioned. For such an accomplished iron lady, she is very warm, yet vibrant when she speaks.
A third born in a family of 10, Catherine who hails from Nyeri, says while she inherited her mum's strength and approach in life, her running genes were inherited from her father who was a competitive runner in his high school days.
The world first took note of Catherine in Seoul Korea, in April 1995, when she participated in her first international race, an Ekiden (a long-distance running multistage relay race mostly held on roads) which the Kenyan team won. She was number three in the closely contested race.
As a young girl, something special was at work in her, she could fetch water in half the time her siblings required. As a young woman, something special drove her to finish training runs that forced teammates, men and women, to drop out.
She may have retired, but her footprints will forever remain permanently written in the minds of athletics lovers abroad and at home. We caught up with her.
You spent 20 years in athletics. I'm sure you don't miss it anymore?
I do not think there is anything else I can find as fun as running. It is so exhilarating. Whenever I run, no matter how short it is, I always get a lot of energy. That is where I draw the energy to do anything else.
You still do it?
I go for runs when my foot allows me to. It's been unwell for a while. Sometimes my heart wants to go out and run but my body cannot take it. I feel disappointed whenever this happens but I have learnt to cope.
What happened to your foot?
I got attacked by thugs in 2015 when I was just recovering from an injury. I had a torn ligament around my ankle. The thugs made me run and I jumped and missed one of the steps on the staircase and fell down worsening the injury.
How did that happen?
They thugs found me in my compound and asked me, "Are you Catherine Ndereba?" I said I was and they said, "Today we have found you." I do not know how long they had been looking for me. It was very scary and traumatising but I thank God they didn't hurt me.
What did they want?
They threatened to kill me but I pleaded with them not to. I told them if they came back any other day they would still find me and I would give them what I had. One of them agreed with me! I don't know how! They took belongings worth about Sh600,000 and Sh49,000 in cash. They were never caught.
Looking back at your career what are you most proud of?
Having proved to our girls that they can have it all -- that they can be runners, wives and mothers and be good in these roles. And not just in Kenya, I used to do a lot of racing in Japan where young female athletes were not even allowed to have boyfriends. When I won the race in Chicago in 2001 and broke the world record, it was after a Japanese girl had set that record seven days earlier. After that, they all wanted to know, who I was and what I did differently. I always used to travel with a small album that had pictures of my husband and my daughter. They always asked me questions about it, and from then on, some of the girls started having boyfriends, getting married and even having children.
In one of the races, after the 2003 World Championships, one of the Japanese girls came and asked me: "Catherine, just tell me honestly. What is harder? To have a baby or to run a marathon? I told her, I think running a marathon is much harder than having a baby. And then she asked. "Which one is more painful?" I told her everything is painful but you cannot compare the joy that you are going to have after the pain that you feel when you are delivering. You will not even remember what you went through when you see your child. So now, they are very inspired, getting married, having children while still running.
What do you consider to be your biggest accomplishment?
The fact that I did what I love to do. My dream was to run for my country. To wear that jersey written 'KENYA' on the front or at the back. God gave me that chance, not once or twice but five times. For the five times I have been in the world championships, I have never come back empty-handed. I always came back home with gold, or silver. Period. On top of that, setting the women's marathon world record in 2001. I'm glad that I did it, and that I did it clean.
Speaking of which, what do you think of all the doping allegations that have afflicted Kenyan athletes of late?
Oh my…it's crazy. I do not even understand how people can dare do that. Destroying their body, forgetting that their body is the temple of the Lord. When I sit down and try to think about it, I just feel bad. It makes me cry. Trying to imagine what people are doing to their bodies, knowingly or unknowingly. I cannot imagine.
Are you mentoring anyone at the moment?
I try my level best. Like where I work in the Kenya Prisons Service, I work as a Sports Coordinator where I encourage the upcoming athletes to be cautious and do what they can without using short cuts. I did professional running for 20 years. I started running professionally in 1995 and started having doping tests from 1996 to 2015 and I was always clean. Easy come, easy go.
Did you see yourself going that far in athletics?
It was always my dream to run for the country. When I finished high school in 1993, I started training every day. In the beginning of 1994, I came to Nairobi to run cross-country. I was very lucky to get to join the team at the National Championships. For the first time I made the team for the Kenya Cross-country World Championships. I was number six in the whole country. We went for residential at Kigali Teachers' College but when they proceeded to Budapest, Hungary I did not go with the team, I was dropped. The coaches felt I was not good enough for it.
That must have been disappointing...
Yes it was, the coaches never had confidence in me.
How did it all change?
When I decided to do marathon instead. In 1999, I asked my manager, Lisa Buster, to look for a race I could take part in, but she said that none of the short races had a budget for me, because by the time I decided I wanted to do road races, time was gone. So nobody had the budget for it, except the big marathons. I told her to book me in the Boston Marathon. She asked if I was ready and I said yes but looking back I don't think I was.
How did it change your life?
I had gone to that race without appearance money but according to the race director and everyone there, I had done a great job. So the race director said they would give me 10,000 dollars for doing a good job. I earned 17,000 dollars from the race. This gave me confidence and from then on, I never turned back.
Who did you look up to?
When I started running, I would hear of Kipchoge Keino but I had never seen him. I waited for so long to get to see Kipchoge. I did not even meet him in Kenya when I finally did. It was in Atlanta back in 1996.
What motivates you to keep going?
The knowledge that this talent is a gift from God and I will one day give an account for what I did with it.
Are you married, any children?.
I am married to Anthony Maina, I met him at the prisons college and we ended up in the same squad for eight months. It was not anything serious but after graduation, we got closer. We got married in 1998 and have one daughter, Jane Wairimu Muhia. She is a second-year student in the University of Bradford in the UK.
She loves running of course...
Not really. She is pursuing a degree in Forensics and Medical Science.
Do you still work together with your husband?
Yes, we are both prison officers. He has specialised in aviation, so at the moment he is attached to the Police Air Wing because we do not have an air wing in Kenyan Prisons Service.
What wisdom have you picked up in the course of your life regarding relationships?
I would advise the younger generation that it does not matter how much somebody earns. What matters is the kind of love and respect you have for one another. You also have to be patient with each other, because without patience, I do not think there is any relationship that can blossom.
What's your philosophy in life?
Nothing good comes easy, you have to work for it.