I try to think of this disease as a 'retirement' for her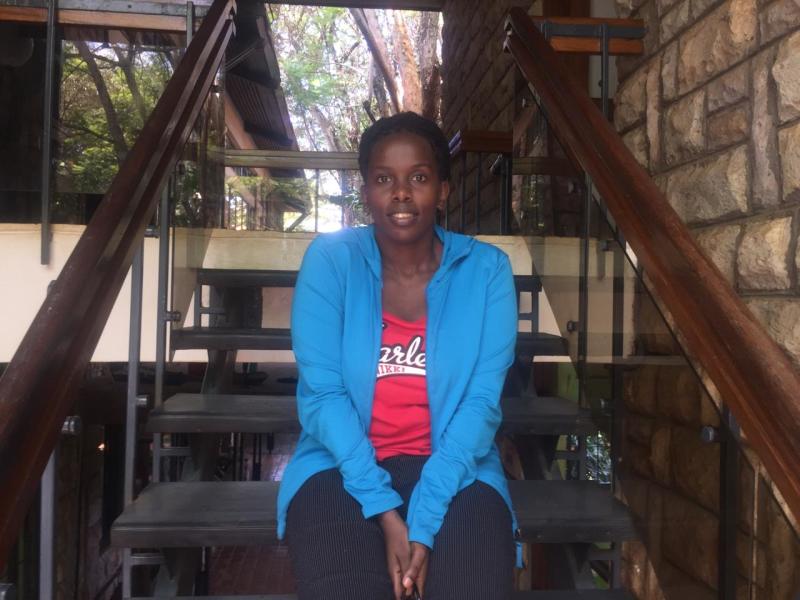 When a robust and person full of life shrinks into a subdued shell, the people close to them suffer too. Tabitha Musya, 34, shares her family's journey with her mother's dementia.
At 77, my mother is a shadow of her former self. She had 11 children and I am her last born. We are currently at the final stage of dementia, where she has been for the last three years.
Growing up, my mother was a sharp, stoic, African woman. She knew where everything was and nothing got past her. In 2010, she left the goods in a matatu. She only remembered later when my dad asked for something from the bags. The short term memory loss went on into 2011. Her symptoms were gradual at first - she occasionally had headaches or body aches that were sorted out using over the counter medication.
The quick deterioration
In November 2012, we lost a sibling quite suddenly to medical malpractice. She had been very close to my mother. When they discovered her dead, the family not only lost a sister but also mother that day.
As we planned my sister's burial, mum hardly spoke. She wasn't present. She was completely withdrawn and barely responsive. She has never spoken about my sister's death to date. As we went into 2013, the memory gaps became bigger and serious. She would completely forget her children and other people's names and when we corrected her, she would panic and then shut down. She would not engage at all; not even looking at you until you leave. So we stopped correcting her and went along with whoever she thought you were at the moment. Sometimes she would walk into the bathroom intending to shower, but then start washing clothes. When you served her food, she would take it to the dogs, and imagine that she had already eaten.
Loss of speech
Her speech began to go at the end of 2013 leading into 2014. Sometimes in the middle of an animated conversation, she would just go silent. She would forget to swallow the food and fall asleep and almost choke on it. By end of 2014, 50 per cent of her speech was gone. If you started singing a hymn, she would sing along with you word for word, but if you handed her a hymn book she didn't know which side to hold the book up from or even how to read. After the song ended, so did her engagement. Music was the last thing she was able to hold on to.
By 2015, her speech was down to 'yes' and 'no'. She also developed urine incontinence and by 2017 we had to shift her to adult diapers. When dad took ill and had to be admitted for three weeks in hospital, her condition deteriorated. Every time she falls ill we lose a bit more of her.
Final stages
All her food is blended and you have to be vigilant when feeding her. She can't remember how to walk, dress, clean herself, spit or even scratch an itch. Taking care of her involves a lot of hits and misses, figuring out any point of discomfort for her. She also needs some time, even weeks, to prepare her mentally to have her children, grandchildren and great grandkids in the house. We are strangers to her and she can only remember dad, who is her primary caregiver with the help of a sibling and hired assistance. She flinches whenever any of us try to touch her, until after an hour or so of sitting with her, when she somehow 'senses' us. Then she grasps our hands so hard then dozes off, but when she wakes up she stares at us quizzically, wondering who we are and why we are touching her.
How it affects family
As a family we all cope differently. Some of my siblings cope by not coming home. I see the emotional and psychological effect it has on my dad too. He doesn't talk about it but it manifests in how he reacts to us - he's edgier and has a shorter fuse. We all feel the impact.
I go home twice a month and each time it feels like a nightmare. It takes a toll on you to see your once strong mother so...soft and your dad struggling. I wasn't even 30 when her dementia started. Most of my milestones, I will never share with her, like my degree which I am finishing, or my wedding. I will never know what it's like to have grown up dates and special jokes and chats with mum. It is such a lonely disease. I stopped sharing with friends because I felt like I was a burden and maybe they don't know what to say to me. I cope by blogging and tweeting about it; and it helps to see that we are not alone. She never took a day off all her life; she took care of everyone and was always on her feet. So I try to think of this disease as a sort of 'retirement' for her. She can finally rest.