Things I used to eat that make pudd'ng go, 'yuck'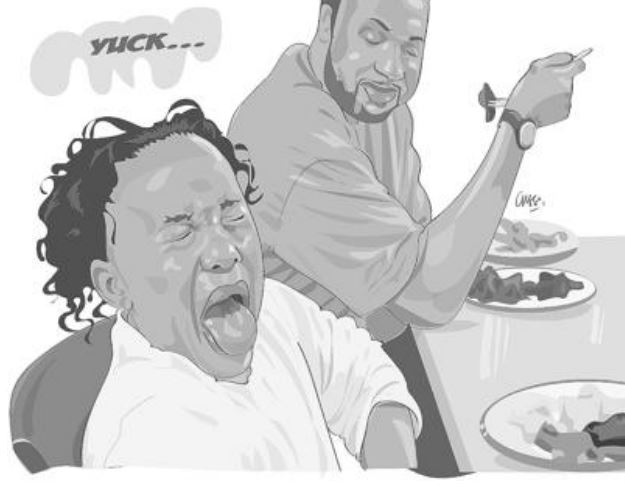 Recently, Tenderoni gave Pudd'ng the job of removing little stones, dirt and other undesirable elements from beans that she wanted to boil. The beans had quite a good number of weevils.
Pudd'ng is afraid of creepy-crawlies. The only exception is when they are told to take a live specimen in school for a science lesson. That's when her phobia dies a sudden death.
One time, when their teacher asked them for a specimen, baby girl made Tenderoni to wait almost half the night, behind Tenderoni's stall. It was Tenderoni's fault, though. She made the mistake of telling Pudd'ng that there are times she hears frogs croaking near her stall.
"Will you help me to catch a frog or a toad to take to school for the science lesson?" Pudd'ng asked.
"You're joking, right?" Tenderoni said, and Pudd'ng showed that she meant business by keeping Tenderoni company at the stall, for a couple of hours that night, after she had closed her business.
That night I learnt that, with Pudd'ng, what you tell her can be used against you. I would not be surprised if, on being asked by her science teacher why she had not brought a live specimen to school, Pudd'ng threw Tenderoni under the bus.
Platefuls of weevils
"We used to eat weevils in boarding school," I told Pudd'ng, as she tried to flick off a weevil using her forefinger.
"Yuck," she said, "how did you eat weevils?"
"They were plentiful in our plates of githeri and boiled beans. Instead of wasting time sorting out the meal, we just munched the crunchy things with our beans and maize."
"Did you become sick from eating weevils?"
"What do you mean, become sick? After just one term in boarding school, I became tough and tall."
"Dah-dee? Isn't that the old days?" Pudd'ng tried to the old ploy of making me look like a Neanderthal; "I don't think nowadays students in boarding schools eat weevils in their githeri."
I saw what Pudd'ng was trying to do. Because she has been going on about going to boarding school, she was trying to check with me if times had changed, and what used to happen way back when in public boarding schools are things of the past.
I don't know about that. What I know is that some things are hard to change. So, if and when Pudd'ng goes to a public boarding school, chances are high that she will get these protein-packed nuggets swimming in her meals … not to mention that odd gallon of paraffin.
Growth hormones
Today, if you tell me to scarf down a weevil, I do not know if I would do it. But if I'm on Fear Factor, and this challenge is the one that stands between a million bucks and my bank account, I will scrunch those little things like they are haute cuisine … and ask Joe Rogan for a second helping.
Back then, in boarding school, it was circumstance which forced us eat what we were given. The first few days were tough. But I soon got over the nausea as I learnt from other students how to make such meals tastier and edible: add a spoonful of margarine.
This is now. Pudd'ng is claiming that she cannot touch weevils. But if she goes to boarding school, and she finds that it's either weevils-in-your-plate or starvation, she will clean her plate in record time.
When I returned home for the mid-term break in my first term in high school, I was a gangly kid, and my family and friends exclaimed: "We see you have been taking growth hormones in boarding school."
"What are you talking about?" I asked.
"Weevils, dummy."