Thou shall not judge!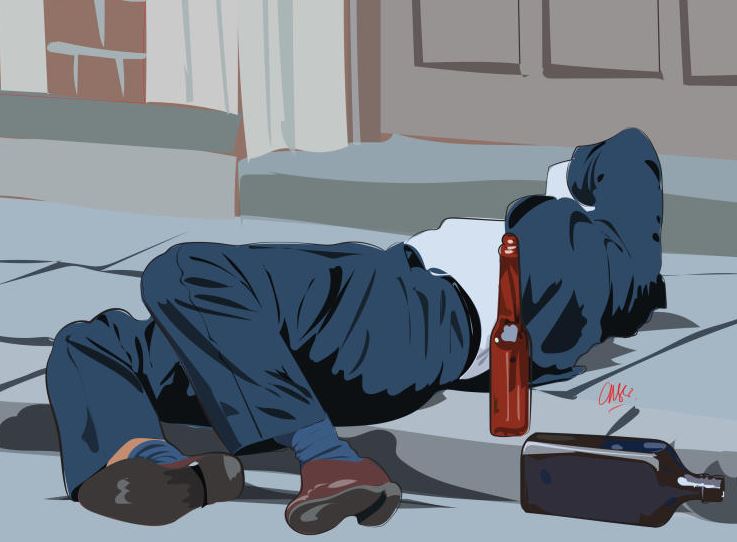 The sun is back. Let me not dwell on that, lest it hears me and hides before the long line of my wet undergarments, hanging from a makeshift hanging line on the balcony, can finally get some heat.
As I was driving along one of them dingy backstreets downtown earlier, I saw somebody convulsing and drooling on a corridor outside a small nightclub, squeezed somewhere between a bus ticket booking office and a hardware store. There were a few ladies standing a couple of metres away from him, and from their attire and the reputation of this street, they had moved their working hours from nighttime to late afternoon.
Later, I was reliably informed that the man, for his own reasons, had decided to have a couple of drinks with a couple of the scantily dressed ladies of the night, and one of them had added a little something to his drink, hence his condition. A life threatening condition actually, because an ambulance passed by to pick him up.
"What was he doing drinking with prostitutes?" the passenger in the car with me wondered, moving her hands around furiously. She was taking this whole thing pretty personally. "Wacha aone hivo (Let him learn his lesson)." She said, sentimentalising that the man had it coming.
I wanted to be the man's advocate, but with age comes the daunting realisation that just because something makes sense to you, does not mean it will to somebody else. I once met a girl who was sure, so sure that she could bet her life on it, that if two people love each other, they must share a toothbrush. If somebody she so adored refused to share a toothbrush with her, it was over.
My passenger opined that the poisoned man was just paying for his sins because if he had problems, he should have taken them to the Lord in prayer, not to the bar in drinks and prostitutes.
I once mentioned to an old friend that nothing has divided people more through the centuries, than religion. History is covered by the blood that has been shed in the name of one god or another. "Oh, you don't call your god Allah? Die heathen!" "Oh, you don't worship God of the Israelites? Here, let my sword put a hole through your stomach, thank you very much."
Religious divide
But my friend opined that religion has never divided anybody. People have used religion as an excuse to divide people for their own interests, and those divided people have used religion to promote this divide because they are ignorant. Guns don't kill people; people kill people, as the cliché goes. In that same way, religion doesn't divide people, people divide people.
My elder brother, before deservedly going to prison, dated this lady who wanted a litter of children. It doesn't get more 'litter' than eight, right? And they were going to have names like Deborah, Abraham, Jakubu, Rebecca, Hezekiah; if it is in the bible and it sounds conservative enough, she would use it.
One day however, my elder brother opined that religion is just politics and has nothing to do with spirituality. That people use religion to promote their own interests and pursue their self empowerment goals, just like politics. Offended, his lady, now ex, walked out in silence and never came back, leaving him standing in the middle of the room, his jaw beside his feet.
When he did manage to say something, it was, "See? Religion has caused yet another divide! Thank you for proving my point." That didn't bring her back.
So in the same way that someone, having heard that a woman has been raped asks, "What was she wearing?" someone else, having seen a man whose drink has been spiked convulsing asks, "What was he thinking, drinking at such a place with prostitutes?"
My brother might have mentioned something to the effect that he would expose the eight children to all religions. He would expose them to the teachings of Christianity, Islam and maybe even Buddhism. Then when they were old enough, they would choose what to believe. But on her way out, the potential mother of the children had said, "No! I don't want my children knowing everything. I was brought up in a Christian home and I turned out fine, and so will my children."
When she left him there nodding, she didn't know whether it was an "I agree with you" nod, or a more sarcastic, "Yeah, you turned out super fine," nod.
Fire arm bureau shut down, again
Operations at the Central Firearms Bureau have been grounded for the last three weeks after it emerged that a criminal syndicate has been assisting...