Conquering mountains in 2018
SUNDAY MAGAZINE
By Thorn Mulli | Feb 20th 2018 | 4 min read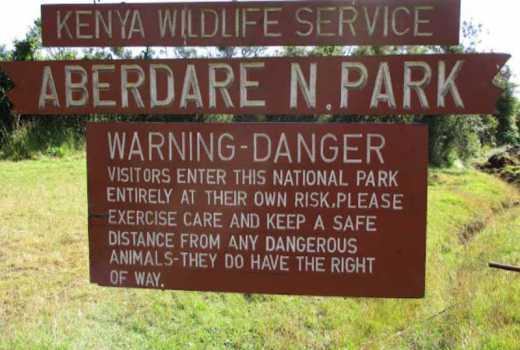 You can't just wake up and decide to climb Mt Kenya. You need to build up to it. Thorn Mulli explains.
Back in the day, when I was an avid reader, I read Aiming High, a book by Kenyan climber and politician Kenneth Matiba who detailed his onslaught of Mt Everest in 1986.
While his five-man team did not conquer the summit, they nonetheless succeeded in conquering Island Peak, a mountain, 20, 500 feet above sea level and that offers stunning views of Mt Everest. Awed by this feat, I would make a sojourn to Naro Moru River Lodge where I was keen on climbing the second highest peak in Africa.
Long story short, I didn't. But it made my bucket list. That climbing Mt Kenya is said to be responsible for a large proportion of the world's high altitude pulmonary edema cases (a potentially fatal form of High Altitude sickness) was not particularly appealing. However, I plan to get as fit as possible and do it this year. In the meantime, I will conquer the less intimidating heights.
One Sunday last month found me on one such adventure. A group of other thrill seekers led by fervent hiker Harum Makwana of Summit Seekers met at 6.55 am to begin our journey to the Aberdare National Park. I was cutting my teeth with the Aberdare ranges.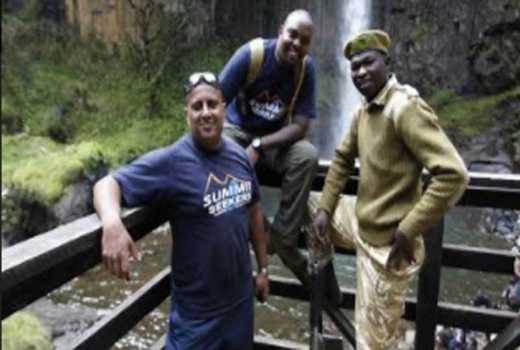 Should you pick up mountain hiking, it is paramount that you have proper gear. It not only makes your trip easier, more comfortable, but more enjoyable as well. I was feeling hiking ready thanks to my mental charge and gear purchased relatively affordably from a shop in Ngara called Temboh. It's almost shame that the brief read 'easy hike'.
The 765.7 sq. km park is readily accessible on tarmac from Nyeri and Naro Moru on the Eastern side; some 150 Kms from Nairobi. The park has several gates; Ark, Treetops, Ruhuruini, Kiandagoro, Mutubio, Wandare, Shamata and Rhino gates.
Our entry point was through the Mutubio gate accessed from the scenic 100 kilometre Njabini-Ol Kalou Road, also known as C69. We spotted so many merino sheep on the way and in some way, reminded me of Timau.
It costs Sh300 to access the park for citizens and hikers must be accompanied by an armed KWS ranger. What makes the Aberdare the perfect hiking spot is its diverse topography. We are talking mountain ranges and peaks that reach around 14, 000 feet, ridges and rocky outcrops, as well as canyon like V-shaped valleys. Who knew that a 10-kilometre walk could test ones endurance? All I know is that I was gasping for air at the end of the tour.
I did notice a discreet tears of relief from the less fit team members as they gasped for breath and used their last ounces of energy to climb onto the bus.
Scenic views
Our walk, however, did not only come with a stamina check. It was laden with striking scenery only topped by the most magnificent waterfalls at each stop. There was the 273 metres, three-step plunge Karuru waterfalls. We also stopped at Chania waterfall and Zaina falls.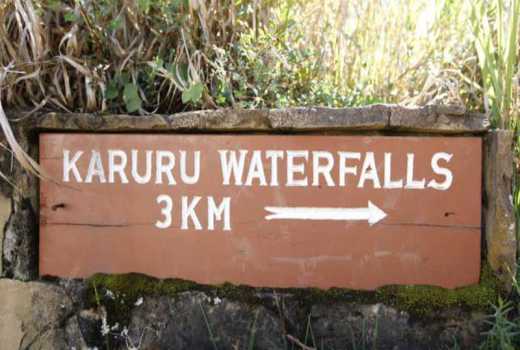 I am told that this park hosts several rare animal species including the giant forest hog, bongo, golden cat, serval cat, African wild cat, African civet cat, blue duiker as well as black panthers. This is in addition to 290 recorded bird species, including the Aberdare Cisticola that is critically endangered and the common Jackson's francolin. Our trail however, only yielded the odd reed buck and varied dung samples.
Aberdare Ranges are a critical water catchment area providing water to the Tana and Athi rivers and part of central rift and northern drainage basins. There is a 400 kilometre-long electric fence that protects the ranges and reduces human/wildlife conflict.
There are also at least 12 campsites, several lodges and two KWS run cottages for those who are keen on an overnight visit. Visitors can also indulge in picnics, trout fishing (in the past the rivers were stocked with brown rainbow trout) and camping in the Moorlands.
Next climbs
I reckon I am now ready for more challenging hikes at Aberdare including Ol Donyo Lesatima (4,001m), Kinangop (3,906m), Elephant Hill (3,906m), Chebuswa Hill (3,364m) and Twin Hills (3,300m). Should you pick up mountain hiking, it is paramount that you have proper gear. It not only makes your trip easier, more comfortable, but more enjoyable as well. Most shops that stock this gear are found in various city shopping malls, but you can also hire gear for the day affordably from a shop in Ngara called Temboh Mountain Gear.
Atop the hills of love
Background research over time made me aware it protects one of the largest coastal forests in Kenya after Arabuko-Sokoke.